From www.techradar.com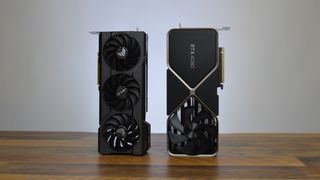 (Image credit: Future)
Nvidia is supposedly set to unleash RTX Super refreshes at CES come the start of 2024, and we've caught an apparent glimpse of those revamped graphics cards (kind of).
Let's start with the rumored launch date first, which was provided by one of the well-known Nvidia leakers on X (formerly Twitter), namely Kopite7kimi.
In response to a question about the release timeframe for the inbound Super variants – the RTX 4080 Super, 4070 Ti Super, and 4070 Super – Kopite7kimi replies with a short but sweet statement of 'CES'.
The leaker doesn't elaborate any further, so we can assume that this will be a reveal of all three of the rumored graphics cards.
Elsewhere, VideoCardz (which flagged the above tweet too) also noticed that another regular leaker, MEGAsizeGPU, posted what appears to be packaging for the RTX 4070 Ti Super.
I can't believe this name is realPlus, the new super logo and color are kinda ugly…… pic.twitter.com/trxytR9cSVNovember 7, 2023
See more
Obviously this isn't a full box shot, and as with any leaked image, we have to add a whole bucketful of salt – but this is the apparent logo for the Ti Super. Which as the leaker points out – and as we have done for some time now – seems like a really odd naming decision from Nvidia.
---
Analysis: More questions that need answers
If a CES 2024 reveal is the plan for Nvidia's rumored trio of Super refreshes, we still don't know when they will be on shelves. Assuming Kopite7kimi isn't talking about an actual on-sale date of January 2024, but surely that's too close (given that we hear important decisions about these Super refreshes still haven't been made yet, such as the exact specs and pricing).
We also don't know if there'll be a staggered release (again, we can assume that Nvidia probably won't bring out all three Super models – if these are indeed all coming – at the same time). There's still a lot up in the air, but if we're going to see these new Lovelace graphics cards at CES – which is earlier than we expected – then their launch could come earlier too. (We've seen other hints to this effect recently, as well).
Apparently, the name of the RTX 4070 Ti Super is correct – at least if the leaked design work shown above is authentic – and this has always seemed a strange choice to us. Nvidia has never put these two suffixes together before, and frankly, it seems confusing (and easy to read over the 'Ti' bit too, mistaking any reference to the card as the 4070 Super potentially).
To us, it's tantamount to Nvidia admitting making missteps with its RTX 4000 line-up, as surely a 'Ti Super' wasn't planned originally, and now must be crammed in. On top of the RTX 4080 Super which is required to address the dire sales situation with the vanilla RTX 4080. Between these apparent errors in specs and GPU pitching, high pricing, and unlaunched graphics cards, Lovelace won't pan out to be Nvidia's finest moment in some respects. (Even if some of the products are undeniably good – those ranked highly on our best graphics card list).
TechRadar will be out in force at CES 2024, which takes place in Las Vegas at the beginning of January, so if Nvidia does show off new GPUs, we'll be there to bring you all the breaking news.
You might also like
[ For more curated Computing news, check out the main news page here]
The post Glimpse of Nvidia RTX 4070 Ti Super graphics card comes ahead of a rumored CES 2024 launch first appeared on www.techradar.com