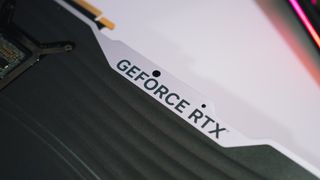 (Image credit: Harish Jonnalagadda / Windows Central)
What you need to know
NVIDIA will announce up to three GeForce RTX 40 Super graphics cards at CES 2024, according to recent reports.
NVIDIA usually holds a GeForce Special Address in January, but it appears the company will focus its efforts on CES 2024 instead.
An RTX 4080 Super, RTX 4070 Ti Super, and RTX 4070 Super are the expected GPUs.
---
NVIDIA usually has something special, or rather super, in store for January. The company held its GeForce Special Address in January 2023, at which it announced its RTX 40 Series laptop CPUs. Rather than at its own event, NVIDIA is now expected to announce another wave of RTX 40 GPUs at CES 2024.
A report by VideoCardz shares that NVIDIA is expected to announce the RTX 4080 Super, RTX 4070 Ti Super, and RTX 4070 Super at CES 2024. It's not confirmed that all three GPUs will be announced, but up to three graphics cards will reportedly make an appearance.
It's also not known if NVIDIA will announce the three graphics will be announced and shipped together or separately.
What are the NVIDIA GeForce RTX Super GPU specs?
Specs for some NVIDIA GeForce RTX Super GPUs appeared online late last month. According to the leak, the GeForce RTX 4070 Ti Super will potentially bump up its memory from 12GB to 16GB. That same graphics card will also increase from 192-bit 192-bit 21 GT/s GDDR6X to 256-bit 22.4 GT/s GDDR6X, based on the report. Additionally, that GPU will reportedly feature 8448 CUDA Cores, up from the 7680 seen in the non-Super version.
The RTX 4080 Super is also expected to have increased specs but will reportedly have fewer differences when compared to its non-Super counterpart. The recent leak states that the RTX 4080 Super will have 10240 CUDA cores, which is a jump from the 9728 seen in the RTX 4080. The memory specs of the RTX 4080 Super will be the same as the RTX 4080, according to the leak.
Similarly, the RTX 4070 Super is only expected to see a CUDA core count increase when compared to the RTX 4070. The RTX 4070 Super should have 7168 CUDA cores if the leak proves accurate. The RTX 4070 has 5888 CUDA cores.
[ For more curated Computing news, check out the main news page here]
The post NVIDIA may announce three RTX 40 Super GPUs at CES 2024 first appeared on www.windowscentral.com