From www.imore.com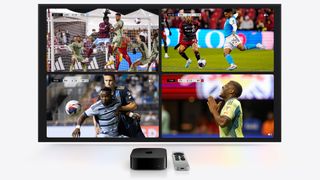 (Image credit: Apple)
Following the $2.5 billion deal to bring Major League Soccer to the Apple TV app around the world, Apple seems keen to bring even more of the beautiful game to our screens. Following ongoing rumors that it's interested in the rights to show the English Premier League, it's now thought that there is an interest in top-flight soccer from elsewhere in Europe. Namely, France.
A report this week states that Apple wants to pick up the streaming rights for Ligue 1, the French equivalent of the Premier League that currently plays host to some of the biggest names in the game including French captain Killian Mbappe and his compatriot Ousmane Dembélé.
The deal said to be worth €800m (around $854 million), would bring French football to the Apple TV app starting in 2024, and is expected to run through to 2029.
Apple's big game plans
RMC Sport was the first to report news of talks between Apple and the LFP, the outfit in charge of handing out the contracts needed to show Ligue 1 games. Details about the actual deal are hard to come by at the moment, but it's increasingly clear that Apple sees a future in streaming live sports from around the world.
Imagine being able to watch soccer from anywhere in the world all via a single streaming app. It isn't beyond the realms of possibility that Apple could charge a single fee for streaming live sports via its platform, something that is already offered by traditional sports channels on cable and satellite TV.
However, it's fair to say that Ligue 1 isn't the biggest league in Europe despite the presence of Mbappe. Paris Saint Germain stands out as the star-studded team, but the depth of the league beyond the capital city is lacking. To make a real dent in the world of live sports Apple would surely need to get that Premier League deal over the line. Spain's LaLiga would be another big get for Apple, as would Germany's Bundesliga. Add those to Ligue 1 and Apple will have quite the collection.
More from iMore
[ For more curated Apple news, check out the main news page here]
The post $854 million deal could make Apple TV the home of French soccer from 2024 first appeared on www.imore.com