From www.imore.com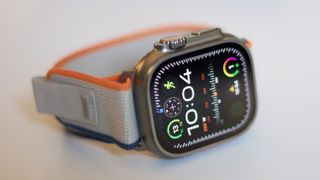 (Image credit: Future)
Before Apple announced the Apple Watch Ultra 2 back in September, there were repeated rumors that there would be a new black titanium color to go with the one that we're all familiar with. The Apple Watch Ultra came in a titanium finish that looks similar to the Natural Titanium of the iPhone 15 Pro — the best iPhone color, by the way — but the thought of a black one had many of us excited for what was to come.
Unfortunately, the Apple Watch Ultra 2 unveiling came and went with no new color to be found. And while the standard titanium finish looks as good today as it did in September 2022, that sucked. And it sucks even more now that we can see what a black Apple Watch Ultra looks like.
We can see that thanks to the unveiling of new images that appear to show an Apple Watch Ultra prototype with a black finish, although this isn't quite the same as the rumored black titanium model. In this case, the images show an Apple Watch Ultra with a black ceramic back whereas the model sold has a gray one. The images come courtesy of the FCC, which means that Apple was seemingly close to offering this model at some point, and the black back isn't the only difference.
Changes everywhere
While other Apple Watches in Apple's wearable lineup use a black back, it's notable that Apple chose to go with a gray one that more closely resembles the color of the watch's titanium body. However, the titanium used in this prototype does appear to be slightly darker than the one the Apple Watch Ultra ultimately shipped with — is it possible this is the black model we'd heard about? Maybe, although the photos could just be particularly dark.
Early Ultras had a black back which looks kinda dope #appleinternal pic.twitter.com/OvX65GNPKxNovember 16, 2023
See more
However, the change in back ceramic isn't the only difference here. Those paying close attention will also see that the Action button isn't the same as the Apple Watch Ultra that ultimately shipped — it looks like it's plastic, for starters, whereas the one that shipped is metal. The design of the button itself appears to be different as well, with no indentation for your meaty finger or thumb to rest in.
So, what happened?
So why did the Apple Watch Ultra given to the FCC differ from the one that went on sale? That's a difficult question to answer, but we do know that Apple and indeed other companies sometimes send prototype versions of their products off for FCC approval while final design tweaks are made. It's likely that was the case here, and that Apple made changes to the way the Apple Watch Ultra looks afterwards. Remember that the FCC doesn't necessarily need to see the final form in order to certify a product — it just needs to know what radios they use and how much radiation they might emit. A change to the color of a ceramic panel or the shape of a button is of no consequence, at least to the FCC.
All of that being said, there's one thing that these FCC images do confirm — I really, really want a black titanium Apple Watch Ultra. Sure, the Apple Watch Ultra and Ultra 2 look great, but almost everything looks better when finished in matte black and this wearable is no different. Just take a look at the Space Black MacBook Pro to see how right I am.
Just don't try and strap one of those to your wrist to test it out, OK? People turning iPod nano into watches was bad enough.
More from iMore
[ For more curated Apple news, check out the main news page here]
The post A black Apple Watch Ultra prototype leaked — and it's gorgeous first appeared on www.imore.com