From www.imore.com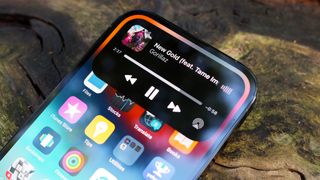 (Image credit: Luke Filipowicz / iMore)
Apple is reportedly ready to ditch two of its long-time iPhone component partners in favor of its own in-house displays that could use microLED technology, bringing with it the prospect of a massive upgrade to iPhone screen tech in the future.
A new report claims that Apple is working on moving the iPhone to a new type of display, ditching partners Samsung and LG Display in the process. The leak says that the move will happen "eventually," with Apple testing the waters with the Apple Watch first.
Control freak
Bloomberg (opens in new tab) claims that Apple is keen to "reduce its reliance on technology partners like Samsung and LG" in much the same way it has done with other components. Apple already moved away from Intel for its Mac chips, using its own custom silicon instead. The company is also hard at work designing its own cellular modems to allow the removal of Qualcomm's chips, too.
Apple isn't set to just change suppliers though — it also wants to upgrade the technology. The company is said to be moving to microLED technology, one that should allow for brighter displays with better color reproduction. One source told Bloomberg that the displays look like they've been painted on, for example.
Bloomberg's Mark Gurman reports that Apple has been working on the switch since 2018, with a team led by Apple display technology group lead Wei Chen tasked with the project. Chen's team is part of the Hardware Technologies division that has overseen the transition away from Intel under the leadership of Johny Srouji.
Bloomberg hasn't provided a hard timeline for when the iPhone will move to in-house displays, but the Apple Watch is expected to do so next year. The wearable is also going to move to microLED technology, Bloomberg notes.
The iPhone 15 will obviously come too soon for this switch, as likely will the iPhone 16. But if the Apple Watch's transition goes well it's possible Apple will move to its own in-house displays with the iPhone 17 in 2025.
That isn't to say that the iPhone 15 won't have plenty to offer, of course. The unannounced phone is already expected to move to USB-C, while the Dynamic Island is also touted to move down the lineup. It's only available on Apple's best iPhones right now, but the company is rumored to be adding it to the less expensive iPhone 15 and iPhone 15 Plus this year. Meanwhile, iPhone 15 Pro is expected to get a new processor and new haptic buttons.
The post A major display upgrade is coming to iPhone, but not in time for iPhone 15 first appeared on www.imore.com
In many places around the world, horse races are an attraction that a lot of people love to watch. With the fast-paced action and thrill that each game provides, it is no longer surprising to know that millions of fans have grown fond of it.
Cybersecurity threats have become vast and more sophisticated. The rate of malware attacks and malicious activity counts within seconds despite the size or sector the organization belongs to — no one is safe enough to expect that foe actors will bypass vital company resources.