From www.slashgear.com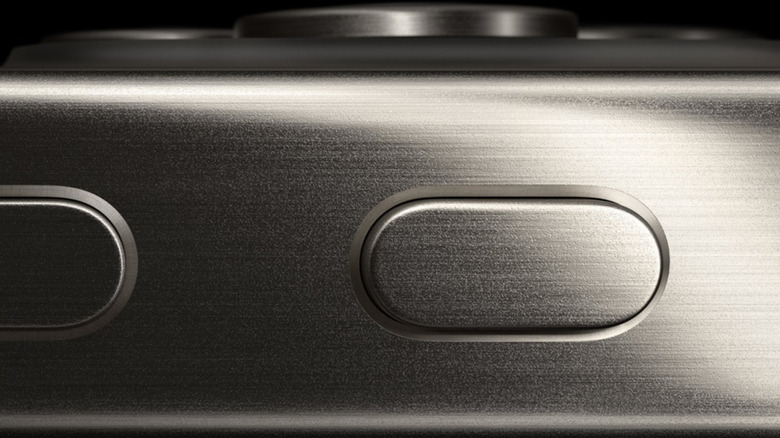 Apple
Apple recently unveiled its upcoming slate of new iPhones during its September 2023 event. Included in the lineup are the new iPhone 15 Pro and iPhone 15 Pro Max, the company's flagship smartphone models that boast a slew of advanced features that aren't available on the entry-level iPhone 15 and iPhone 15 Plus. On top of now having a lightweight titanium body, insane camera upgrades, and a powerful new A17 Pro chip, the iPhone 15 Pro models also feature a brand-new Action button.
What used to be a single-function switch located above the left-side volume buttons designed to toggle between ring and silent modes is now a versatile and highly customizable shortcut of sorts. Once a preferred "action" is chosen, all the user has to do is perform a long-press gesture on the button to launch it. A haptic response as well as visual feedback courtesy of the Dynamic Island should help ensure that the Action button does indeed trigger the iPhone task that you want.
What the iPhone 15 Pro's new Action button can do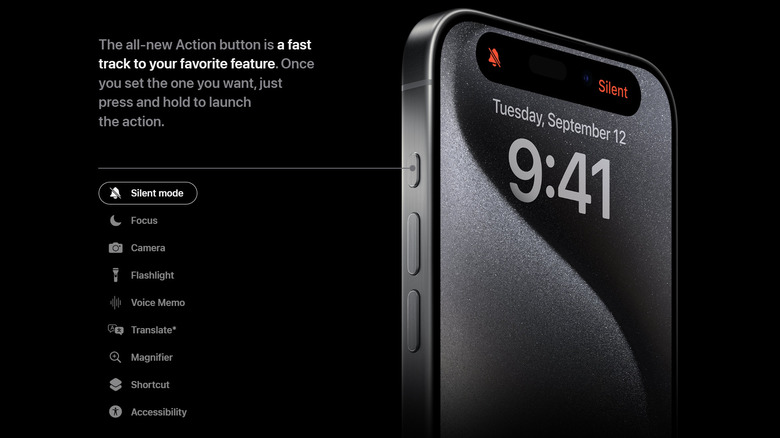 Apple
Much like the iPhone switch it replaced, the iPhone 15 Pro's Action button's default operation is as a toggle between having the ringer on or keeping the device on silent mode. Alternatively, users can pick a different iPhone function entirely and assign the button to initiate one from a myriad of other tasks.
Rather than being restricted to only enabling silent mode, the Action button can be used to trigger one of the many available Focus modes as well, such as Do Not Disturb. It can instantly turn on the flashlight or provide quick access to common iPhone apps like the camera or voice memos, making it easier to document moments as they happen. Users who have varying levels of visual and motor impairments can also take advantage of the new button to trigger useful Accessibility features and other helpful apps like Magnifier.
What is perhaps the most useful option that can be launched via the Action button is the Shortcuts app, which in itself opens the door to even more automated functions. With a quick press-and-hold of a button, you can launch any iPhone app of your choosing or perform essential tasks, such as switch on compatible accessories in your smart home or even automatically calculate tips when you eat out.
Note that should you decide to replace the Action button's default ring/silent toggle function, you can access Control Center to mute or program one of the Focus filters to automatically switch your device to silent. Furthermore, according to Apple's press release, the ability to use the Action button to perform translation tasks through an iPhone 15 Pro will be included in an update scheduled for general rollout later this year.
[ For more curated Apple news, check out the main news page here]
The post All The Hidden Features And Settings Of The iPhone 15 Pro's Action Button – SlashGear first appeared on www.slashgear.com