From macrumors.com
by Sami Fathi
Apple has been accused of "hypocrisy" and "cynicism" over its iPhone anti-tracking policy by an ad industry trade group that includes Meta and Google as members.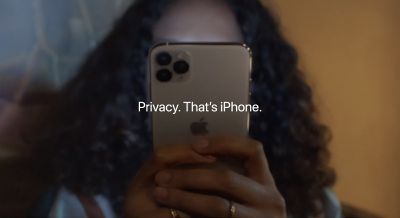 The Interactive Advertising Bureau (IAB) is an organization that develops standards to be used across the industry to control and regulate online advertising. It has Google, Meta, Adobe, and many other companies as members. This week, IAB CEO David Cohen had a few things to say about Apple's approach to ‌iPhone‌ policy and privacy.
Speaking at IAB's annual leadership meeting (via Ad Age), Cohen accused Apple of "attacking" the ad industry from the inside, saying Apple represents "cynicism and hypocrisy." Cohen said "while there are no shortage of extremists attacking our industry from the outside, there are some attacking it from the inside out. Most notably, Apple exemplifies the cynicism and hypocrisy that underpins the prevailing extremist view."
Cohen explains that while Apple requires apps to ask users for permission before tracking them across apps and websites owned by other companies, the company can track its own users without accountability. Cohen refers to a feature called App Tracking Transparency (ATT), launched in April 2021, that forces apps to ask users for explicit consent before tracking them. "It can't be that 'personalization' in the Apple ecosystem equals 'tracking' outside of it," Cohen said. "That's not really a fair fight."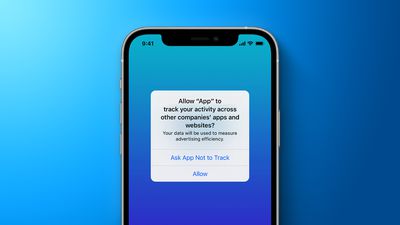 App Tracking Transparency pop-up required for apps
Apple requires third-party apps to ask users for permission before tracking them, but the company's stock apps do not since they don't track users, according to Apple's senior vice president of software engineering Craig Federighi. In an interview with the Wall Street Journal in April 2021 about ATT, Federighi explained that no Apple app would have the ATT pop-up since "there's no Apple app or service that tracks users." Federighi added that if Apple launched an app or service that tracked users, it would comply with its own App Store policy.
Apple is currently facing a class action lawsuit that alleges it records users' mobile activity without their consent, despite Apple's privacy assurances. The lawsuit accuses Apple of providing "utterly false" assurances that ‌iPhone‌ users are in control of their data. "Apple records, tracks, collects and monetizes analytics data — including browsing history and activity information — regardless of what safeguards or 'privacy settings' consumers undertake to protect their privacy," the lawsuit reads.
Apple's ‌App Store‌ policy and approach to privacy have been an increasingly more prominent concern for international organizations and companies, from the EU to Meta, Google, and Spotify. This week, Spotify and others penned a letter to the EU calling Apple's policy "anti-competitive" and "harmful" for companies.
Popular Stories
Friday January 20, 2023 11:43 am PST by Joe Rossignol
In a recent press release, Apple confirmed that iOS 16.3 will be released to the public next week. The software update will be available for the iPhone 8 and newer and includes a handful of new features, changes, and bug fixes. Below, we've recapped bigger features in iOS 16.3, including support for physical security keys as a two-factor authentication option for Apple ID accounts, worldwide …
The iPhone 15 Pro models will have thinner, curved bezels compared to the iPhone 14 Pro models, potentially resulting in an Apple Watch-like appearance, according to the leaker known as "ShrimpApplePro." ShrimpApplePro clarified that the next-generation "Pro" iPhone models will still have flat displays, since only the bezels are to be curved. According to a source speaking to the leaker,…
Friday January 20, 2023 2:59 am PST by Sami Fathi
Apple this week broke a tradition it has maintained for the past 13 years by announcing new products in the first month of the year. This week, Apple unexpectedly announced several new products, including updated 14-inch and 16-inch MacBook Pros powered by M2 Pro and M2 Max, a new Mac mini with M2 and M2 Pro, and an updated HomePod. As it has occasionally done, Apple announced the latest…
The first graphics-focused benchmark results have surfaced for Apple's M2 Pro and M2 Max chips, offering a closer look at GPU performance improvements. Metal scores on Geekbench reveal that the M2 Pro with a 19-core GPU and M2 Max with a 38-core GPU in the new MacBook Pros offer around 30% faster graphics performance over the M1 Pro and M1 Max, in line with Apple's advertised claims. The…
Wednesday January 18, 2023 12:44 pm PST by Juli Clover
Apple today introduced new 5B59 firmware for the AirPods 2, the AirPods 3, the original AirPods Pro, and the AirPods Max, up from the 5B58 firmware that was released in November. Apple does not offer immediately available release notes on what's included in refreshed firmware updates for the AirPods‌, but the company does maintain a support document with release information. There is no…
Monday January 23, 2023 10:10 am PST by Juli Clover
Apple today released iOS 16.3, the third major update to the iOS 16 operating system that first came out in September. iOS 16.3 comes over a month after the launch of iOS 16.2, an update that added the Freeform app, Apple Music Sing, Advanced Data Protection, and more. iOS 16‌.3 can be downloaded on eligible iPhones and iPads over-the-air by going to Settings > General > Software Update….
The post Apple Accused of 'Hypocrisy' by Ad Industry Coalition Over Its Anti-Tracking Policy first appeared on macrumors.com
In many places around the world, horse races are an attraction that a lot of people love to watch. With the fast-paced action and thrill that each game provides, it is no longer surprising to know that millions of fans have grown fond of it.
Cybersecurity threats have become vast and more sophisticated. The rate of malware attacks and malicious activity counts within seconds despite the size or sector the organization belongs to — no one is safe enough to expect that foe actors will bypass vital company resources.