From www.macrumors.com
Apple's augmented reality glasses device is still at least four years away from launch, Bloomberg's Mark Gurman reports.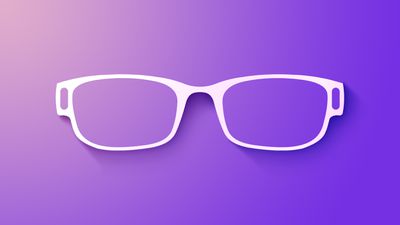 In an extensive report detailing some of the challenges involved in developing Apple's mixed-reality headset, Gurman explained that the company's separate AR glasses product has been mired by similar issues. AR glasses were the product that CEO Tim Cook and former design chief Jony Ive originally wanted to build before technical limitations reduced expectations to the current "ski-goggle" headset form factor with video pass-through.
Apple apparently realized early in the headset's development that the long-term goal of building AR glasses with sufficient power was unfeasible. Engineers calculated that the glasses would have to provide the full performance of an iPhone with only a tenth of its power consumption to prevent them from getting too hot.
Mike Rockwell, a former Dolby executive hired to spearhead the development of experimental head-worn devices at Apple, has continued to describe the headset as laying the foundations for a future AR glasses device to secure resources. Apple's work on the device now receives only limited resources.
An employee working on the project told Bloomberg that there is a running joke on the team that the company continues work on the "hopeless" device simply to keep ‌Tim Cook‌ happy. Despite making no meaningful progress on the AR glasses by 2019, Rockwell told over 100 employees at an an all-hands meeting later that year that Apple could introduce the glasses just one year after it introduced the first headset – a time frame that now seems impossible.
Apple eventually postponed any serious development on a standalone glasses product for a period of years, "all but killing the idea." The company is now said to be at least four years away from introducing any such product.
Popular Stories
In a press release introducing a new Pride Edition band for the Apple Watch, Apple confirmed that iOS 16.5 and watchOS 9.5 will be released to the public later this week. The software updates have been in beta testing since late March. "The new Pride Celebration watch face and iPhone wallpaper will be available next week, and requires watchOS 9.5 and iOS 16.5," said Apple on May 9. iOS…
Recent reports have converged on the belief that Apple will show off its long-rumored AR/VR headset at WWDC in June, and now Ming-Chi Kuo's latest predictions also align with the rumors, with the industry analyst claiming that the announcement is "highly likely" and the company is "well prepared" for the unveiling. Concept render by Marcus Kane Previously, Kuo said Apple had pushed back…
The iPhone 15 Pro models are rumored to be facing substantial price hikes upon their launch later this year, according to recent reports. According to a rumor from an unverified source on Weibo, Apple is planning to increase the price of this year's iPhone 15 Pro models to widen the gap with the iPhone 15 Plus. The iPhone 14 Pro and iPhone 14 Pro Max start at $999 and $1,099, meaning that…
Apple today previewed a wide range of new accessibility features for the iPhone, iPad, and Mac that are set to arrive later this year. Apple says that the "new software features for cognitive, speech, and vision accessibility are coming later this year," which strongly suggests that they will be part of iOS 17, iPadOS 17, and macOS 14. The new operating systems are expected to be previewed…
Microsoft today announced it has completed its rollout of iPhone support for its Phone Link app on Windows 11, as spotted by The Verge. With the Phone Link app for Windows 11 and the Link to Windows app for iOS, iPhone users can make and receive phone calls, send and receive text messages, and view notifications directly on their PC. Notably, this means Windows 11 technically supports…
The lower-end iPhone 15 and iPhone 15 Plus models launching later this year will be equipped with a 48-megapixel rear camera lens, according to Jeff Pu, an analyst at Hong Kong-based investment firm Haitong International Securities. In a research note today, obtained by MacRumors, Pu said the 48-megapixel lens on these models will use a new three-stacked sensor that can capture more light…
The Wall Street Journal on Friday outlined what to expect from Apple's long-rumored AR/VR headset project, corroborating several details previously reported by Bloomberg's Mark Gurman and The Information's Wayne Ma. Apple headset mockup by designer Ian Zelbo The report indicates that Apple plans to unveil the headset at WWDC in June, and says many sessions at the conference will be related to …
Tuesday May 16, 2023 8:23 am PDT by Juli Clover
Apple has not notably tweaked iPhone screen sizes since the introduction of the iPhone 12 models in 2020, but that's set to change with the 2024 iPhone 16 lineup. The iPhone 16 Pro models will have larger display sizes than the iPhone 14 Pro models and the upcoming iPhone 15 Pro models. According to researcher Unknownz21, the iPhone 16 Pro (D93 in Apple's internal documentation) will feature …
The post Apple AR Glasses Reportedly Still at Least Four Years Away From Launch first appeared on www.macrumors.com
In many places around the world, horse races are an attraction that a lot of people love to watch. With the fast-paced action and thrill that each game provides, it is no longer surprising to know that millions of fans have grown fond of it.