From www.macrumors.com
Apple has booked nearly 90% of chip supplier TSMC's first-generation 3-nanometer process capacity this year for future iPhones, Macs, and iPads, according to industry sources cited by DigiTimes, providing the Taiwanese foundry with significant growth momentum in the second half of 2023.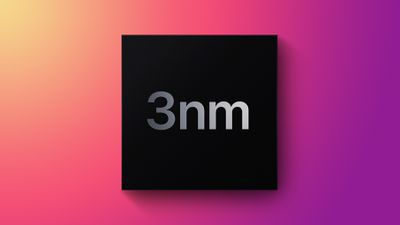 Apple's upcoming ‌iPhone 15 Pro‌ models are expected to feature the A17 Bionic processor, Apple's first ‌iPhone‌ chip based on TSMC's first-generation ‌3nm‌ process, also known as N3B. The ‌3nm‌ technology is said to deliver a 35% power efficiency improvement and 15% faster performance compared to 4nm, which was used to make the A16 Bionic chip for the iPhone 14 Pro and Pro Max.
Apple's M3 chip for Macs and iPads is also expected to use the ‌3nm‌ process. The first ‌M3‌ devices are expected to include an updated 13-inch MacBook Air and 24-inch iMac, both of which could arrive later this year. New iPad Pro models coming next year are likely to be powered by ‌M3‌ chips, while Apple analyst Ming-Chi Kuo believes that new 14- and 16-inch MacBook Pro models coming in 2024 will feature ‌‌M3‌‌ Pro and ‌‌‌M3‌‌‌ Max chips.
According to an App Store developer log obtained by Bloomberg's Mark Gurman, Apple is currently testing a new chip with a 12-core CPU, 18-core GPU, and 36GB of memory, which could be the base-level ‌M3‌ Pro for the next-generation 14-inch and 16-inch MacBook Pro models launching next year.
According to The Information, future Apple silicon chips built on the ‌3nm‌ process will feature up to four dies, which would support up to 40 compute cores. The M2 chip has a 10-core CPU and the ‌‌M2‌‌ Pro and Max have 12-core CPUs, so ‌3nm‌ could significantly boost multi-core performance. At minimum, ‌3nm‌ should provide the biggest performance and efficiency leap to Apple's chips since 2020.
TSMC is also working on an enhanced ‌3nm‌ process called N3E. Apple devices will eventually migrate to the N3E generation, which is expected to enter commercial production in the second half of 2023, but actual shipments will not ramp up until 2024, according to DigiTimes.
Popular Stories
In a press release introducing a new Pride Edition band for the Apple Watch today, Apple confirmed that iOS 16.5 and watchOS 9.5 will be released to the public next week. The software updates have been in beta testing since late March. "The new Pride Celebration watch face and iPhone wallpaper will be available next week, and requires watchOS 9.5 and iOS 16.5," said Apple. In addition to…
The Wall Street Journal on Friday outlined what to expect from Apple's long-rumored AR/VR headset project, corroborating several details previously reported by Bloomberg's Mark Gurman and The Information's Wayne Ma. Apple headset mockup by designer Ian Zelbo The report indicates that Apple plans to unveil the headset at WWDC in June, and says many sessions at the conference will be related to …
Apple is working on a major change to Siri that will move away from the "Hey Siri" trigger phrase currently required to invoke the virtual assistant hands-free, according to Bloomberg's Mark Gurman. In a recent edition of his "Power On" newsletter, Gurman said that Apple is working on a way for Siri to be able to understand and respond to commands without the need to use "Hey Siri" as a…
The iPhone 15 Pro models are rumored to be facing substantial price hikes upon their launch later this year, according to recent reports. According to a rumor from an unverified source on Weibo, Apple is planning to increase the price of this year's iPhone 15 Pro models to widen the gap with the iPhone 15 Plus. The iPhone 14 Pro and iPhone 14 Pro Max start at $999 and $1,099, meaning that…
It is now over six months since Apple launched the current iPad Pros, and with a substantial update rumored for the next-generation, when exactly are the new models expected to launch? The current 11- and 12.9-inch iPad Pro models were released in October 2022, adding the M2 chip, Apple Pencil hover, Smart HDR 4, Wi‑Fi 6E, and Bluetooth 5.3 – another minor refresh like the…
Friday May 12, 2023 7:03 am PDT by Juli Clover
Apple plans to introduce larger 6.3 and 6.9-inch display sizes for the iPhone 16 Pro and Pro Max in 2024, but the change in screen size will be limited to the Pro models. The standard iPhone 16 models are expected to feature the same 6.1 and 6.7-inch display sizes that Apple has used for the last several years. The information comes from display analyst Ross Young, who often shares accurate…
The post Apple Books Nearly 90% of TSMC's 3nm Production Capacity for This Year first appeared on www.macrumors.com
In many places around the world, horse races are an attraction that a lot of people love to watch. With the fast-paced action and thrill that each game provides, it is no longer surprising to know that millions of fans have grown fond of it.