From www.macrumors.com
Apple yesterday announced that it will be holding an online event on Monday, October 30 starting at 5 p.m. Pacific Time, and there are several reasons to believe that gaming on the Mac will be one of the major focuses of the event.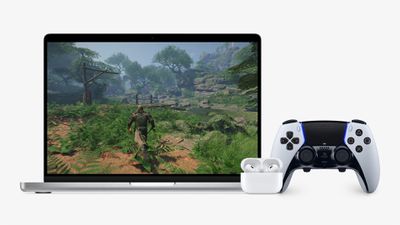 Below, we have recapped Apple's recent gaming-related efforts on the Mac and other clues heading into the event next week.
Hardware-Accelerated Ray Tracing
Apple silicon chips often have architecture similarities. Like the A17 Pro chip in the iPhone 15 Pro, Apple's upcoming M3 series of chips for Macs will likely feature hardware-accelerated ray tracing for significantly improved graphics rendering compared to software-based ray tracing. M3 series chips are also expected to be manufactured with TSMC's 3nm process for faster performance and improved power efficiency compared to M2 series chips. These advancements pave the way for more AAA games to launch on the Mac.
Apple Hints at More AAA Games on Mac
Apple hinted at more AAA games launching on the Mac in a recent interview with gaming publication IGN. When asked if the new games that Apple announced for the iPhone 15 Pro last month would eventually be compatible with Apple silicon Macs, Apple VP Tim Millet said "the developers are going to work with us to do it." These games include a Resident Evil 4 remake, Death Stranding Director's Cut, and Assassin's Creed Mirage.
Capcom and Sony Hints
Japanese game developer Capcom recently announced that Resident Evil Village will be available on the iPhone 15 Pro and on iPad models with the M1 chip and newer starting October 30, which is the same day as Apple's event next week.
It's possible that the release date lining up with the event is merely a coincidence, but it could hint at additional Mac-related gaming news to come from Apple and Capcom, and perhaps other game developers. A source informed us that Apple is holding its online event at the unusual time of 5 p.m. Pacific Time because it will fall during business hours in Japan, and claimed that the event will include a major tie-in with a Japanese game developer, but we have not independently confirmed the accuracy of this information.
While the App Store says the Resident Evil 4 remake is set to launch on Macs with the M1 chip and newer on December 31, this date is a placeholder, and it is possible the release will be pushed up following Apple's event. The game was already released for Windows PCs, the PS4/PS5, and the Xbox Series X/S in March.
As for Sony, it plans to launch cloud streaming for PS5 games in North America on October 30. Could there be a tie-in with Apple?
Game Mode
macOS Sonoma features a new Game Mode that temporarily prioritizes CPU and GPU performance for gaming. Game Mode also lowers AirPods audio latency, and reduces input latency with popular third-party game controllers by doubling the Bluetooth sampling rate.
Game Porting Toolkit
At WWDC 2023 in June, Apple released a new toolkit that makes it easier for game developers to port Windows games to the Mac. The toolkit provides an emulation environment that allows developers to run their existing, unmodified Windows game on the Mac and quickly evaluate how well the game could run on macOS before writing any code.
Popular Stories
Tuesday October 24, 2023 9:01 am PDT by Juli Clover
Apple today announced its second fall event of 2023, with the online event set to be held on Monday, October 30 at 5:00 p.m. Pacific Time. Apple's October event will be about the Mac, and the company is expected to refresh several Macs in the lineup. Apple's Events website features an Apple logo on a black background that morphs into the Mac Finder icon, confirming the event's Mac focus. As …
Monday October 23, 2023 10:24 am PDT by Juli Clover
Apple's iOS 17.1, iPadOS 17.1, macOS Sonoma 14.1, tvOS 17.1, watchOS 10.1, and HomePod Software 17.1 updates are expected to be released to the public tomorrow following several weeks of beta testing. We are expecting the software to go live at 10:00 a.m. Pacific Time, which is when Apple typically releases updates. Last week, Apple seeded release candidates (RCs) for all of the upcoming…
Tuesday October 24, 2023 11:05 am PDT by Juli Clover
Apple plans to overhaul the TV app in an effort to consolidate its Apple TV+ streaming service and its standalone movie and TV show purchase options, according to Bloomberg's Mark Gurman. A tvOS update in December will introduce the changes that Apple has planned. To push users to the Apple TV app, Apple plans to remove its standalone Apple TV apps that are available for renting and…
iOS 17.1 is expected to be released by Tuesday, October 24 following weeks of beta testing. The software update includes several new features and changes for iPhones related to Apple Music, AirDrop, StandBy mode, and more. Below, we have recapped eight new features and changes coming to the iPhone with iOS 17.1. When the software update is available, users will be able to install it by…
Tuesday October 24, 2023 10:43 am PDT by Juli Clover
Apple's upcoming "Scary Fast" event will focus on the M3 series MacBook Pro models, according to Apple analyst Ming-Chi Kuo. Kuo's wording suggests that he is expecting multiple M3 chips rather than just a single M3 chip, hinting at the possibility of M3, M3 Pro, and M3 Max chips. If Apple does release M3, M3 Pro, and M3 Max chips at once, we can expect to see the new chips introduced in…
At WWDC 2022 last year, Apple previewed the next generation of CarPlay, promising deeper integration with vehicle functions like A/C and FM radio, support for multiple displays across the dashboard, personalization options, and more. Apple said the first vehicles with support for the next-generation CarPlay experience would be announced in late 2023, but it has still not shared any…
Wednesday October 25, 2023 6:46 am PDT by Joe Rossignol
Apple today announced that it is increasing the prices of some of its subscription-based services, including Apple TV+, Apple Arcade, and Apple News+, for new and existing subscribers in the U.S. and many other countries around the world. The price changes in the U.S. are as follows:Apple TV+: $6.99 per month → $9.99 per month Apple Arcade: $4.99 per month → $6.99 per month Apple News+:…
Wednesday October 25, 2023 2:45 am PDT by Tim Hardwick
An image allegedly showing the box for a new unreleased MacBook Pro has emerged on Chinese social media platform Weibo. The picture, re-shared on X by ShrimpApplePro, shows what looks like Apple packaging featuring a MacBook Pro image with previously unseen wallpaper on the display. The wallpaper bears a passing resemblance to the one Apple used for the iPhone 15 Pro. It's unclear whether…
Apple is planning a Mac-focused product launch, likely including the announcement of a refreshed 24-inch iMac, for the end of this month, Bloomberg's Mark Gurman reports. Subscribe to the MacRumors YouTube channel for more videos. In the latest edition of his "Power On" newsletter, Gurman said that Apple is "planning a Mac-centered product launch around the end of this month" that could see…
[ For more curated Apple news, check out the main news page here]
The post Apple Event Next Week Likely to Emphasize High-End Gaming on Mac first appeared on www.macrumors.com