From appleinsider.com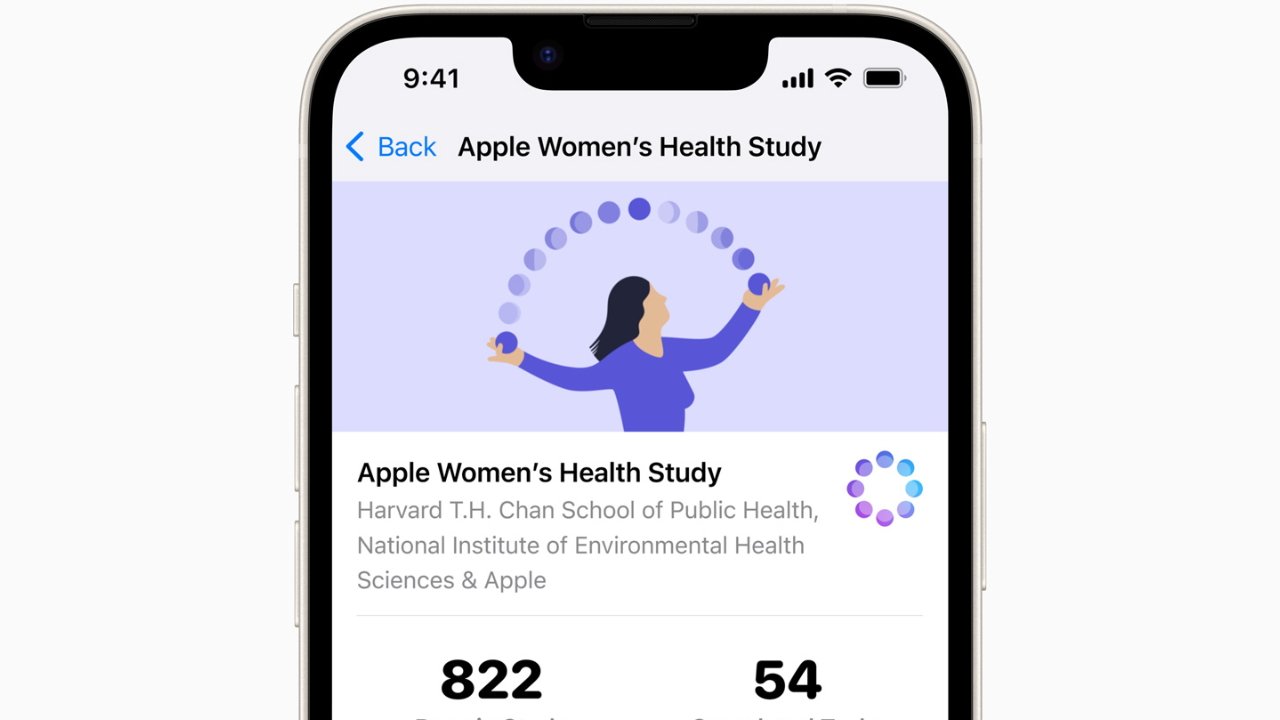 AppleInsider may earn an affiliate commission on purchases made through links on our site.
Ahead of International Women's Day on March 8, Apple has shared preliminary findings from its Women's Health Study, showing iPhone and Apple Watch research into menstrual cycles.
Apple says that despite physicians believing periods are a vital health indicator, the area is "notably under-researched." It's Apple Women's Health Study is a "first-of-its-kind research study," that the company is working on with both the Harvard T.H. Chan School of Public Health and the National Institute of Environmental Health Sciences (NIEHS).
"More awareness on menstrual cycle physiology and the impact of irregular periods and PCOS on uterine health is needed," Dr. Shruthi Mahalingaiah, MS, Harvard Chan School's assistant professor of Environmental Reproductive and Women's Health and co-principal investigator of the Apple Women's Health Study, said.
"This analysis highlights the importance of talking to a healthcare provider when menstruators are experiencing persistent changes to their period that span many months," continued Dr. Mahalingaiah . "Over time, we hope our research can lead to new strategies to reduce disease risk and improve health across the lifespan."
Apple says that its study is "significant in its scope and scale" because across the US, anyone who "has ever menstruated" can contribute just by using their iPhone.
Preliminary results
Harvard Chan School researchers analyzed data from over 50,000 study participants. While the research is continuing, so far the team found that 12% of those participants report having a polycystic ovary syndrome (PCOS) diagnosis.
In this latest series of preliminary results, the Harvard Chan School team also found that 5.7% of participants reported their menstrual cycles taking five or more years to reach cycle regularity following their first period.
Participants in that group "had more than twice the risk of endometrial hyperplasia and more than 3.5 times the risk of uterine cancer, compared to those who reported their cycles took less than one year to reach regularity."
Cycle tracking is available in the Health app on iPhone, or the dedicated Cycle Tracking app on Apple Watch.
The feature has been available since the Apple Watch Series 5. However, Apple notes that "the new temperature-sensing capabilities in Apple Watch Series 8 and Apple Watch Ultra [also] allow users to receive retrospective ovulation estimates."
The post Apple highlights importance of menstrual cycle studies for women's health first appeared on appleinsider.com
In many places around the world, horse races are an attraction that a lot of people love to watch. With the fast-paced action and thrill that each game provides, it is no longer surprising to know that millions of fans have grown fond of it.
Cybersecurity threats have become vast and more sophisticated. The rate of malware attacks and malicious activity counts within seconds despite the size or sector the organization belongs to — no one is safe enough to expect that foe actors will bypass vital company resources.