From www.phonearena.com
If you like to follow the smartphone vendor charts around the world with as much devotion and regularity as we do, you're probably already well aware of
Samsung's narrow Q1 2023 victory over Apple.
The global gap between the two mobile industry leaders, of course, is getting smaller and smaller as iPhones continue to fend off not just their "conventional" Galaxy S-series competition but
trendy foldable models as well across markets as diverse as
China, North America, and Western Europe.
One trophy, two strong contenders
Yes, Samsung is number one there as well, with a healthy 35 percent slice of the January – March 2023 sales pie, but
Apple is an extremely close silver medalist, with a nice 33 percent market share of its own.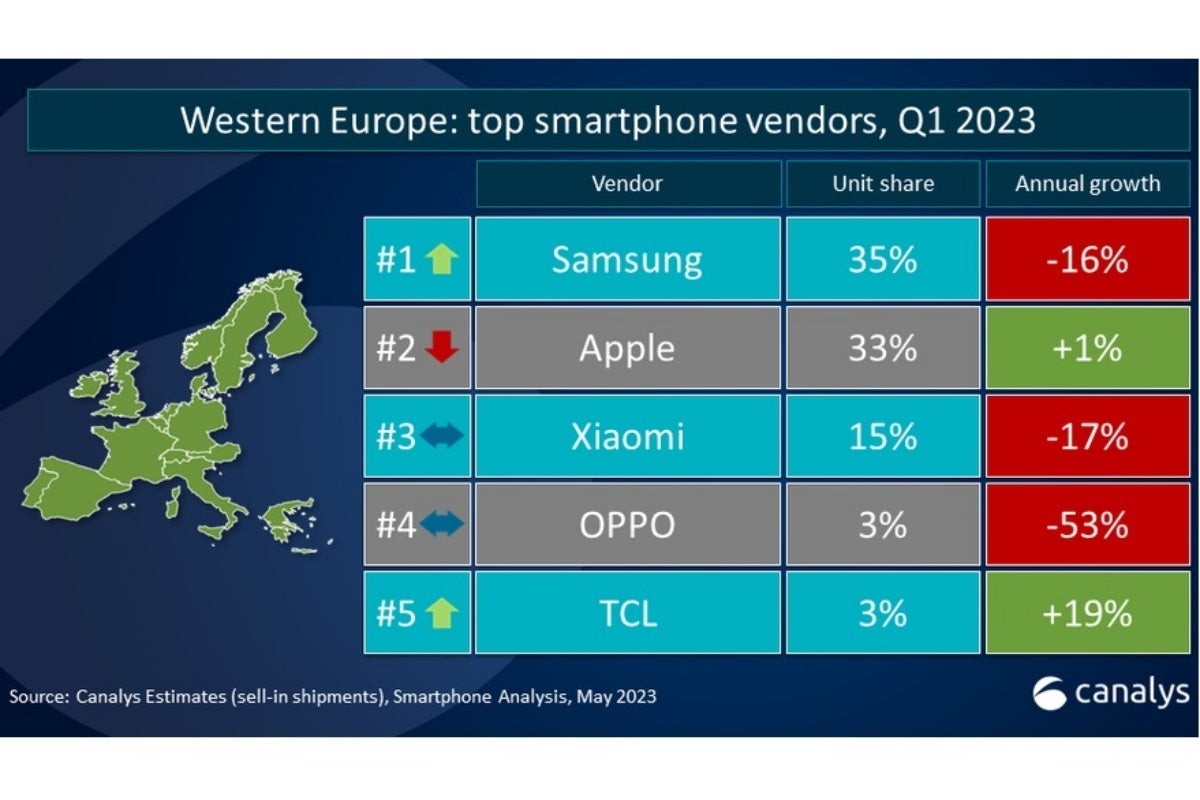 More notably, while Galaxy handset shipments declined by a worrying 16 percent from the first three months of 2022, iPhone sales stayed almost perfectly still during the same period, slightly increasing by 1 percent from around 7.7 to 7.8 million units.
Apple's unflinching figures in the face of "challenging economic conditions" are made that much more impressive by the 13 percent slump of the Western Europe smartphone market in its entirety between Q1 2022 and the opening quarter of this year.
In line with this general decline, Xiaomi saw its shipment scores fall from 4.2 to 3.5 million units, causing a large drop in market share as well. Luckily for the Chinese brand, compatriot Oppo experienced an even bigger decline in fourth place, while TCL remains too far behind in the fifth spot to go for the podium.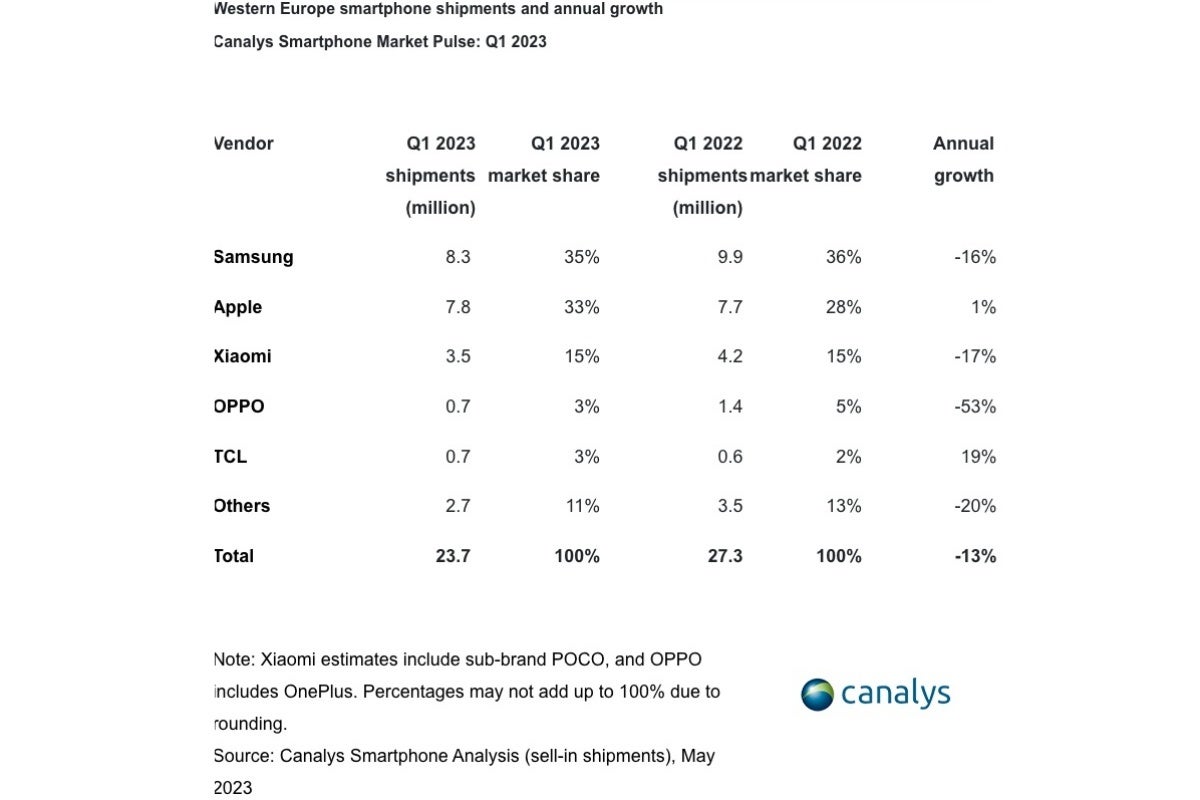 But Oppo and TCL's positions among the top five smartphone vendors in Western Europe could well be threatened in the very near future by the likes of Google, Motorola, Honor, and HMD Global (aka Nokia).
Pricier is better
Of course, Samsung and Apple are set to remain the region's gold and silver medalists even as the market is expected to rebound in 2024. And while
Samsung's sales volume has recently gone down, its average prices are on the rise, which is always a good sign for a company that wants to, well, turn a profit.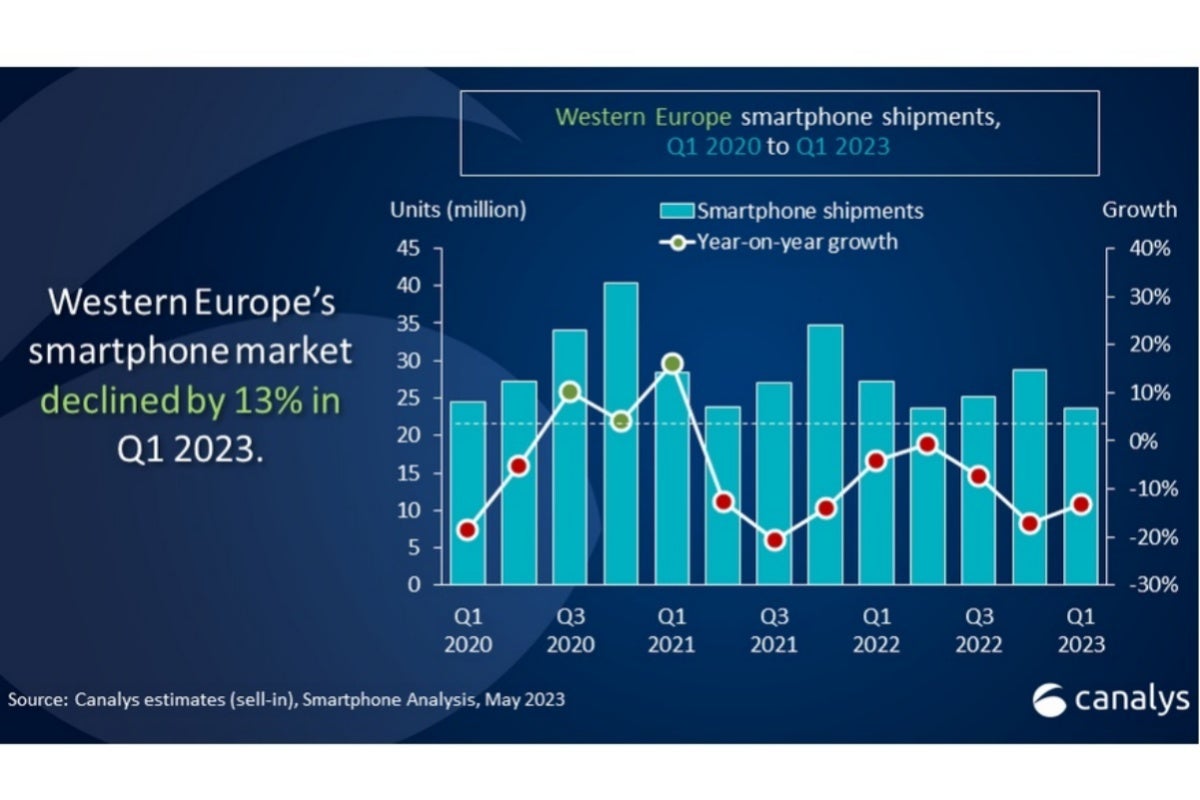 The
Galaxy S23 and
S23 Ultra crucially contributed to this positive change for their manufacturers, although Apple is still the unchallenged champion of average selling prices (ASPs) both in Western Europe and around the world.
Apple and Samsung are also mainly responsible for the progress of the premium (or mid-to-high-end) segment, which now accounts for an impressive 41 percent of the market compared to an also solid 35 percent back in Q1 2022.
That's right, there are almost as many $800+ phones being sold in Western Europe than devices under that price point these days, which represents a stark contrast with the current situation in markets like India, China, and basically the rest of the old continent.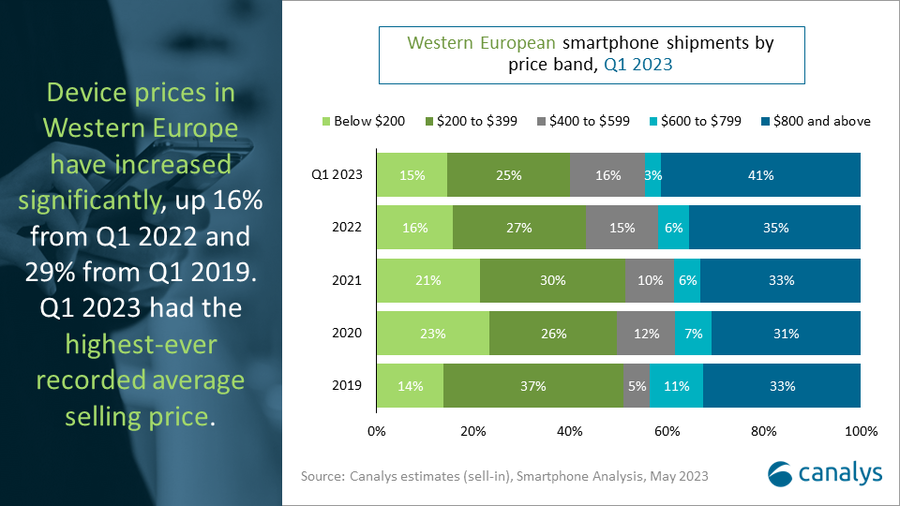 It's no wonder therefore that Samsung is apparently investing more heavily than ever in "brand and product advertising" around those parts, shifting its focus from the once hugely popular Galaxy A line of low to mid-end handsets almost entirely to high-priced (and high-profit-generating) flagships. And that, our dear friends and readers, is also called the "Apple strategy."
The post Apple is breathing down Samsung's neck in another key region as far as smartphone sales go first appeared on www.phonearena.com
In many places around the world, horse races are an attraction that a lot of people love to watch. With the fast-paced action and thrill that each game provides, it is no longer surprising to know that millions of fans have grown fond of it.