From appleinsider.com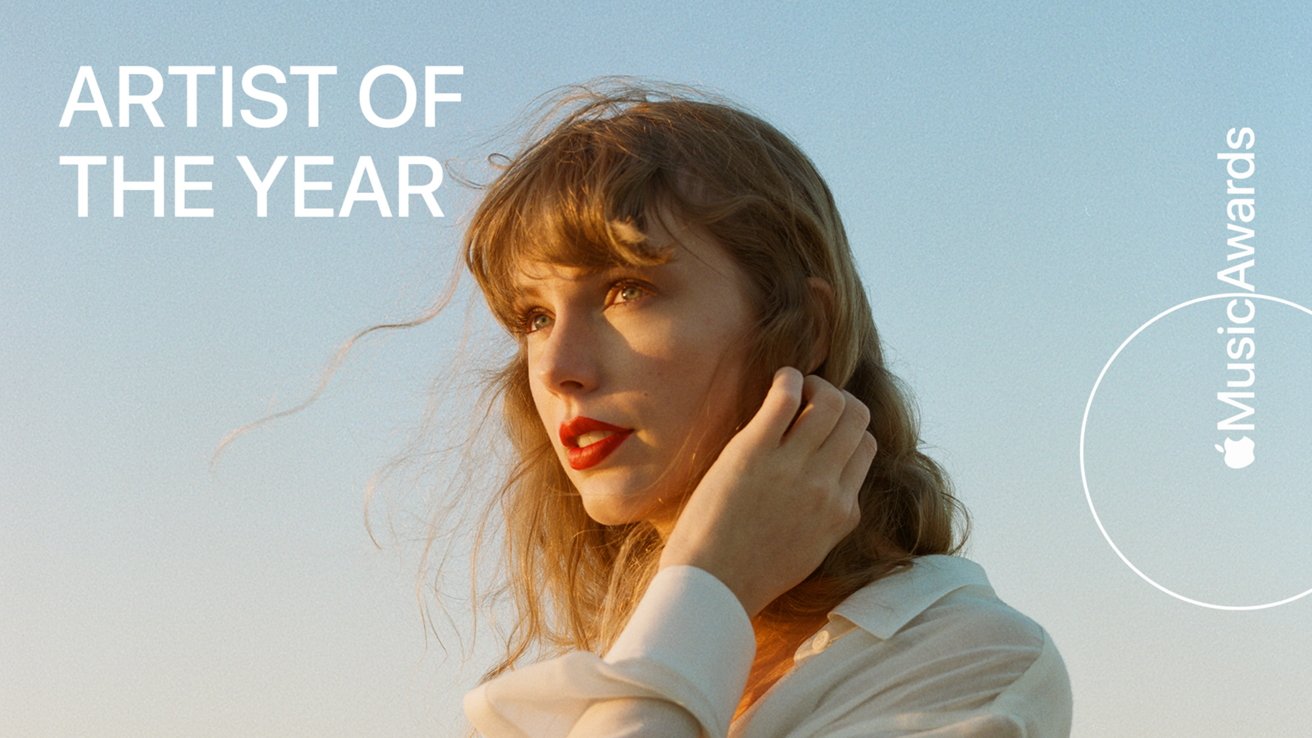 Taylor Swift has been named Apple Music's 2023 Artist of the Year, setting record-breaking milestones and receiving the prestigious Apple Music Award.
Throughout the year, Swift achieved remarkable feats such as chart-topping songs, massive streaming numbers, and sold-out concerts in stadiums filled with devoted fans. During the first ten months of 2023, Taylor Swift achieved a remarkable feat with 65 songs reaching Apple Music's Global Daily Top 100, surpassing all other artists in this category.
Swift expressed her gratitude, stating, "I am so honored to be Apple Music's Artist of the Year. Thank you to every single one of you for making this year the most incredible, joyful, celebratory year ever."
To celebrate Taylor Swift's achievements, Apple Music is spotlighting her "Eras" era, showcasing two decades of melodic album narratives, interviews, album collections, and playlists leading up to this historic year.
Apple's vice president of Apple Music and Beats, Oliver Schusser, acknowledged Swift's undeniable impact on the music industry. He stated, "Taylor Swift's impact on music is absolutely undeniable – not just this record-breaking year, but throughout her entire career."
"She is a generation-defining artist and a true change agent in the music industry and there is no doubt that her impact and influence will be felt for years to come. We are thrilled to have the opportunity to celebrate her achievements."
Swift experienced consistent streaming growth throughout the year, especially during her "Eras" tour, which saw a 61 percent increase in global streams when it kicked off in March. "Set List: Taylor Swift's Eras Tour" became the most-streamed set list of the year and among the top 40 editorial playlists.
Several of Swift's classics, including "Bad Blood," "Blank Space," "Style," "Shake It Off," "Wildest Dreams," and "All Of The Girls You Loved Before," made their debut on Apple Music charts in 2023. The song "Cruel Summer" from Swift's 2019 album "Lover" became a global summer hit on Apple Music, re-entering the Global Daily Top 100 and maintaining its position.
Swift's "Midnights" remains the largest album of all time by a female artist in Apple Music history, with significant first-day and first-week global streams.
Taylor Swift is now the most-streamed female artist in Apple Music's history and has the most songs reaching Apple Music's Global Daily Top 100. In recognition of her achievements, she will receive the Apple Music Award, which features a custom silicon wafer between a glass sheet and an aluminum body, symbolizing the role of technology in music creation.
[ For more curated Apple news, check out the main news page here]
The post Apple Music celebrates Taylor Swift as the Artist of the Year for 2023 first appeared on appleinsider.com