From www.macrumors.com
The third-generation Apple Pencil could be available with a range of interchangeable tips to emulate different drawing styles, according to a sketchy rumor shared by the X (formerly Twitter) user known as "Majin Bu."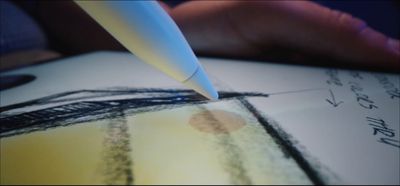 The next-generation ‌Apple Pencil‌ will apparently come with different tips for drawing, technical drawing, and painting that connect magnetically. Majin Bu did not share any further details about the device. After a flurry of rumors in 2021, rumors about a third-generation ‌Apple Pencil‌ model noticeably died down and nothing has been heard about the product until now.
In March 2021, the leaker known as "Mr. White" shared an image purporting to depict a next-generation Apple Pencil prototype that featured a shorter design, glossy finish, and a larger, deeper tip. Apple was believed to have worked on a smaller Apple Pencil designed for the iPad mini, as well as a $49 model for the iPhone, but both products never emerged and are said to have been canceled entirely.
It is worth noting that while Majin Bu often aggregates and shares information related to Apple's plans, they do not have a solid track record. The current ‌Apple Pencil‌ is the second-generation version introduced alongside the 2018 iPad Pro, meaning that it is one of the oldest Apple devices still on sale. As such, it is fairly likely that Apple has plans to launch a third-generation model at some point, and the company still files patents on new technologies for the accessory, but the latest rumor should still be taken with a pinch of salt until it is corroborated.
Popular Stories
Friday September 29, 2023 11:29 am PDT by Joe Rossignol
At WWDC 2022 last year, Apple previewed the next generation of CarPlay, promising deeper integration with vehicle functions like A/C and FM radio, support for multiple displays across the dashboard, personalization options, and more. Apple said the first vehicles with support for the next-generation CarPlay experience would be announced in late 2023, but it has still not shared any additional…
If you have an iPhone 15 and drive a BMW, it might be best to avoid charging the device with the vehicle's wireless charging pad for now. Over the past week, some BMW owners have complained that their iPhone 15's NFC chip no longer works after charging the device with their vehicle's wireless charging pad, according to comments shared on the MacRumors Forums and X, formerly known as Twitter. …
Saturday September 30, 2023 9:28 am PDT by Joe Rossignol
Apple plans to release an iOS 17 update to address a bug that may contribute to the reported iPhone 15 Pro and iPhone 15 Pro Max overheating issue, according to a statement the company shared today with MacRumors and Forbes reporter David Phelan. Apple also says some recent updates to third-party apps have overloaded the system and contributed to the overheating issue. The report notes that…
Wednesday September 27, 2023 1:34 pm PDT by Marko Zivkovic
Significant changes are expected to arrive with Apple's fourth-generation iPhone SE, in terms of both design and hardware, MacRumors has learned. The iPhone SE 4, known internally under the codename Ghost, is expected to receive a new design derived almost entirely from the base model iPhone 14. According to our sources, the iPhone SE 4 will use a modified version of the iPhone 14 chassis…
MacRumors has obtained preliminary information on the weights and dimensions planned for the iPhone 16, iPhone 16 Plus, iPhone 16 Pro, and iPhone 16 Pro Max. The information corroborates previous reports suggesting that the iPhone 16 Pro and 16 Pro Max will feature larger displays. iPhone 16 and 16 Plus Current information suggests that the iPhone 16 and 16 Plus will maintain the same…
Friday September 29, 2023 2:27 pm PDT by Juli Clover
CarPlay is not working as expected for some iPhone 15 users, an issue that is likely linked to the transition to USB-C. There are multiple complaints from MacRumors readers and Reddit users who are unable to get CarPlay to work with their new devices. Cable type and available port options are a common theme in the CarPlay reports, with many of the functionality problems linked to USB-A to…
Wednesday September 27, 2023 1:57 pm PDT by Juli Clover
Just a week after releasing iOS 17, Apple has seeded the first beta of iOS 17.1 to developers. iOS 17.1 adds some features that Apple promised were coming to iOS 17 in the future, plus it refines and improves some existing features. This guide covers everything new in the first iOS 17.1 beta. Apple Music Favorites You can favorite songs, albums, playlists, and artists in the iOS 17.1…
[ For more curated Apple news, check out the main news page here]
The post Apple Pencil 3 Could Feature Magnetic Tips for Different Drawing Styles, Sketchy Rumor Claims first appeared on www.macrumors.com