From www.imore.com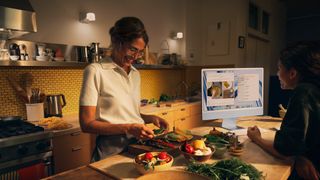 (Image credit: Apple)
For a while now Apple's entry-level Macs have had just 8GB of RAM unless the buyer chooses to upgrade that at the point of purchase. The same goes for the latest M3 iMac and M3 MacBook Pro, too. And that's once again raised the question of whether or not it's time Apple moved on, giving buyers at least 16GB of RAM.
That's especially the case when you look at Apple's Pro machines, with the M3 14-inch MacBook Pro shipping with just 8GB as mentioned. While you could easily argue that 8GB is enough in the iMac, some would say that anything with the word Pro in the name should come with more. And it would be hard to argue.
Except, that's exactly what Apple is doing. According to Apple's VP of worldwide product marketing Bob Borchers, 8GB is plenty and we should probably stop comparing Macs to Windows PCs as well.
It's all about efficiency
Borchers was speaking with ML engineer and content creator Lin YilYi in a video spotted by MacRumors when he said that 8GB of RAM in the MacBook Pro "is probably analogous to 16GB on other systems." Why? Because Macs "just happen to be able to use it much more efficiently." The inference is that Windows PCs need more RAM because they are less efficient than macOS.
The comment came after YilYi said that he had concerns about the MacBook Pro's 8GB of RAM, but Borchers believes that people should go to an Apple Store and try to do what they need to do on these new Macs — and that he thinks they'll "see incredible performance" when they do.
For those who absolutely do need more RAM, it can of course be added for a cost. But those upgrade costs can be prohibitive. Apple's latest Macs have on-board shared RAM which means that it can't be upgraded after purchase, so the decision has to be made when placing the initial order — a fact that makes choosing the right amount of RAM even more important.
[ For more curated Apple news, check out the main news page here]
The post Apple says M3 Macs only need 8GB of RAM, unlike inefficient Windows PCs first appeared on www.imore.com