From www.imore.com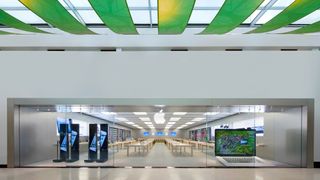 (Image credit: Apple)
An Apple store in Maryland is seeking for a large pay increase, more time off, and changes to rules that could see Apple store workers get tips from their customers.
According to a new report, the workers at the Towson store, represented by the Association of Machinists & Aerospace Workers, are currently engaged in negotiations with Apple after workers at the store became the first to successfully unionize in the U.S.
Workers are reportedly seeking raises of "as much as 10%", changes to vacation policy, bereavement leave, overtime, and most notably, accepting tips.
Would you tip an Apple store employee?
Bloomberg (opens in new tab) reports that on top of an overall raise, representatives of the store's workers "are asking Apple for higher pay over a larger slate of holidays, including the day after Thanksgiving," and an expansion of bereavement leave from the current 10 days per occurrence to a maximum of 45 days a year, including for close friends and pets.
The union said that it recognizes "this is a negotiation". According to the report, tips could be offered in increments of 3%, 5%, or a custom amount for credit-card transactions that "will allow thankful patrons the ability to express gratitude for a job well done without any obligations," with tips distributed "to members of the bargaining unit biweekly based on any hours worked." Apple's best iPhone, the iPhone 14 Pro, starts at $999, so a 5% tip would add another $50 to the price.
As the report notes, many of the perks sought are "rare in the retail world," and it seems some employees are worried the more outlandish demands could hamper actual critical changes the workers want and need. Apple has repeatedly told employees that unionizing could stifle the benefits they get from the company, but if this union gets its way, it could see the store become one of the highest-paid retail outlets at the company and one that offers some of the most generous benefits.
The post Apple store customers could be asked to tip employees if this unionized store gets its way first appeared on www.imore.com
In many places around the world, horse races are an attraction that a lot of people love to watch. With the fast-paced action and thrill that each game provides, it is no longer surprising to know that millions of fans have grown fond of it.