From www.macrumors.com
by Juli Clover
Apple plans to overhaul the TV app in an effort to consolidate its Apple TV+ streaming service and its standalone movie and TV show purchase options, according to Bloomberg's Mark Gurman. A tvOS update in December will introduce the changes that Apple has planned.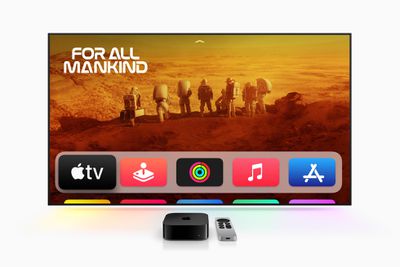 To push users to the Apple TV app, Apple plans to remove its standalone ‌Apple TV‌ apps that are available for renting and purchasing TV shows and movies. The movie and TV show sections from the iTunes Store app on iPhones and iPads will also be eliminated.
Apple wants to push customers to the TV app, which already houses purchased movies and shows, ‌Apple TV+‌ content, and third-party channels that customers can subscribe to.
The TV app will serve as a hub for streaming content, and Gurman says the redesigned app will have a side panel at the left that can be used to navigate between different video categories.
Updated navigation should make the TV app less confusing for consumers, making it clearer which content is from Apple and available through the ‌Apple TV+‌ subscription and which content requires a separate subscription.
Popular Stories
iOS 17.1 is expected to be released by Tuesday, October 24 following weeks of beta testing. The software update includes several new features and changes for iPhones related to Apple Music, AirDrop, StandBy mode, and more. Below, we have recapped eight new features and changes coming to the iPhone with iOS 17.1. When the software update is available, users will be able to install it by…
Monday October 23, 2023 10:24 am PDT by Juli Clover
Apple's iOS 17.1, iPadOS 17.1, macOS Sonoma 14.1, tvOS 17.1, watchOS 10.1, and HomePod Software 17.1 updates are expected to be released to the public tomorrow following several weeks of beta testing. We are expecting the software to go live at 10:00 a.m. Pacific Time, which is when Apple typically releases updates. Last week, Apple seeded release candidates (RCs) for all of the upcoming…
Apple is planning a Mac-focused product launch, likely including the announcement of a refreshed 24-inch iMac, for the end of this month, Bloomberg's Mark Gurman reports. Subscribe to the MacRumors YouTube channel for more videos. In the latest edition of his "Power On" newsletter, Gurman said that Apple is "planning a Mac-centered product launch around the end of this month" that could see…
Tuesday October 24, 2023 9:01 am PDT by Juli Clover
Apple today announced its second fall event of 2023, with the online event set to be held on Monday, October 30 at 5:00 p.m. Pacific Time. Apple's October event will be about the Mac, and the company is expected to refresh several Macs in the lineup. Apple's Events website features an Apple logo on a black background that morphs into the Mac Finder icon, confirming the event's Mac focus. As …
Friday October 20, 2023 1:35 pm PDT by Juli Clover
Chinese smartphone company OnePlus this week introduced its first foldable smartphone, the OnePlus Open. OnePlus joins several other manufacturers that have come out with foldable smartphones, including Samsung, Google, and Xiaomi. We picked up the OnePlus Open to see how it compares to Apple's latest flagship, the iPhone 15 Pro Max. Subscribe to the MacRumors YouTube channel for more videos. …
Saturday October 21, 2023 7:24 pm PDT by Tim Hardwick
Update:Kosutami has since revealed that the LcdUTest app shown on the HomePod's display has been superimposed and doesn't exist in the original picture, but the LCD display panel shown on the HomePod is real. Apple is rumored to be developing a new HomePod with a screen, and new images shared online allegedly give us a first glimpse of the new smart speaker. The above image appears to …
After a flurry of rumors suggesting we might see some new iPad models this week, a new Apple Pencil turned out to actually be what was in the cards. The new Apple Pencil charges via USB-C, launches early next month, and is the cheapest model in a lineup that now includes three different Apple Pencils. This week saw some additional rumors about future iPad and iMac models, while we're…
Thursday October 19, 2023 7:01 am PDT by Joe Rossignol
Apple plans to start implementing generative AI technology on the iPhone and iPad in late 2024 at the earliest, according to Jeff Pu, an analyst who covers Apple's supply chain for Hong Kong-based investment firm Haitong International Securities. In a research note on Wednesday, Pu said his supply chain checks suggest that Apple is likely to build a few hundred AI servers in 2023, and…
[ For more curated Apple news, check out the main news page here]
The post Apple to Overhaul TV App, Remove Standalone Apps from Apple TV first appeared on www.macrumors.com