From www.imore.com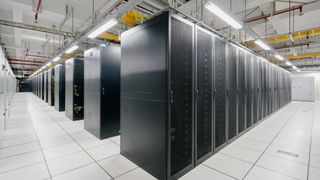 (Image credit: Getty Images / Sinology)
A new report has revealed that despite plans to spend nearly $5 billion on AI servers next year, Apple is still struggling to keep up with its rivals.
Reputable industry analyst Ming-Chi Kuo has put up a Medium post, revealing that their recent study showed Apple buying 2,000-3,000 units of AI servers in 2023, with that number pushing up to 18,000-20,000 in 2024. This is a sizable jump from before but pales in comparison to the 40,000 Meta is buying and the 80,000-100,000 Microsoft is reportedly purchasing.
Apple's growth in the industry is partially due to an Nvidia AI chip shortage and also partially down to Apple's unwillingness to previously commit to the tech in a fashion similar to its major competitors.
Falling behind — iMore's take
In a recent Bloomberg article discussing the rise of AI funding across the industry, someone close to Apple revealed to Mark Gurman "There's a lot of anxiety about this and it's considered a pretty big miss internally". In an effort to catch up, Apple is set to spend billions of dollars on both its infrastructure and development, though this leaves Apple executives with a handful of important questions.
Running AI computing on-device means that using apps offline gives you the ability to create templates quickly in writing and presentation apps without as much reliance on those servers, but it develops much slower as AI gets better based on information you feed it. If you cut off your ability to send information back to servers, it has less to work off.
We know some level of cloud computing will exist here, but the advancement of the Neural Engine in both the iPhone 15 Pro and Apple Watch Series 9 means on-device Siri is getting better. Apple will have to decide where it wants to dedicate its resources, and not focusing on AI quicker gives it less time to make this decision. Hopefully, that exponential funding will set them on the right path.
More from iMore
[ For more curated Apple news, check out the main news page here]
The post Apple to spend $4.75 billion on AI servers next year as it desperately tries to catch up with rivals first appeared on www.imore.com