From www.whathifi.com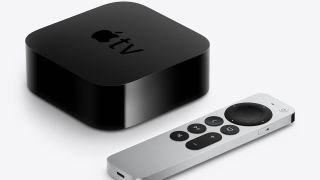 (Image credit: Apple)
Apple's latest update to its tvOS will add new features, including support for older models of HomePod.
Version 17 of Apple's tvOS was released in September and introduced FaceTime, VPN support, and an improved Control Center, to name a few fresh additions. Now, tvOS 17.1 is set to provide even more features and improvements.
A new feature of note is the 'On-Screen Volume Display', which allows the volume level from external devices like soundbars to be displayed on-screen, rather than just the standard + / – indicators. This is said to be compatible with soundbars and other devices by brands such as LG, Samsung and Sonos.
The 'Enhance Dialogue' will be available to first-gen HomePod and HomePod mini users when paired with Apple TV 4K. This feature was previously only available to second-generation HomePod users, so it's nice to see some of the latest options are not restricted to just the latest model.
'Enhance Dialogue' does what you would expect from the name and could be useful if dialogue sounds muddy or you have trouble hearing what characters in your favourite show are saying. The feature is compatible with streaming apps that provide the standard tvOS playback controls, including Disney+, Hulu, and Max.
Another interesting update is the addition of support for the Nintendo 64 Switch controller. This means the controller can be used to play games from Apple Arcade or the app store, and joins existing support for current-gen console and Bluetooth controllers
Apple's tvOS 17.1 update is said to be available this week, so Apple TV users, make sure you keep your eyes peeled for further news.
MORE:
Read our Apple TV 4K (2022) review
Our full Apple HomePod 2 review
Best TVs 2023: flagship OLEDs and affordable flatscreens tried and tested
[ For more curated Apple news, check out the main news page here]
The post Apple TV is about to get better for users with soundbars and original HomePods first appeared on www.whathifi.com