From www.imore.com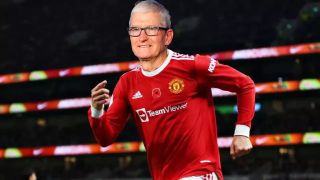 (Image credit: Future)
Apple may have dropped out of the streaming rights race for the NFL Sunday Ticket, but it looks like it hasn't given up on its sports streaming aspirations yet. A new report from the Daily Mail says that Apple is planning on bidding for the streaming rights for Premier League.
The report says Apple is gunning for Apple TV Plus to grab the domestic streaming rights for the UK. The rights are currently with Sky Sports and BT Sport, in a three-year deal set to expire in 2025.
Apple wants sports on its streaming service
Sports coverage is a massive part of live streaming all over the world. With Apple TV Plus competing to become a serious streaming platform, Apple is looking to bring sports coverage to the platform. The company was aiming to get the NFL Sunday Ticket rights, which would give it access to all NFL out-of-market Sunday games.
However, Apple dropped out of the NFL streaming race recently. The company didn't see the logic in picking up the deal with the restrictions NFL would add, including a subscription price increase for Apple TV Plus. Now, Apple wants to participate in the Premier League streaming bidding war, which is set to begin later this year.
The report says, "A serious bid from Apple is the biggest threat to Sky Sports' dominance of Premier League coverage since they gained exclusive rights to the competition in 1992, as they have the financial clout to challenge them."
Apple TV Plus is no stranger to football (also known as soccer in the US), with one of its most popular shows, Ted Lasso centering around the sport. It has also signed a £500,000 deal with Premier League to use logos and other official material for the show. It has also inked a deal with Major League Soccer to stream it for 10 years, worth $2.5 billion.
The post Apple TV Plus to bid for streaming rights for the Premier League first appeared on www.imore.com
In many places around the world, horse races are an attraction that a lot of people love to watch. With the fast-paced action and thrill that each game provides, it is no longer surprising to know that millions of fans have grown fond of it.
Cybersecurity threats have become vast and more sophisticated. The rate of malware attacks and malicious activity counts within seconds despite the size or sector the organization belongs to — no one is safe enough to expect that foe actors will bypass vital company resources.