From www.phonearena.com
Apple is expected to refresh the iPad line-up next year by replacing the M1 chip on the iPad Air with the M2, equipping the iPad mini with an A16 Bionic or an A17 Pro chip, and making some changes to the basic 11th-generation iPad. Later next year, Apple is expected to introduce its first two tablets to feature OLED panels, the 11-inch iPad Pro and the 13-inch iPad Pro.
Since we could see a price hike with the new displays, you might expect that even after launching the new 2024 iPad Pro models, Apple might continue offering the 12.9-inch iPad Pro (2022), which features a mini-LED screen, at a discount. But according to TrendForce (via MacRumors), Apple will discontinue the 12.9-inch mini-LED iPad Pro (2022) next year after the refreshed 13-inch model is announced.
If TrendForce is correct, the elimination of the 12.9-inch iPad Pro and its mini-LED display will sharply reduce the shipments of tablets using mini-LED next year. According to the report, "Meanwhile, with the 12.9-inch iPad Pro expected to be discontinued in 2024, the shipment volume of mini-LED tablets is expected to decrease by about 15.6% YoY."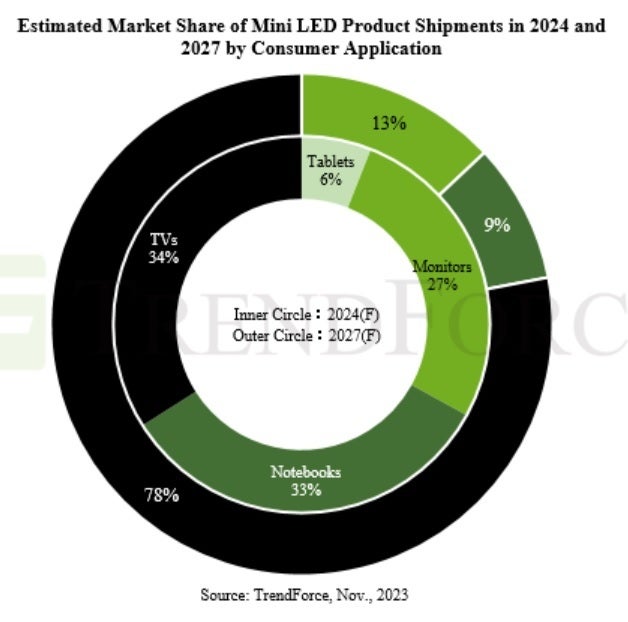 Use of mini-LED displays on tablets is expected to grow sharply between 2024 and 2027 according to TrendForce
TrendForce does see the use of mini-LED in tablets increasing over the next few years. It forecasts that tablets using mini-LED displays will will make up 6% of mini-LED shipments next year rising to 13% by 2027. The OLED iPad Pro models will deliver brighter images, higher contrast, lower consumption of power, and more accurate color reproduction. The move to OLED will also allow the ProMotion display to have a refresh rate range of 10Hz-120Hz or possibly wider. The LCD panels on the iPad Pro (2022) allow for a refresh rate range between 24Hz and 120Hz.
By reducing the low end to 10Hz (or lower) when static content like email is on the screen, the battery will run longer. Perhaps Apple plans on matching the refresh rate of the iPhone 14 Pro series and iPhone 15 Pro series which ranges from 1Hz to 120Hz.
[ For more curated Apple news, check out the main news page here]
The post Apple will reportedly put the kibosh on the 12.9-inch Mini-LED iPad Pro next year first appeared on www.phonearena.com