From www.macrumors.com
by Tim Hardwick
Apple is continuing to research under-screen fingerprint sensor technology for an iPhone with a view to re-introducing Touch ID in its first full-screen model, according to a new rumor.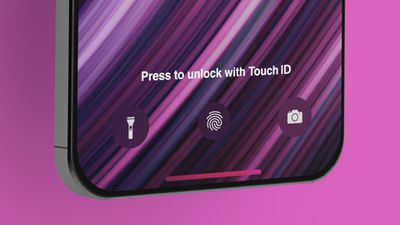 Ever since Face ID debuted in 2017's iPhone X, Apple's roadmap for Touch ID on iPhones has been murky at best, with some industry observers suggesting that Apple considers Face ID an exclusive all-in-one biometric solution going forward.
It's no secret that Apple has been working on a Touch ID system designed to be set under the display since at least 2013, with several patents awarded to the company over the years. However, despite claims that under-screen Touch ID on a future iPhone is unlikely, Apple has, if anything, intensified its research in under-screen fingerprint sensing technology.
Just this week, Apple was granted a patent relating to under-screen Touch ID that combines shortwave infrared technology with an optical imagining system that could have multiple functions. Not only does the latest embodiment aim to read the user's fingerprint when it touches the display, it could also determine vein pattern, blood oxygenation, pulse, and the presence of gloves and wetness.
Despite this, recent predictions as to when under-screen Touch ID might be introduced, if at all, have been pushed back. In a September 2021 research note, Kuo had predicted that Apple would launch at least one new iPhone model with an under-screen fingerprint scanner in the second half of 2023. But seven months later, Kuo said Apple was unlikely to release any iPhone models with under-screen Touch ID in 2023 or 2024.
Apple did test an under-screen fingerprint scanner for at least some iPhone 13 models, according to trusted reports, but Apple apparently decided not to move forward with the idea.
In the latest development, according to news aggregator account "yeux1122" on the Korean Naver blog, industry sources now believe that Apple will debut under-screen Touch ID in the two to three years following the debut of under-panel Face ID.
Judging by the pace of development of under-panel technology as outlined in industry consultant Ross Young's roadmap, this suggests we could see a new under-screen version of Touch ID in a 2026 iPhone at the earliest, possibly in the same year that Apple is expected to move both Face ID and the front-facing camera under the display.
Of course, we cannot be certain that Apple will ever put Touch ID under iPhone screens. There also remains a possibility that Apple instead introduces an iPhone with Touch ID built into the power button, in line with the latest iPad Air and iPad mini models, but there haven't been any rumors to suggest that Apple plans to go down that avenue.
Popular Stories
Apple is currently beta testing iOS 16.4, which includes a handful of new features and changes for the iPhone. Apple says the software update will be released to the public in the spring, meaning it will likely be available in March or April. Below, we have recapped five new features coming to the iPhone with iOS 16.4, including additional emoji, web push notifications, and more. 1. New…
As rumors suggested, Apple today announced a new Yellow color option for the iPhone 14 and iPhone 14 Plus, as well as four new Silicone Case colors. The iPhone 14 and iPhone 14 Plus in Yellow will be available for pre-order on Friday, March 10, with availability starting on Tuesday, March 14. There are no new color options for the iPhone 14 Pro and iPhone 14 Pro Max. Apple's press release…
Apple is reportedly planning to launch new iPhone cases this spring, introducing at least two new colors. The Twitter leaker known as "Majin Bu" recently claimed that Apple plans to make its MagSafe Leather Case available in two additional colors for the iPhone 14, iPhone 14 Plus, iPhone 14 Pro, and iPhone 14 Pro Max, as part of an upcoming spring collection refresh. The added colors would…
Apple's next-generation 13-inch and 15-inch MacBook Air models will both be equipped with an M3 chip, according to 9to5Mac sources. The report claims that Apple is also planning to release an updated version of the 13-inch MacBook Pro with an M3 chip. The unannounced M3 chip will have an 8-core CPU like the M2 chip, according to the report, but the chip is expected to be manufactured based…
Wednesday March 8, 2023 9:00 am PST by Juli Clover
Google today announced that its Google VPN feature is expanding to all Google One subscribers, instead of being limited to those who subscribe to the Premium 2TB Google One plan. VPN by Google One is designed to mask a user's IP address, preventing sites and apps from collecting that information for location tracking and monitoring activity across the web. It also offers protection from…
Microsoft today announced that its Outlook app for Mac is now free to use, eliminating the need for a Microsoft 365 subscription or license. Outlook supports multiple email providers, including Outlook.com, Gmail, iCloud, Yahoo Mail, and others, with a unified inbox and universal search functionality available. As noted by The Verge, the app has been optimized for Macs with Apple silicon…
While the iPhone 15 lineup is still around six months away, front glass panels for the devices were allegedly leaked today in a pair of videos shared on Chinese websites Bilibili and Douyin. The videos were later posted to Twitter by ShrimpApplePro and Unknownz21. iPhone 14 Pro front glass (left) vs. iPhone 15 Pro front glass (right) via Bilibili As previously rumored, the videos appear to…
The post Apple Working on Under-Display Touch ID, Could Debut in First All-Screen iPhone first appeared on www.macrumors.com
In many places around the world, horse races are an attraction that a lot of people love to watch. With the fast-paced action and thrill that each game provides, it is no longer surprising to know that millions of fans have grown fond of it.
Cybersecurity threats have become vast and more sophisticated. The rate of malware attacks and malicious activity counts within seconds despite the size or sector the organization belongs to — no one is safe enough to expect that foe actors will bypass vital company resources.