From www.imore.com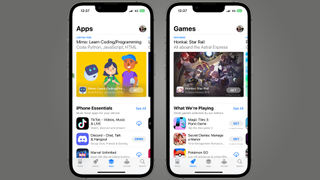 (Image credit: iMore)
Apple is on the receiving end of a new lawsuit brought by users of the Venmo and Cash App apps accusing the company of abusing its market power to inhibit competition in the peer-to-peer payment market.
It's claimed that the lack of competition means that crypto transaction prices have increased, with a class action lawsuit brought by four crypto fans in New York, Hawaii, South Carolina, and Georgia.
The four believe that Apple's blocking of crypto wallet apps from the App Store prevents healthy competition, allowing transfer feeds between digital wallets to be increased due to the lack of that competition.
Crypto conundrum
Reuters reports the class action lawsuit is being brought by law firm Bathaee Dunne, but the outfit has so far refused to comment on the litigation.
"Apple's agreements limit 'feature competition' within peer-to-peer payment apps, including prohibiting existing or new platforms from using "decentralized cryptocurrency technology," the report notes. The lawsuit "seeks an injunction that could force Apple to divest or segregate its Apple Cash business."
Those involved in the suit argue that by allowing decentralized technology, like crypto, Apple would give iPhone users a way to send payments to each other without having to use an intermediary — an intermediary that adds high transaction fees.
It's argued that Apple, Venmo, and Cash App "have repeatedly raised prices for transactions and services with no competitive check," although it isn't clear what input Apple has in the running of either of those two services to warrant that claim.
Two examples of Bitcoin wallet apps that have been prevented from appearing in the App Store are Zeus and Damus, Reuters notes. Block founder Jack Dorsey — the company behind Cash App — is involved in the latter.
As for what comes next, we'll have to wait and see but with neither Apple nor the law firm commenting it's unlikely that we'll hear much any time soon.
More form iMore
[ For more curated Apple news, check out the main news page here]
The post Apple's being sued by Venmo and Cash App users over iPhone crypto transfer fees first appeared on www.imore.com