From www.macrumors.com
Apple is likely planning to bring custom microLED displays to the iPhone, iPad, and Mac after the technology debuts in a new version of the Apple Watch Ultra currently scheduled to launch by the end of 2024, according to Bloomberg's Mark Gurman.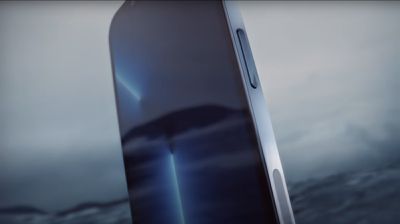 In the latest edition of his Power On newsletter, Gurman said that Apple has spent about six years developing microLED technology for what will become the first display custom-designed by the company itself, mirroring its work on Apple silicon. Earlier this week, Gurman said that Apple is planning to introduce the display technology with a new Apple Watch Ultra in 2024.
Apple reportedly kicked off its microLED project, codenamed T159, around 2017. The display is intended to offer improved brightness, color reproduction, and viewing angles, making images look more like they are "painted" atop the display glass, and replace parts currently supplied by companies like Samsung and LG.
After debuting in 2024's ‌Apple Watch Ultra‌, Gurman expects Apple's custom microLED displays to expand to the ‌iPhone‌, potentially followed by the ‌iPad‌ and the Mac at an even later date. He believes Apple's long-term plan is to bring microLED displays to all of its key products, but it could be a decade before it emerges in the Mac owing to the complexity of the technology at this early stage. For comparison, Gurman noted that the ‌iPhone‌ will have had OLED displays for over six years by the time they are expected to come to the iPad.
Popular Stories
Friday January 13, 2023 10:49 am PST by Joe Rossignol
Apple released the second beta of iOS 16.3 earlier this week, and so far only one new feature and two other minor changes have been discovered in the software update. It's possible that iOS 16.3 will also include various bug fixes and security updates. iOS 16.3 should be publicly released within the next month or so, and it is possible that more features will be added in later beta versions. …
The holidays are clearly over, with the Apple rumor mill back into full swing as we hit the midpoint of January. This week saw an array of both near-term and longer-term rumors ranging from Apple's mixed-reality headset, Apple silicon Mac Pro, iPhone 15, and iOS 17 later this year to new technology potentially coming to Apple devices over the next several years. We covered a lot of the…
Friday January 13, 2023 1:17 am PST by Sami Fathi
Apple has acknowledged that iPhone 14 Pro Max users may see flashing horizontal lines on their display when the device is being turned on. MacRumors forum user Infernoqt and Reddit user u/1LastOutlaw Last month, MacRumors reported that a growing number of iPhone 14 Pro customers described seeing green and yellow horizontal lines flash on their iPhone display when the device is being turned…
Saturday January 14, 2023 9:00 am PST by Tim Hardwick
These days Apple is associated with the iPod, iPhone, iPad, MacBook – game-changing products so wildly successful that they have changed the way we live. But even the most valuable company in the world has had its fair share of marketing missteps and hardware blunders. Apple wasn't always as profitable as it is today, and the failure of some of its earlier products would have doomed most…
Wednesday January 11, 2023 6:53 pm PST by Joe Rossignol
Apple's next-generation 14-inch and 16-inch MacBook Pro models with M2 Pro and M2 Max chips were slated to hit the market in "early 2023," but the laptops are now expected to be "delayed once again," according to Taiwanese publication DigiTimes. The report does not offer a revised launch timeframe for the new MacBook Pros. In his newsletter last weekend, Bloomberg's Mark Gurman said Apple…
Apple has been rumored to be working on iPads with even larger displays since mid-2021, but amid reports of the 14-inch model being cancelled, what is going on with the company's larger tablet plans? The Rumors So Far Bloomberg's Mark Gurman was first to float the rumor of Apple designers and engineers exploring iPads with bigger screens that could further "blur the lines" between a tablet…
Thursday December 15, 2022 4:39 pm PST by Joe Rossignol
iOS 16.2 is now available for the iPhone 8 and newer following two months of beta testing. With last-minute additions like Apple Music Sing and Advanced Data Protection, the software update includes over a dozen new features and changes for the iPhone. Below, we've recapped many of the new features available with iOS 16.2, including Apple's new whiteboard app Freeform, two new Lock Screen…
The post Apple's Custom MicroLED Displays Likely Heading to iPhone, iPad, and Mac After Apple Watch Ultra first appeared on www.macrumors.com
In many places around the world, horse races are an attraction that a lot of people love to watch. With the fast-paced action and thrill that each game provides, it is no longer surprising to know that millions of fans have grown fond of it.
Cybersecurity threats have become vast and more sophisticated. The rate of malware attacks and malicious activity counts within seconds despite the size or sector the organization belongs to — no one is safe enough to expect that foe actors will bypass vital company resources.