From www.imore.com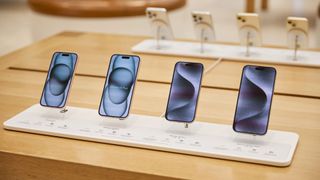 (Image credit: Apple)
Apple's head of security has given his thoughts on sideloading in a new interview, explaining that users could be forced to use a less secure method of downloading apps to their Apple devices.
For those unaware, sideloading would allow users to download apps from outside Apple's App Store. For example, someone could download a version of the Epic Games Store on their iPad and install Fortnite, which is currently unavailable on the App Store. This would bypass Apple's App Store (and its payment processing) completely.
This may sound appealing to some, as it could give users more choice as to where they download their apps and games from, but it could also give way to a bunch of security vulnerabilities. One such objection is that Apple would have no control over these stores, and hidden code could be installed with some apps that could attempt to steal a user's information.
Talking to The Independent, Apple's head of security, Ivan Krstić, disagrees with the perspective of the European Commission that sideloading is required for fair competition. Krstić challenged this, as well as the idea that this could give users better choices in installing apps on their Apple devices.
"That's a great misunderstanding – and one we have tried to explain over and over," Krstić states. "The reality of what the alternative distribution requirements enable is that software that users in Europe need to use – sometimes business software, other times personal software, social software, things that they want to use – may only be available outside of the store, alternatively distributed."
Krstić continues. "In that case, those users don't have a choice to get that software from a distribution mechanism that they trust. And so, in fact, it is simply not the case that users will retain the choice they have today to get all of their software from the App Store."
The timing of this interview can't be accidental
As Apple recently filed a legal challenge to the Digital Markets Law, including its sideloading provisions, the timing of this interview can't be coincidental. Apple's stance on privacy and security has been clear for years.
The DMA has a deadline of March 6, 2024, whereby Apple has to incorporate the Commission's requested changes such as sideloading, into its software, We could be set for a legal battle between Apple and the European Commission before then, so this legal challenge could delay sideloading on iPhones and iPads beyond the deadline date.
More from iMore
[ For more curated Apple news, check out the main news page here]
The post Apple's head of security gives scathing response to one sideloading argument as EU law looms first appeared on www.imore.com