From imore.com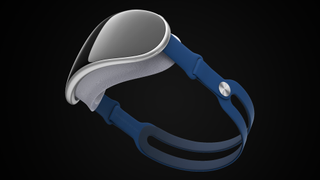 (Image credit: RendersByIan)
Apple's upcoming Reality Pro mixed reality headset will sport an external battery pack the size of two of the company's biggest and best iPhones, according to a new report.
While Apple has reportedly worked on a version of the headset with a built-in battery pack that charges via a USB-C cable, it's now thought that the model that will ship uses an external power source that Apple hopes will help keep the headset cool during use.
However, that battery pack isn't going to last a long time between charges — just two hours, if a new report is accurate.
Powered up — but not for long
Bloomberg's Mark Gurman reports, citing sources, that Apple's headset will make use of two of the company's latest M2 chips, or some variation thereof. Those chips will create plenty of heat, as will the "dedicated processor for graphics and mixed-reality experiences." Gurman says that's a concern for Apple.
"But making the processors powerful enough brought another concern: having the device overheat while it's on a user's face," Gurman reports. It's then suggested that Apple's fix was to offload the battery pack to a new location, removing it and its heat from the user's head. It's thought that the headset will also have a fan like high-end Macs.
However, that battery isn't going to last for very long on a single charge. Gurman says that it runs for just two hours before it needs to be replaced or recharged, something that will be an issue for anyone hoping to watch a movie in virtual reality.
Gurman says that the external battery pack is around the size of two iPhone 14 Pro Max models, or around six inches tall and more than half an inch thick.
Apple is now expected to launch the headset later this year, with a price of around $3,000 sure to make it more of a nice-to-have than any kind of must-buy accessory.
The post Apple's Reality Pro VR headset battery is huge but only lasts 2 hours, says leak first appeared on imore.com
In many places around the world, horse races are an attraction that a lot of people love to watch. With the fast-paced action and thrill that each game provides, it is no longer surprising to know that millions of fans have grown fond of it.
Cybersecurity threats have become vast and more sophisticated. The rate of malware attacks and malicious activity counts within seconds despite the size or sector the organization belongs to — no one is safe enough to expect that foe actors will bypass vital company resources.