From appleinsider.com
Google recently revealed the budget Pixel 7a that competes price-wise with the affordable iPhone SE. Here's how their features stack up.
Unveiled at Google I/O, the Pixel 7a follows a similar concept to the iPhone SE, aiming to deliver flagship-level performance in an affordable package. Apple released the third generation of the iPhone SE model in March 2022, with some of the same features.
The iPhone SE bests the Pixel 7a in some ways while falling behind in other aspects. Although both devices operate within a similar price range and conceptual scope, their respective offerings exhibit notable differences.
Specifications
Specifications
iPhone SE (third-gen)
Pixel 7a
Pricing (starting)
$429.00
$499.00
Dimensions (inches)
5.45 x 2.65 x 0.29
6.0 x 2.8 x 0.4
Weight (ounces)
5.09
6.8
Processor
A15 Bionic
Tensor G2
Storage
64GB, 128GB, 256GB
128GB
Display type
4.7-inch Retina HD
6.1-inch OLED
Resolution
1,334 x 750 at 326ppi
1,080 x 2,400 at 429ppi
Biometrics
Touch ID
Fingerprint reader
Connectivity
5G
LTE
Bluetooth 5.0
Wi-Fi 6
NFC
5G
LTE
Bluetooth 5.3
Wi-Fi 6E
NFC
Rear cameras
12MP Wide
64MP Wide
13MP Ultrawide
Front cameras
7MP
13MP
Battery
Up to 15 hours
Over 24 hours
Wireless charging
Qi
Qi
Colors
Midnight
Starlight
(Product)Red
Coral
Sea
Charcoal
Snow
Pixel 7a vs iPhone SE – Design & Dimensions
The Pixel 7a adheres to Google's existing design aesthetic, featuring a centered punch-hole display and a horizontal camera module on the rear. The smartphone retains aluminum sides made from 100% recycled materials and a thermoformed plastic rear panel.
Apple incorporates a glass front and back, complemented by an aluminum frame, in the design of the iPhone SE. While it doesn't have a prominent camera ridge like the Pixel 7a, both have a similar curved design on the sides.
With an IP67 dust and water resistance rating, the iPhone SE provides reassurance against water and dirt damage, even though it falls slightly short of the IP68 rating of the Pixel 7 series.
The Pixel 7a is 6.0 inches in height, 2.8 inches in width, and 0.4 inches in depth, weighing 6.8 ounces. In comparison, the iPhone SE is smaller, measuring 5.45 inches by 2.65 inches, and thinner at 0.29 inches, making it a preferred option for those seeking a slim and lightweight smartphone.
Pixel 7a vs iPhone SE – Displays
One notable distinction between the two lies in the display design. While the Pixel 7a features a sleek, consistent bezel around its screen, Apple opted for a more traditional approach with the iPhone SE, incorporating thin bezels on the sides and noticeable "chin" and "forehead" areas at the top and bottom.
However, that is due to the iPhone SE's physical Touch ID Home button, while the Pixel 7a has an optical fingerprint sensor underneath the display. The two displays also differ in size.
The iPhone SE sports a 4.7-inch screen that offers 1,344 by 750 pixels, with a pixel density of 326 pixels per inch, while Google includes a display size of 6.1 inches, a resolution of 1,080 by 2,400 pixels, and a 429ppi density.
The Pixel 7a has an OLED display with full 24-bit depth for 16 million colors, a 1,000,000:1 contrast ratio, and "high brightness mode" at approximately 900 nits.
The iPhone SE offers a more conservative contrast ratio of 1,400:1 regarding display capabilities. It also has support for True Tone and P3 Wide Color.
Unfortunately, while the iPhone SE's screen brightness of 625 nits is satisfactory, it won't reach the same peak brightness as the Pixel 7a.
Pixel 7a vs iPhone SE – Cameras
The iPhone SE features a solitary 12-megapixel ultra-wide camera positioned on the rear. It possesses an f/1.8 aperture, optical image stabilization, a 5x digital zoom, True Tone flash, and Focus Pixels for autofocus.
A 7-megapixel camera with an f/2.2 aperture is housed on the front of the iPhone SE.
Apple incorporates Deep Fusion computational photography technology on both cameras. That uses enhanced image signal processing to produce better texture, detail, and reduced noise in lower light.
Other features include support for Smart HDR 4, Photographic Styles, and a collection of Portrait Mode and Portrait Lighting effects.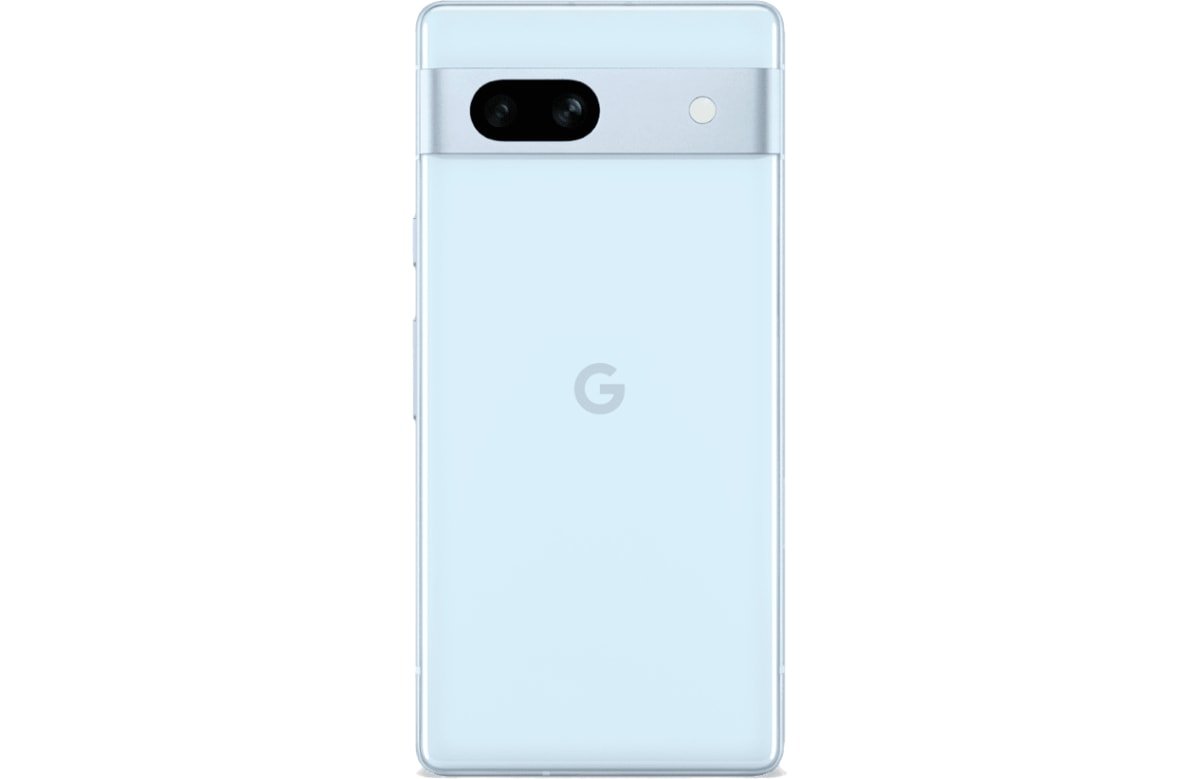 Google's Pixel 7a features a 64MP Quad PD Quad Bayer rear wide camera with f/1.89 aperture and 8x Super Res Zoom and a 13MP ultrawide lens equipped with f/2.2 aperture, stabilization, and autofocus.
The front of the device has a 13MP front lens with f/2.2 aperture and fixed focus.
Google, similar to Apple, has been actively working on advancing its computational photography capabilities. These include features like Magic Eraser for removing objects from images, Face Unblur, Portrait Mode, Portrait Light, and Motion Autofocus.
Google announced a new editing feature in Google Photos called Magic Editor. It uses AI to help users make complex edits to specific parts of images.
However, it's unclear if the company will let the Pixel 7a models access it or keep it a feature for its premium lineup.
Pixel 7a vs iPhone SE – Processing
The iPhone SE houses the A15 Bionic chip, which is also utilized in the iPhone 13 lineup. This translates to a six-core processor comprising two high-performance and four efficiency cores and a quad-core Apple-designed GPU.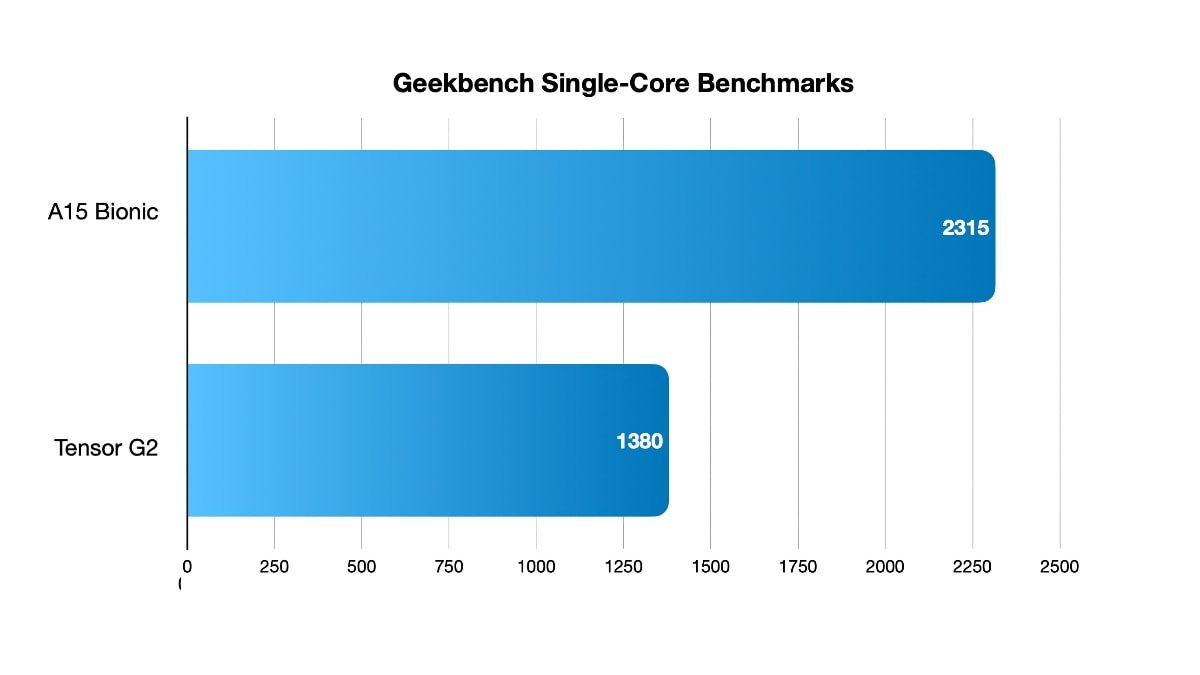 Additionally, it boasts a fifth-generation Neural Engine, an image signal processor, and 4GB of memory.
Like Apple, Google has developed custom silicon chips, known as Google Tensor, for its products. the Tensor G2 includes eight cores.
The processor comprises two high-speed ARM Cortex-X1 cores running at a maximum frequency of 2.85 GHz (an improvement over the G1's 2.8 GHz), two intermediate Cortex-A78 cores operating at a maximum frequency of 2.35 GHz, and four small ARM Cortex-A55 efficiency cores running at a maximum frequency of 1.8 GHz.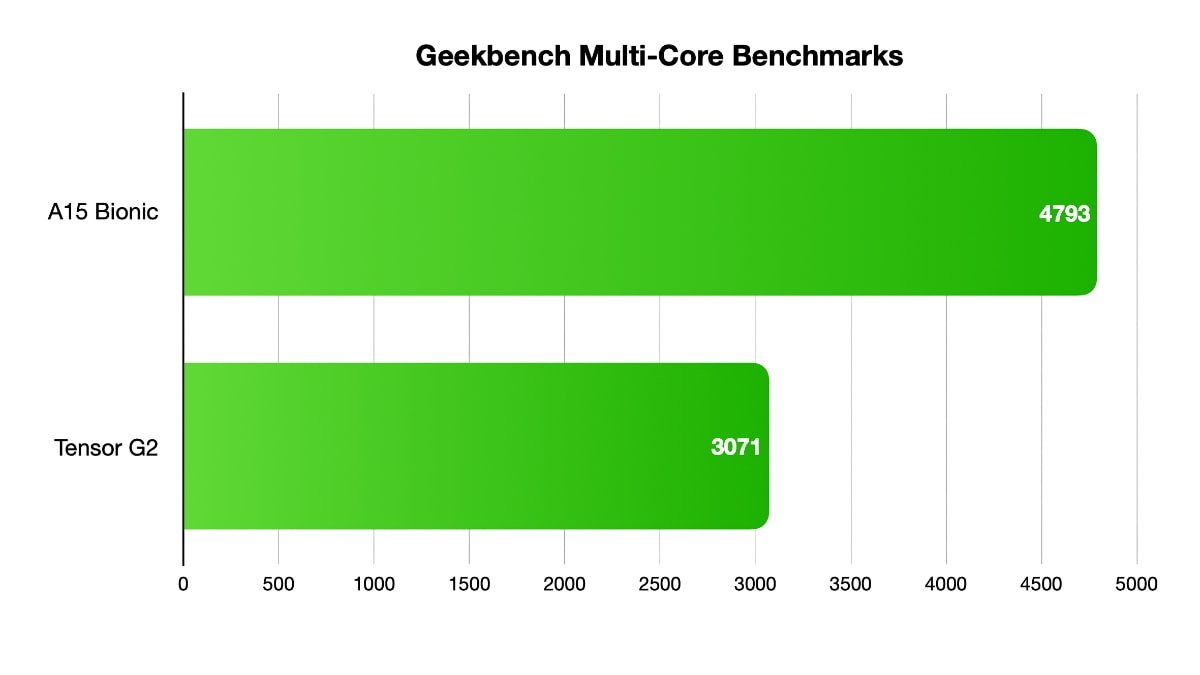 Geekbench results place the single-core score for the iPhone SE third-generation model at 2,315, while the Pixel 7a manages 1,380. Meanwhile, the Pixel 7a scores 3,071 in multi-core results, and the iPhone SE comes in at 4,793.
However, benchmarks may not accurately represent how the device is used in real-world scenarios.
Pixel 7a vs iPhone SE – Connectivity
Although the iPhone SE and Pixel 7a are compatible with 5G wireless connections, they are limited to sub-6GHz bands. However, considering their position as budget-friendly, it is understandable why Apple and Google made that restriction.
Unlike the iPhone SE, though, one model of the Pixel 7a — G0DZQ — can access the faster mmWave 5G spectrum.
Both smartphones offer Wi-Fi 6 (802.11ax) support, with the Pixel 7a featuring Bluetooth 5.3 instead of the iPhone's Bluetooth 5.0. Additionally, each one comes equipped with NFC for wireless payment capabilities.
The iPhone SE has a Lightning port for wired connectivity, and the Pixel 7a has a USB-C 3.2 port.
Pixel 7a vs iPhone SE – Power
According to Apple, the third-generation iPhone SE is designed to deliver sufficient power to sustain approximately 15 hours of video playback, up to 10 hours when streaming, and up to 50 hours of audio playback. On the other hand, Google claims a battery life of over 24 hours and up to 72 hours with the software's Extreme Battery Saver feature.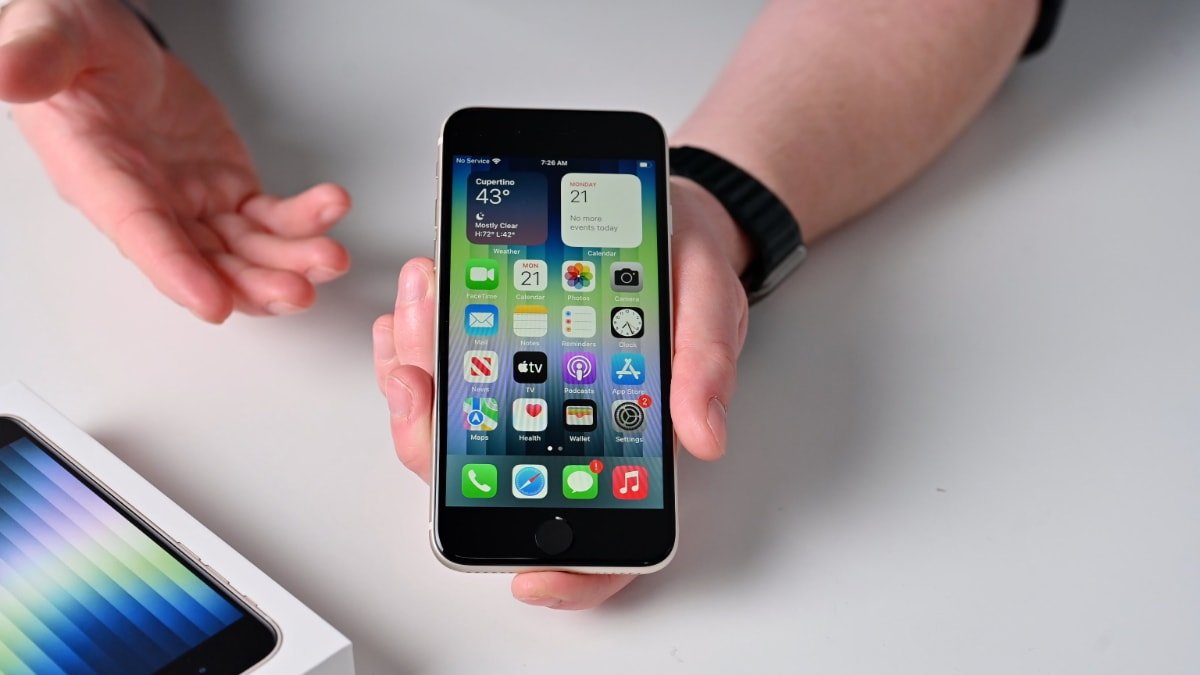 Like the iPhone SE, the Pixel 7a supports wireless charging, and both devices are equipped with fast charging features. They each support the Qi wireless charging standard.
The iPhone SE can reach a 50% charge within 30 minutes using a 20W adapter. However, some tests show the Pixel 7a took nearly two hours to fully charge.
Pixel 7a vs iPhone SE – Other Features
The iPhone SE incorporates stereo playback capabilities and offers features like Spatial Audio for compatible hardware like AirPods Pro. On the other hand, the Pixel 7a is equipped with stereo speakers and has its version of Spatial Audio with Android 13 and later.
Both devices lack a headphone jack, so users must rely on adapters or Bluetooth technology to fulfill their audio requirements.
Both smartphones also employ fingerprint sensors, but they utilize different approaches. For example, Apple incorporates a distinct Home button and Touch ID system for fingerprint recognition, whereas the Pixel 7a uses an under-display fingerprint sensor for biometric authentication.
Pixel 7a vs iPhone SE – Storage, Color, Price
Apple sells the third-generation iPhone in three storage options: a 64GB variant priced at $429, a 128GB variant priced at $479, and a 256GB variant priced at $579. Unfortunately, like previous affordable models, Google only offers the Pixel 7a with a 128GB storage capacity at $499.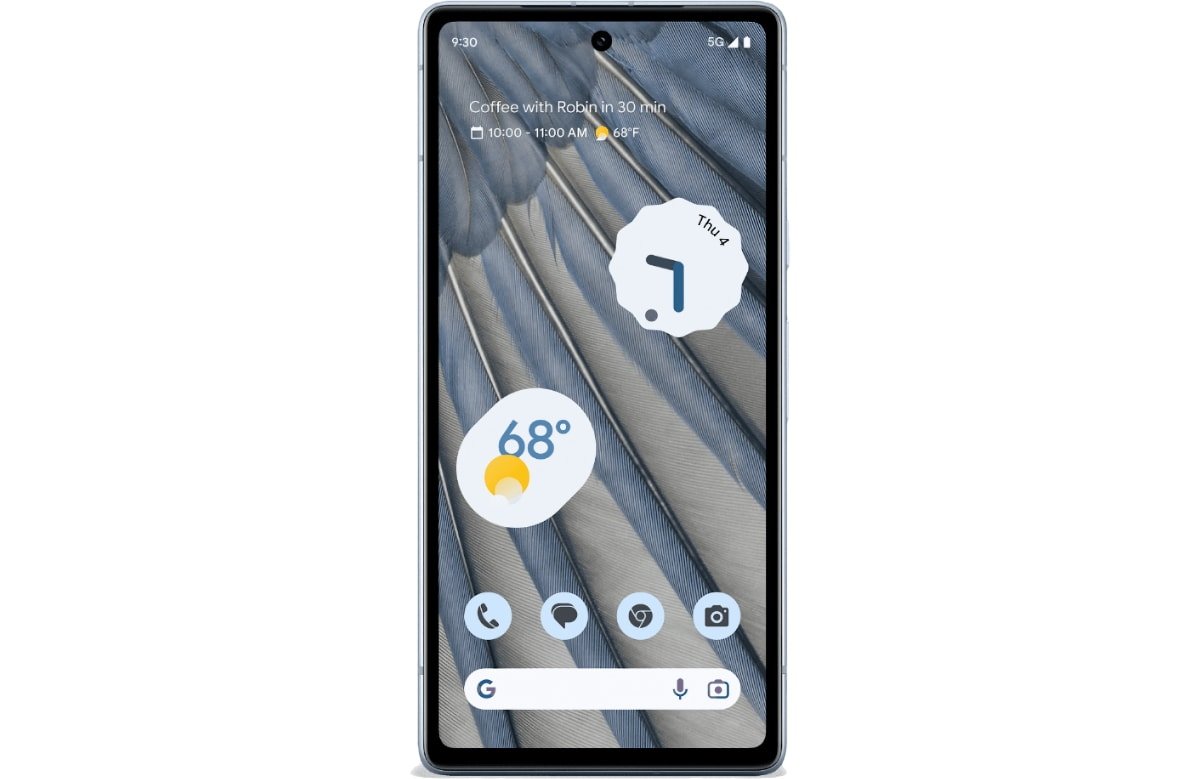 While the iPhone SE is available in Midnight, Starlight, and (Product)Red, Google offers the Pixel 7a in Coral, Sea, Charcoal, and Snow.
Pixel 7a vs iPhone SE – What to Buy
Apple and Google target the affordable segment of the smartphone market with their respective offerings. Each company provides some powerful features while limiting the devices in other ways to maintain the low price.
Although both smartphones use computational photography, mobile photographers might consider the Pixel 7a with its two rear cameras. It also has a better display — OLED — that can reproduce a greater depth of color.
The Pixel 7a also has a much longer battery life than the iPhone SE at approximately 24 hours in regular mode so it will last longer during photography expeditions.
However, the processor found in the iPhone SE is much more powerful, which may entice mobile gamers who want a budget-friendly device. And it has more storage options and a smaller and more compact design, making it easier to handle and operate with one hand.
Google's Pixel 7a is an attractive alternative to the iPhone SE on many levels. It has a better screen, longer battery life, and a much more powerful camera at a similar price range.
The iPhone SE has a faster processor and more storage options but trails behind the Pixel 7a in most other aspects. So budget-conscious shoppers who want "pro features" at a reasonable price should consider the Pixel 7a, if they are willing to use an Android device.
Where to Buy
The post Compared: Google Pixel 7a vs iPhone SE 2023 first appeared on appleinsider.com
In many places around the world, horse races are an attraction that a lot of people love to watch. With the fast-paced action and thrill that each game provides, it is no longer surprising to know that millions of fans have grown fond of it.