From www.imore.com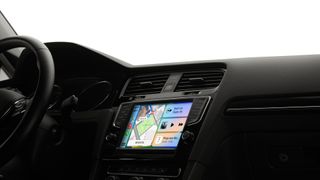 (Image credit: Apple)
When it comes to Apple CarPlay, most carmakers have already added it to their list of features. But GM shocked everyone recently when it announced that its future electric vehicles won't be adding support for CarPlay, and now we might know why.
According to one new report, GM isn't the only company that has concerns about how Apple has placed itself between the car and its driver, with a tug-of-war over the human-machine interface (HMI) thought to be underway.
The report claims that GM and others are looking for ways to produce their own in-car operating system that can take back control, with software from Google and Amazon just some of the options. And there might be a secret weapon as well.
It's all about data
DigiTimes (opens in new tab) reports that companies like GM believe that they might be able to offer something that Apple and CarPlay can't — a deeper integration with the car itself. And that's most keenly felt when it comes to navigation and, particularly, EV mileage and charging.
"Automakers have discovered an important trump card, namely navigation and mileage calculation," the report explains. "These two figures can vary widely due to ambient temperature, tire pressure, and other factors. To calculate things like the route to the charging stations, the OS needs to be able to obtain data on vehicle battery status and more."
The report goes on to explain that because carmakers control the required data they can make better use of it than companies like Apple. And with carmakers concerned that iPhone owners will come to expect an iPhone-like experience from here on out, GM is the first to choose to ditch CarPlay while it still can. Tesla is one example of a company that has steadfastly refused to add CarPlay support and that now seems unlikely to change.
If your car doesn't have CarPlay you can consider adding it yourself, of course. There are plenty of aftermarket CarPlay receivers available assuming your car has somewhere to install it.
The post Could this be the reason GM is ditching Apple CarPlay? first appeared on www.imore.com
In many places around the world, horse races are an attraction that a lot of people love to watch. With the fast-paced action and thrill that each game provides, it is no longer surprising to know that millions of fans have grown fond of it.