From www.iphonelife.com
The biggest benefit of a Tesla Apple Watch app key is that you can unlock your Tesla easily, even without internet connectivity.
By Olena Kagui Updated 03/07/2023
What to Know
Since you can't add the Tesla app to your watch, you can use third-party apps to control your Tesla from your wrist.
It isn't possible to add your Tesla key to your Apple Wallet, but you can use your Apple Watch as a key.
The Watch app for Tesla app can now be used as a key fob thanks to an update.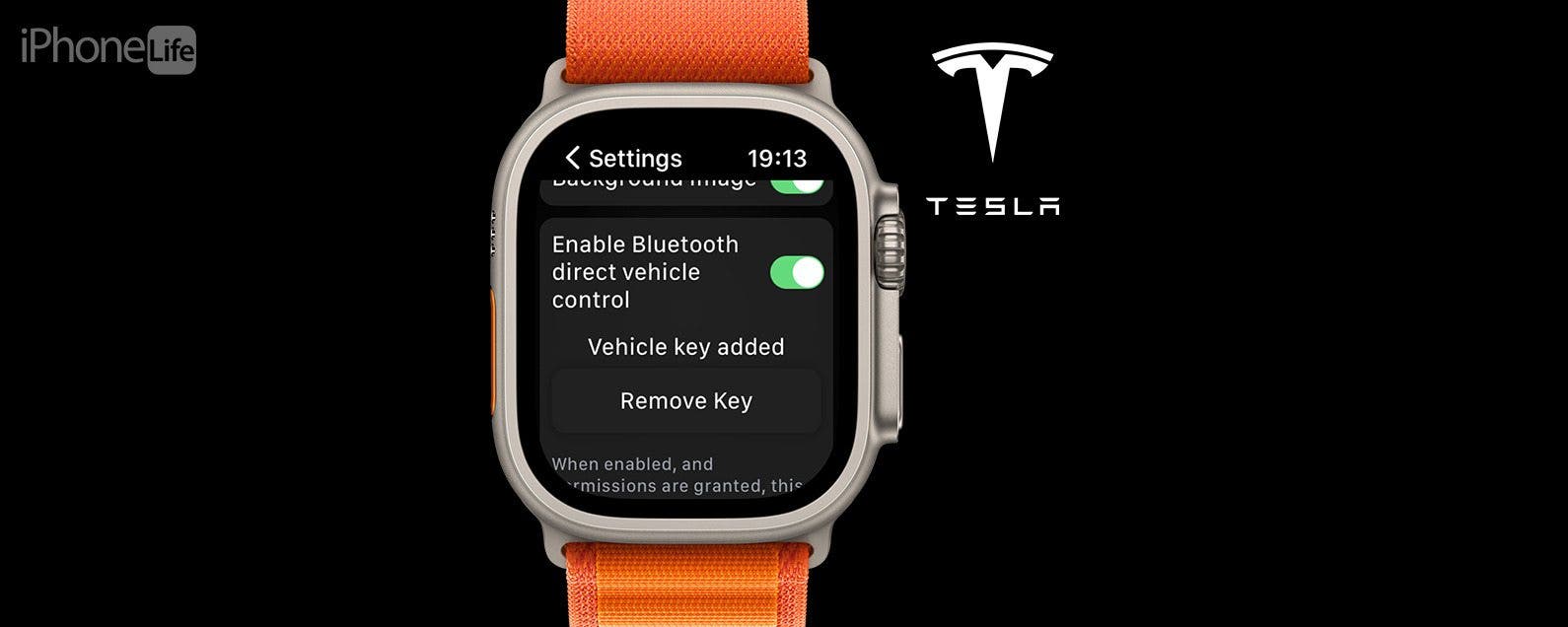 Tesla isn't as compatible with Apple products as Apple enthusiasts would like it to be. You can't use Carplay, and there is no Tesla app on Apple Watch. However, many third-party apps exist that let you control your Tesla from your wrist. There was recently a Bluetooth update that finally makes it possible to set up your Apple Watch as a Tesla fob using the Watch app for Tesla app.
Jump To
Using Watch App for Apple Watch Tesla Key
Before you can turn your Apple Watch into a Tesla key fob with the Watch app for Tesla ($19.99), you'll have to download the app and add your watch as a key. You'll need to be in your Tesla and have your key card or an activated key fob on hand. For more Apple Watch tips, remember to subscribe to our free Tip of the Day newsletter. To edit shortcuts on iPhone:
Download the Watch app for Tesla from the App Store on your iPhone and open it.
Tap Login with Tesla.
Enter the email to your Tesla account and tap Next.
Enter your password and tap Sign In.
You may need to tap Choose vehicle if you have multiple Teslas to activate the correct one using the app. In my case, my Tesla appeared automatically. Tap Activate.
Once activated, you may be returned to the Settings menu. Otherwise, tap Settings on your vehicle's page.
Scroll down until you see Enable Bluetooth direct vehicle control. Toggle this on.
You may need to grant Bluetooth permissions depending on your iPhone settings. Tap OK.
Now, open the Watch app for Tesla on your Apple Watch.
Tap Settings.
Tap Choose vehicle.
My Tesla appeared automatically, but you may have to select one if you have multiple cars. Scroll down and tap Activate.
Scroll down and toggle Enable Bluetooth direct vehicle control on. The toggle will be green and to the right when enabled.
Once it is done connecting, tap Add Key.
You will also need to place the Tesla keycard on the designated area in the vehicle. Then, on your Tesla screen, you will see a phone key pairing request. Tap Confirm.
On your watch, you will see that your vehicle key has been added.
Pro Tip
To name your Apple Watch key on your Tesla, tap the car icon on the bottom left of your Tesla display, and select Locks. Here you'll see an Unknown key; tap the pencil icon to name it, then tap Save.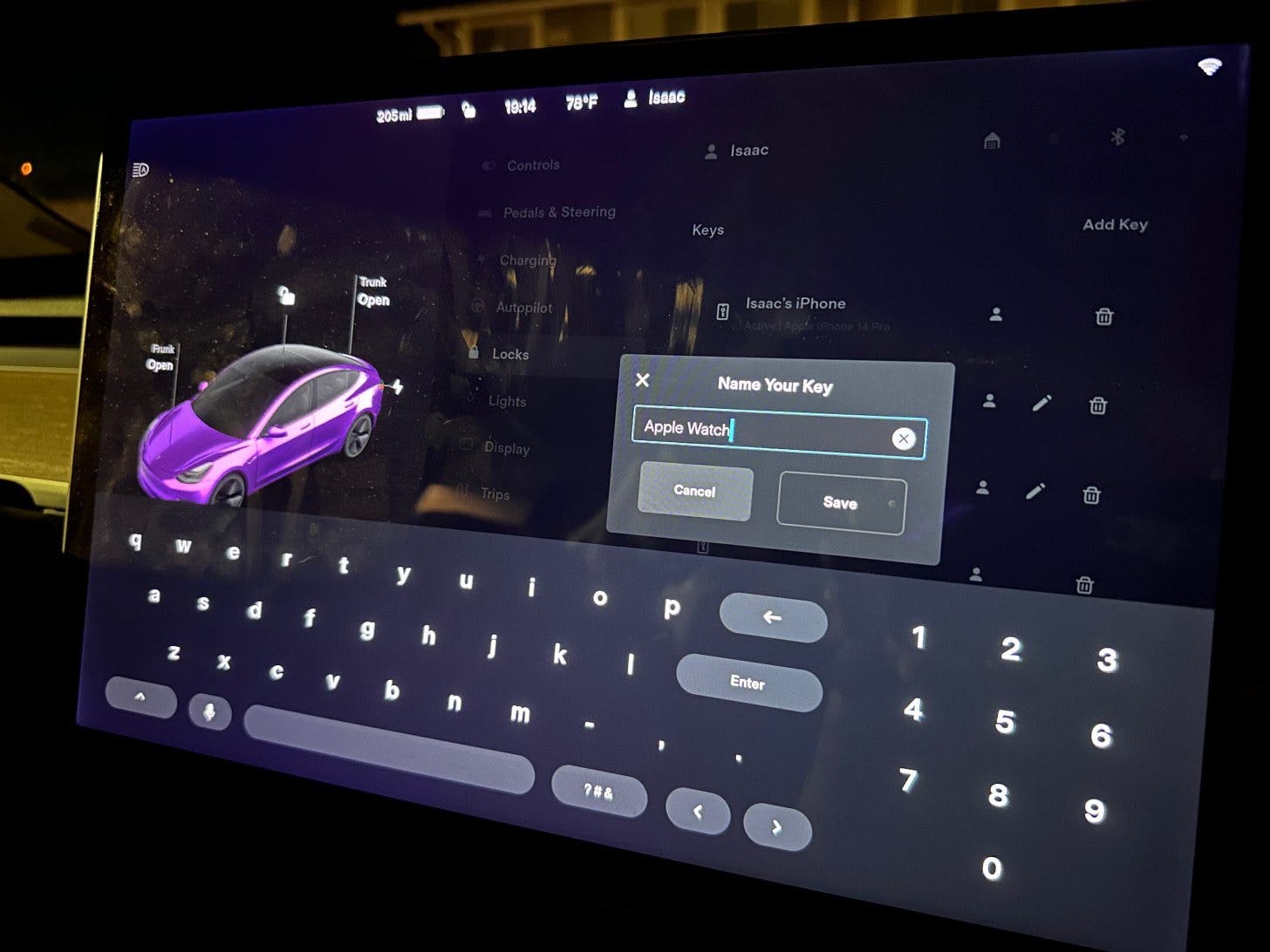 How to Use Apple Watch as Tesla Key Fob
There are many third-party Tesla apps for Apple Watch, but most require you to connect to the internet, open the app, then tap the unlock button. What makes the Watch app for Tesla different is that it can actually turn your watch into a key fob. This wasn't always possible, but a recent Bluetooth update lets the app connect directly to your Tesla, making it work like a Tesla car key! You just need to enable direct vehicle control via Bluetooth within the app; then you'll be able to automatically unlock your Tesla when your Apple Watch is within range.
Warning
You don't need internet connectivity to unlock your Tesla with the Watch app for Tesla. However, you do need to have Bluetooth on, and make sure that access to your vehicle is activated. If walking up to your car and opening the door doesn't work, you'll need to open the Watch app for Tesla on your iPhone before you try again; this will activate the connection.
FAQ
Does the Tesla app work on Apple Watch? No, while the Tesla app works on iPhone, it doesn't work on the Apple Watch. However, many third-party Apple Watch apps exist.
Can you add a Tesla key card to Apple Wallet? No, it isn't possible to add a Tesla key to your Apple Wallet. The workaround is to use the Watch app for Tesla to add your Apple Watch as a Tesla key.
What is the best Tesla app for Apple Watch? There is no clear answer to which third-party Apple Watch app is best. The Watch app for Tesla is the only one that can turn your Apple Watch into a key fob, so that makes it one of the best. However, Tessie, Watchla, Stats, Remote for Tesla, Nikola for Tesla, and others exist. Most of these apps let you unlock your Tesla using the app and control the climate, open windows, etc.
Now you know how to use your Apple Watch as a Tesla car key! While I'm still hoping that Tesla will make it possible for Apple users to add a car key to their Apple Wallet, this is by far the easiest way to unlock a Tesla!
Master your iPhone in one minute a day: Sign up here to get our FREE Tip of the Day delivered right to your inbox.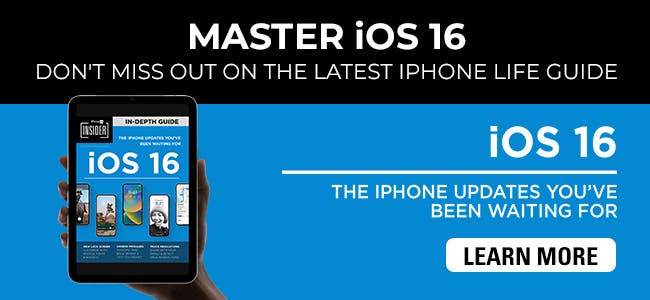 Article Spotlight

Zugu's iconic iPad case is sleek and modern while providing military-grade drop protection. As a result, Zugu has amassed an impressive following as Amazon's highest-rated iPad case. Just one of its 75,000+ five-star reviews calls it "The absolute best…I actually feel safe around my kids with this case." Far from an overnight success, Zugu has focused on making one product, and consistently improving. For over twelve years, Zugu engineers have toiled away in pursuit of the perfect iPad case. They've refined, tested, and refined again — and it shows.
Featured Products
Hearing well can transform how we experience the world; with Eargo 7, no compromises are necessary! These virtually invisible hearing aids are comfortable, water-resistant, easy to charge, and automatically optimize your experience for changing sound environments. The intuitive phone app will give you complete control over what and how you hear, allowing you to personalize your hearing aids to suit your needs, such as reducing background noise and clearing up speech. Start listening to your full potential with Eargo 7 today!
Keeping your tech safe and organized while you are on the go can be tough, but CASEBUDi Electronics Organizer Case has your back! These nylon bags keep your electronics from getting lost in large luggage and safely stored to prevent damage. Available in Midnight Black, Sunset Orange, Cool Grey Fog, and Bright Sky Blue, this compact bag is stylish and practical. This case is 9.5 inches long, 3 inches wide, and 3 inches tall, so it is small and lightweight, yet it fits cords, cables, charging blocks, and other small accessories with ease. Stop wasting time digging through your purse or bag once and for all!
Most Popular
Featured Articles
The post Easiest Way to Unlock Tesla: Apple Watch Car Key 2023 first appeared on www.iphonelife.com
In many places around the world, horse races are an attraction that a lot of people love to watch. With the fast-paced action and thrill that each game provides, it is no longer surprising to know that millions of fans have grown fond of it.
Cybersecurity threats have become vast and more sophisticated. The rate of malware attacks and malicious activity counts within seconds despite the size or sector the organization belongs to — no one is safe enough to expect that foe actors will bypass vital company resources.