From appleinsider.com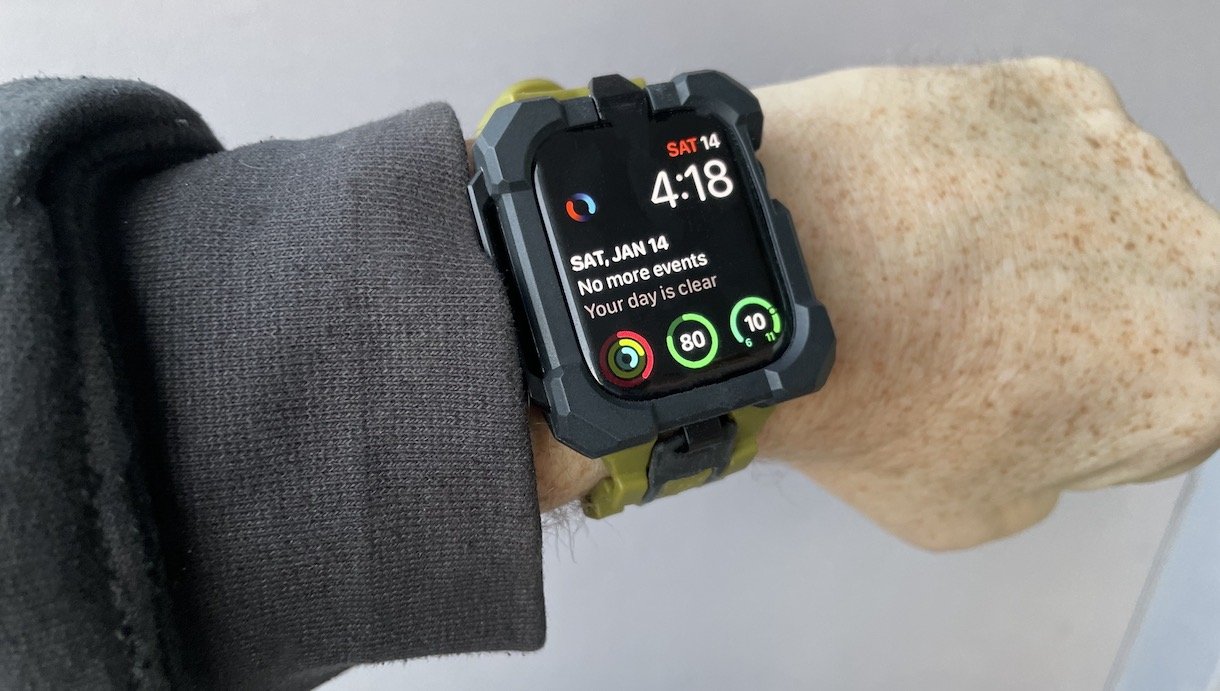 AppleInsider may earn an affiliate commission on purchases made through links on our site.
The Element Case Special Ops Apple Watch band brings military style, extra protection to a case-and-band combo for the Apple Watch Series 7 and 8.
Those living an active outdoor lifestyle often want to have some extra protection for their Apple Watch. Although Apple uses incredibly strong glass for the face, and high-grade aluminum or stainless steel for the body, scratches and nicks and other damage is still possible.
For most accessory sellers, this means enclosing the Watch itself in a case in order to avoid accidental damage. The digital crown and button functions of the Watch are still accessible, but more protected.
Element Case offers a somewhat different take on the Watch case idea in their Black Ops and Special Ops line, where the protective case is integrated into a full watchband in either a black/red design or a olive-green/black option. We put the green/black Special Ops model on to put it through its paces.
The hype and the reality
As you might expect from a product line with two very militaristic names, the ad copy bandies about terms like "aggressively rugged" and "highly tactical"— but despite the machismo marketing, the case/strap combo can be used by anyone with a Series 7 or 8, in 41mm or 45mm sizes. There is no version for the Apple Watch Ultra.
In addition to protecting the Watch by encasing it with a hardened plastic bezel featuring a raised surface to help prevent contact with foreign objects, the Special Ops model we tested also included two optional rubber straps — one black, one olive green — to act as a further scratch-guard for the screen. The strap can also be easily removed from the face and instead attaches to a hook on the band for when you want to see or use the entire screen, but not lose the strap before you put it back on.
As for the olive-green watchband, the bumpy and thick soft-PVC type material — along with its hard-plastic buckle — looked like it would be pretty uncomfortable to wear when we were taking it out of the box. However, this turned out not to be the case at all, which very pleasantly surprised us.
Users who tend to do a lot of scrolling with the Digital Crown will find it a bit more cumbersome to use because of the casing. That said, we were able to do an ECG reading with no real difficulty other than scrolling to get to the app.
For those who play rough, it should be noted that the band and case should be periodically cleaned to remove the dirt, sweat, and skin oils that will inevitably build up over use. We wore it while exercising and even took a deliberate tumble to both check protection as well as make sure it got properly dirty.
The Special Ops had no trouble protecting our screen or itself, and the company says the band and casing have some shock-absorbing characteristics as well — though we didn't really wish to do anything too severely or deliberately abusive to it. Once the Watch as freed from the casing, a simple rinse-and-dry had the band and case back good as new.
Substance, not style
As with most protective cases for the Apple Watch, the emphasis is on avoiding damage to the Watch itself, so looking good is mostly not on the agenda. The Special Ops case and band combo we tried is thick and bulky, but also surprisingly lightweight and comfortable — we never noticed it once we had it on.
The most difficult part of testing the "watch armor," as Elements Case calls it, was actually getting the Apple Watch itself into the case. The packaging includes a QR code for an instructional YouTube video to show you the trick to "popping" the casing top off, and it took us a few unsuccessful tries before we got the Watch in and the top back on it.
Getting the Watch out of the case is slightly easier, but does still require some effort. This is absolutely not something you will want to do frequently, and users should pay close attention to the video on how to get the top of the case off and the Watch in or out of it before pushing the top portion of the casing on.
Because of its bulk, the Special Ops case doesn't use the Apple band-attachment system at all, which is not really a concern. More of a problem is that the case/band combo doesn't really work with any Apple Watch chargers where the Watch can sit upright (aka Nightstand Mode) — we ended up just attaching the charging puck directly to the back of the Watch and the casing let the Watch stand up anyway.
If you wear an Apple Watch but are routinely involved in rough work, hunting, military exercises, mountain-climbing, extreme sports or other difficult/physical activities, this case-and-band or the Black Ops version may be the right choice for you. It retails for $49.95, but can sometimes be found on sale.
Element Case Special Ops Watch Armor pros
Genuinely protective
Lighter and more comfortable than expected
Raised casing and rubber straps emphasize glass protection
Includes both case and watchband, unlike some competitors
Element Case Special Ops Watch Armor cons
Difficult to get Watch into casing without help via YouTube video
Cannot be used with third-party "Nightstand Mode" charging puck holders
Digital crown access is more cumbersome, especially for scrolling
Expensive by comparison to some case competitors
Rating: 3.5 out of 5
Where to buy the Element Case Special Ops Watch Armor
The post Element Case Special Ops Apple Watch band review: For those who like to play rough first appeared on appleinsider.com
In many places around the world, horse races are an attraction that a lot of people love to watch. With the fast-paced action and thrill that each game provides, it is no longer surprising to know that millions of fans have grown fond of it.
Cybersecurity threats have become vast and more sophisticated. The rate of malware attacks and malicious activity counts within seconds despite the size or sector the organization belongs to — no one is safe enough to expect that foe actors will bypass vital company resources.