From www.imore.com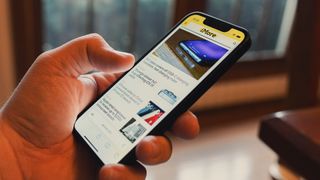 (Image credit: Future)
Google Chrome users will soon be able to benefit from a usability feature that Safari users have had access to for a long time, it seems.
Apple gave iPhone owners the option of putting Safari's address bar at the bottom of the screen back when iOS 15 arrived and while it did prove controversial at the time, it's gone on to become a popular option. There's also a toggle to move it back to the top of the screen should people prefer. Now, it appears that Google is about to take a leaf out of Apple's book.
The latest Google Chrome beta, available via TestFlight, also has an option to move the address bar to the bottom of the screen for the first time. It's likely that option will make its way to the version of Chrome available via the App Store soon enough.
Coming soon
The new option was spotted by developer Steve Moser and posted to X, the social network formerly known as Twitter. An accompanying screenshot shows that Chrome users will be able to choose a top or bottom position for the address bar, while on-screen text says that they "can also touch and hold the address bar to change the position."
Google Chrome for iOS updated with Bottom Omnibox Setting. It was just added to the Testflight version of Chrome for iOS.Link below with more screenshots and info: pic.twitter.com/W8Lrnc7GrXAugust 23, 2023
See more
Putting the address bar at the bottom of the screen makes it much easier to reach on larger devices like the iPhone 14 Pro Max, especially for those of us with smaller hands and shorter thumbs.
As with all changes like this, there are sure to be people who prefer the original location which is why the option to choose where the address bar lives is a welcome one. Apple tried making the decision for people during the iOS 15 betas but subsequently added an option following feedback from testers.
[ For more curated Apple news, check out the main news page here]
The post Google Chrome for iPhone is stealing one of Safari's smartest features first appeared on www.imore.com