From www.macrumors.com
In the interests of enhanced privacy, some third-party iOS apps include an option to require passcode or Face ID authentication before they can be opened, even though the iPhone is already unlocked. This puts the app's contents behind an additional layer of security, but not all apps offer the same facility.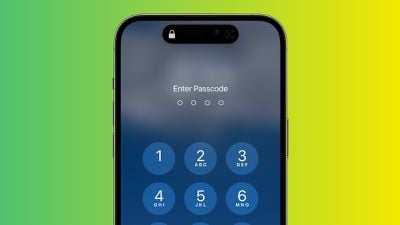 Until recently, Apple did not offer a way to individually lock sensitive apps like Photos, and iPhone users had to resort to Screen Time's App Limits as a workaround. Fortunately however that's no longer the case, because you can now create an additional security barrier for any app on your iPhone using a shortcut action new to iOS 16.4.
Apple has added several new actions to the Shortcuts app, and the one that interests us here is Lock Screen. The Lock Screen action essentially allows you to set up a personal automation that automatically locks your iPhone when a specified app is opened.
Of course, this action should pose no access issues for you as the iPhone owner, but it does mean that anyone else trying to open the app first needs to pass facial authentication or enter your passcode even though your iPhone was unlocked when they tapped the app icon.
The following steps guide you through the process of setting up a personal automation that will instantly lock your iPhone when the app of your choosing is opened.
Launch the Shortcuts app on your iPhone.
Tap the Automation tab at the bottom of the screen.
Tap the + button in the top-right corner, then tap Create Personal Automation.

Scroll down and tap App.
Make sure Is Opened is ticked on the next screen, then tap Choose.

Select an app from the list, then tap Done.
Tap Next, then tap the blue Add Action button on the next screen.

Start typing "Lock Screen" into the text field and select Lock Screen when it appears in the results below, then tap Next.
Toggle off the switch next to Ask Before Running.
Tap Don't Ask in the pop-up prompt, then tap Done.
Your personal automation is now complete and should automatically spring into action the next time you open the chosen app. For an extra security step, you may consider setting up the same Lock Screen action for the Shortcuts app as well.
Note that the same Lock Screen action can also be found in macOS 13.3, but bear in mind that there may be other ways to access the contents of a Mac app without launching it.
Popular Stories
Apple is expected to announce iOS 17 during its WWDC 2023 keynote on June 5, which is just over a month away. Ahead of time, rumors suggest the update will include at least eight new features and changes for iPhones, as outlined below. The first iOS 17 beta should be made available to members of Apple's Developer Program moments after the keynote, while a public beta will likely be available …
Tuesday May 2, 2023 12:24 pm PDT by Juli Clover
Apple today introduced new 5E135 firmware for the AirPods 2, the AirPods 3, the original AirPods Pro, the AirPods Pro 2, and the AirPods Max, up from the 5E133 firmware that was released in April. Apple does not offer immediately available release notes on what's included in refreshed firmware updates for the AirPods‌, but the company does maintain a support document with release…
Monday May 1, 2023 10:19 am PDT by Juli Clover
Apple today released Rapid Security Response (RSR) updates that are available for iPhone and iPad users running the iOS 16.4.1 update and Mac users running macOS 13.3.1. These are the first public RSR updates that Apple has released to date. Rapid Security Response updates 16.4.1 (a) and macOS 13.3.1 (a) are designed to provide iOS 16.4.1 users and macOS 13.3.1 users with security fixes…
Tuesday May 2, 2023 12:05 pm PDT by Juli Clover
Apple today released new firmware designed for the MagSafe Charger that is compatible with the iPhone 12 and later and the latest AirPods and Apple Watch models. The updated firmware is version 10M3761, up from the prior 10M1821 firmware. In the Settings app, you'll see a different version number than the firmware number, with the update displayed as version 258.0.0 (the prior firmware was…
Monday May 1, 2023 1:26 pm PDT by Juli Clover
Apple on April 17 introduced the Apple Card Savings account, and it turns out that it was highly popular with iPhone users. The new Apple-branded high-yield savings account saw up to $990 million in deposits during the first four days after launch, according to Forbes. Forbes says that it spoke with two anonymous sources with knowledge of how the Apple Savings account performed shortly after …
Apple today increased trade-in values for a limited number of older iPhone models in the United States in an effort to encourage customers to upgrade to the iPhone 14 lineup. Trade-in values have gone up for the iPhone 13 Pro Max, iPhone 13 Pro, iPhone 12 Pro Max, iPhone 12 Pro, and iPhone 11 Pro, although older iPhone mini models have gone down in value. The latest trade-in values are…
Apple plans to announce the rumored 15-inch MacBook Air at WWDC, according to Bloomberg's Mark Gurman. The laptop is expected to be unveiled alongside iOS 17, macOS 14, watchOS 10, tvOS 17, and Apple's long-awaited AR/VR headset. Gurman revealed the plans in his newsletter on Sunday:As part of watchOS 10, the company is planning to bring back widgets and make them a central part of the…
Wednesday May 3, 2023 11:14 am PDT by Juli Clover
Ford CEO Jim Farley said that Ford has no plans to drop support for CarPlay due to its popularity with Ford customers. He made the comment in an interview with The Wall Street Journal's Joanna Stern. "70 percent of our Ford customers in the U.S. are Apple customers. Why would I go to an Apple customer and say good luck?" he said. Farley was commenting on car manufacturers that do not…
The post How to Lock Specific iPhone Apps Behind Face ID or Your Passcode first appeared on www.macrumors.com
In many places around the world, horse races are an attraction that a lot of people love to watch. With the fast-paced action and thrill that each game provides, it is no longer surprising to know that millions of fans have grown fond of it.