From www.phonearena.com
Smartphone users have varying preferences regarding which features matter most. Some want the absolute fastest chipset. Others must have the best camera. Some obsess over the screen bezels and if you are also a
fan of slim bezels, the
iPhone 15 Pro Max could be your next favorite smartphone.
The iPhone 14 Pro Max has pretty slim bezels but the iPhone 15 Pro Max could have the thinnest bezels of them all. Leaker
Ice Universe, who was the source of this claim, has now implicitly reiterated that the iPhone 15 Pro Max, which some rumors say will be known as the iPhone 15 Ultra, will have beautiful, barely-there bezels.
The veteran leak has posted an image of an iPhone 15 Pro Max screen protector alongside a picture of what the device could look like. Both point to flimsy bezels.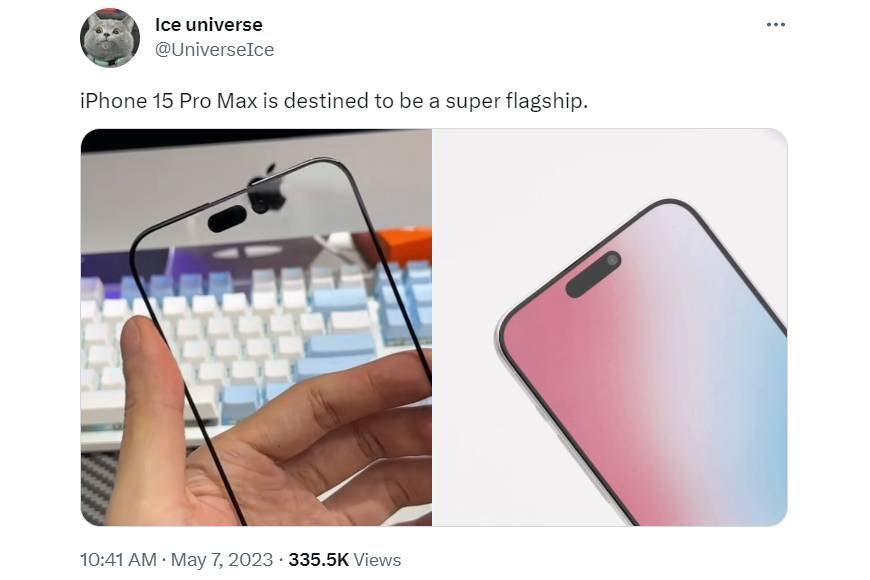 The bezels are expected to not only be thinner than the iPhone 14 Pro's 2.17mm bezels but also the current record holder Xiaomi 13's 1.81mm bezels.
According to a previous leak from reliable leaker ShrimpApplePro, the bezels will also be curved compared to the iPhone 14 Pro Max for an Apple Watch-like look.
Ice is very particular about bezels and thinks that the slimmer bezels would make the iPhone 15 Pro Max a "super flagship." Of course, bezels alone are not enough to make a phone a top flagship, and iPhone 15 Pro Max is also expected to have several other improvements over its predecessor.
The iPhone 15 Pro and Pro Max could have a
larger 48MP main camera which could help them outshine the current
top Android camera phones and the Pro Max is highly likely to have a periscope camera. The Pro models may also boast a new chipset.
As for the other
design aspects, the screen will still be flat apparently, and could ditch the mute switch for a programable action button. The Pro models may have a titanium frame and the device could be less wide and tall, but 5 percent thicker. This reduced thickness may result in a less protrusive camera setup.
The phones are
no longer expected to have solid-state volume and power buttons due to higher costs and manufacturing complexity. The series will probably be announced in September.
The post Image posted by leaker shows 'iPhone 15 Pro Max is destined to be a super flagship' first appeared on www.phonearena.com
In many places around the world, horse races are an attraction that a lot of people love to watch. With the fast-paced action and thrill that each game provides, it is no longer surprising to know that millions of fans have grown fond of it.