From appleinsider.com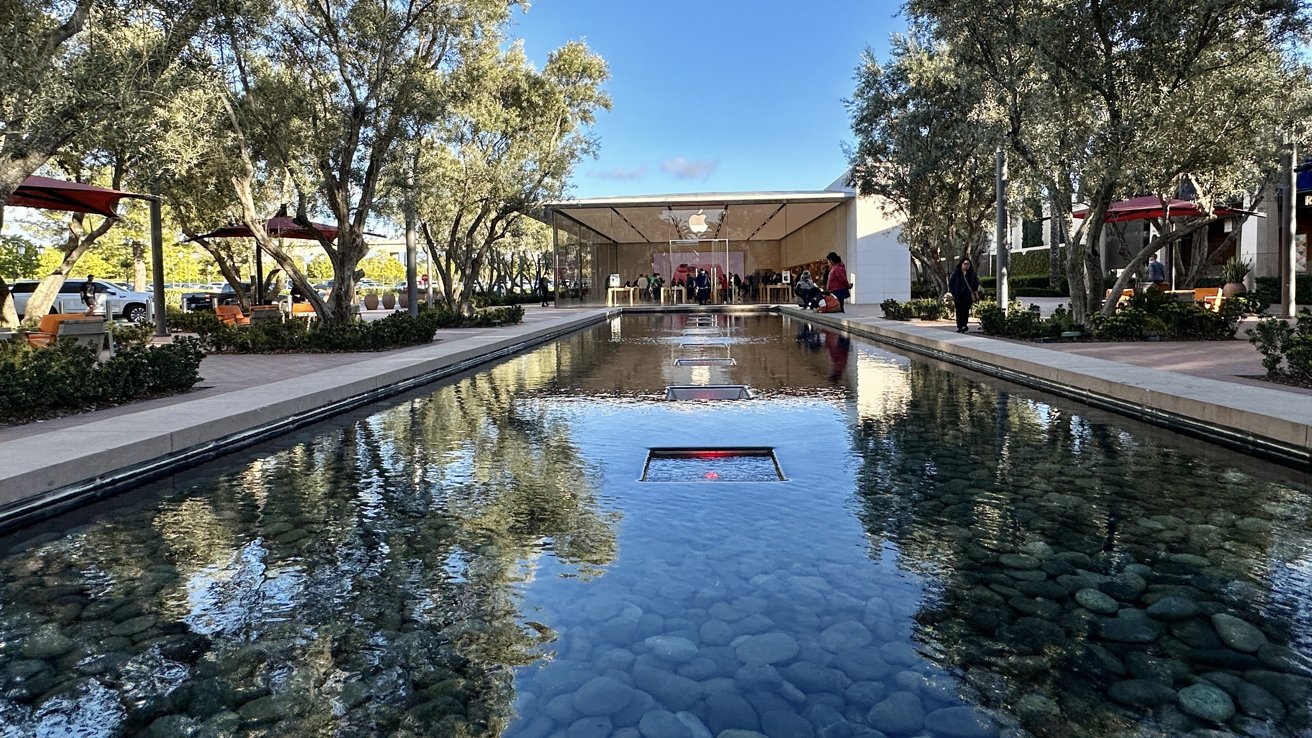 AppleInsider may earn an affiliate commission on purchases made through links on our site.
Located in an upscale outdoor shopping center south of Los Angeles, the Apple Irvine Spectrum Center retail store sports a unique design, and is an oasis inside the city.
The Apple Irvine Spectrum Center retail store is positioned at the southeastern portion of the center. It is a sunlit glass rectangle that complements and acts as a mirror to the soothing neutral desert colors of the mall's Moroccan architecture.
This architectural choice suits Irvine well, as it is surrounded by desert hills capped with snow in the winter. Southern California is that special kind of place where tourists can snowboard, shop, and surf — all in one day.
The mall features Nordstrom and Target department stores, a Ferris wheel that acts as an impressive backdrop to the Spectrum's massive ice skating rink during the holiday season, a famous artisan macaron shop called Honey & Butter, and a Regal Cinemas 21-screen movie theater.
Apple is now well-practiced in creating buildings that are architecturally and aesthetically attractive, drawing us inside whether or not we need new tech. Unlike the retail stores that surround it, this particular Apple location is unusual in that it is freestanding, unattached to other businesses that might distract the eye — and the wallet.
The glass and white brick design is well suited for California, where homes of glass stand like beacons on their desert hills in affluent areas. While not beachfront like Newport, Irvine is indeed one of these areas.
In 2023, the average minimum rent in Irvine is a hefty $3,162 per month for a 900-square-foot apartment. The high price tag has to do with the parks, close proximity to beaches, cleanliness, and most importantly — the top-notch safety ranking of the city.
The FBI has named Irvine as one of the USA's safest cities since 2005. In fact, it has been consistently named one of the safest cities to live in the world.
Because of its safety and proximity to parks, it's no surprise, then, that Apple Irvine Spectrum is a popular choice for families and tourists fatigued by the crime in Los Angeles who are looking for a little breather.
Inside, Apple Irvine Spectrum is smaller than Apple's Third Street Promenade, but it is just as quiet. Unlike Third Street Promenade's single storefront glass wall, Apple Irvine Spectrum has two unobstructed ceiling-to-floor glass walls that funnel in the sunshine and daily sunsets that SoCal has to offer.
Accessibility: no way around it — brave SoCal traffic
The Greater Los Angeles area is known for its year-round temperate weather, celebrity sightings, traffic, and sunlit beaches. It is not, however, known for adequate public transport. Apple Irvine Spectrum is reachable first and foremost by car.
Irvine Spectrum is car-dependent, with the center itself surrounded by at least 2,300 parking spaces. During the holiday months, parking can still be difficult to find.
Apple Irvine Spectrum sits like a cheese wedge between the 5 and 405 freeways. It is easily accessed by parking in the structures closest to Target and entry seven. Depending on how busy and how far up in the parking structure you had to park, the Apple store is a short five to ten-minute walk from structure seven.
During the busier months, choose the parking structures over circling outdoor lots to cut down frustration as you peel your eyes for the sight of brake and reverse lights.
Once you stroll pass Target, you'll find the Apple store in front of a beautifully lit fountain.
If you're new to Southern California and the hectic drive over-spiked your cortisol levels, head around the corner and grab a baked good from 85C Bakery Cafe and coffee from BLK dot.
Relax in front of the fountain or in the comfy orange chairs before heading inside the Apple store to shop. 85C Bakery Cafe always draws a large crowd. The bakery is known for their wide assortment of reasonably-priced baked goods.
BLK dot is known for its Vietnamese-inspired java. Be careful, however. The Vietnamese iced coffee has five whole shots of espresso!
During the warmer months, the white noise and spectacle of the fountain outside the Apple store provide an ideal spot to rest sore feet — or let the children play.
During the winter months, the fountain is often switched off. This doesn't stop the kiddos from enjoying the area, however.
History, Layout, Design
The Spectrum Center mall is owned by Irvine Company, a premier real estate company that grew from a ranching operation in 1864 to one of the California coast's most opulent owners of office buildings, apartment communities, retail centers, resorts, and golf courses.
Previously, this section of the shopping center housed a Macy's. However, due to the pressure online shopping began to place on the profitability of brick-and-mortar stores, Irvine Company decided to overhaul "big box" stores like Macy's in favor of smaller shops in the hopes of reviving their profit margin.
In 2016, Irvine Company announced that Macy's would be demolished. In its place, they were to place 20 smaller stores. In 2018, the new stores opened in the southeastern section of the mall, featuring the new Apple Store as well as 19 other retail stores and restaurants.
It was a clever move, considering that the pandemic would inherently shift the consumer away from brick-and-mortar "big box" department stores like Macy's two years later.
The Spectrum center mall is surrounded by high-rise corporations and luxury apartments. Over the last decade, its beauty and booming tech job market have brought an influx of tech industry pros into the area.
In an interview with the Irvine Standard, Huolin Xin, associate professor of physics and astronomy at UC Irvine contends: "Irvine is the new Silicon Valley. If you want to attract talent, this is the place."
The Spectrum Center itself took ten years to build. The mall is famous for its cameo in the "Mall of Miami" episode of the Disney Channel television series Austin and Ally.
The word spectrum itself brings to mind a band of colors, as seen in a rainbow. The neon spectrum sign, orange and yellows of the desert architecture, purple-pink sunsets, and year-round string lights play into the center's name.
Like any resplendent Apple store with thick glass walls, foot traffic and chatter is immediately silenced once the heavy double doors close behind you.
The building itself is a single-story rectangle with a minimalist feel that we've come to associate with Apple's stores. The ceiling itself is light, bright, and beset with warm, overhead lighting.
The two ceiling-to-floor glass windows allow browsers to be swathed in sunlight from an L-shaped angle. The brick wall inside is smooth and light grey in color so as not to swallow the natural light.
The walls are lined with the newest, trendiest iPhone cases and MagSafe chargers. Phone cases are color coded for an aesthetically pleasing look.
There are a number of wooden cubes in the back for sitting while you wait to see your Apple genius for service, as well as a large television. The television displays adverts for new products as well as how-tos and dates for Apple learning seminars.
The television itself takes up most of the back wall, drawing the eye. A free-standing screen in front of the television displays the happenings and events at Apple for the day.
We know how hard it is not to fiddle with your favorite tech. Though masks are no longer required inside, complimentary hand sanitizer stations are located on every table to allow you to sanitize between products.
Consider signing up for one of the store's Apple sessions and learn new skills from informative Creatives, or visit the Genius Bar to get hands-on technical support. Just be sure to make an appointment online, as you won't be guaranteed a walk-in appointment during the store's peak hours.
Like many Apple stores, there is a designated corner Pickup area for the collection of online orders along a lengthy, wooden desk.
Apple stores across Los Angeles
California has the most Apple locations in the U.S., with 54 Apple Store locations in California alone. There are fifteen Apple stores in the county of Los Angeles, with only a few of them boasting the freestanding, calming aesthetic instead of the sterile, hospital-like fluorescent feel of some of the smaller hole-in-the-wall storefronts within indoor shopping malls.
Other notable Apple stores in Los Angeles include The Grove location, another outdoor esplanade.
The post Inside Apple Irvine Spectrum Center retail store: The new Silicon Valley first appeared on appleinsider.com
In many places around the world, horse races are an attraction that a lot of people love to watch. With the fast-paced action and thrill that each game provides, it is no longer surprising to know that millions of fans have grown fond of it.
Cybersecurity threats have become vast and more sophisticated. The rate of malware attacks and malicious activity counts within seconds despite the size or sector the organization belongs to — no one is safe enough to expect that foe actors will bypass vital company resources.