From bgr.com
I've long speculated that iOS 17 will support sideloading in the European Union (EU) because of the Digital Markets Act (DMA) law, and now, it's finally official. No, Apple hasn't actually announced that the feature is imminent for iPhones and iPads in the region. Nor do I expect an announcement anytime soon. But Apple has six months to implement sideloading in iOS 17 and potentially older iOS versions or risk billions in fines.
The European Commission revealed a list of gatekeeper companies and gatekeeper apps/services. Apple's iMessage isn't a gatekeeper, so it doesn't have to support interoperability with, say, Google's RCS anytime soon. But iOS, the Safari browser, and the App Store are gatekeepers. As such, Apple has six months to make changes to these products according to the DMA rules.
In other words, iPhones and iPads in the EU will soon support third-party app stores, third-party payment systems, and sideloading. And it'll all start with iOS 17, which is set to come out next week.
How the DMA forces Apple to embrace sideloading on iPhone
The EU reminded users, businesses, and gatekeepers themselves about the do's and don't's of the DMA legislation.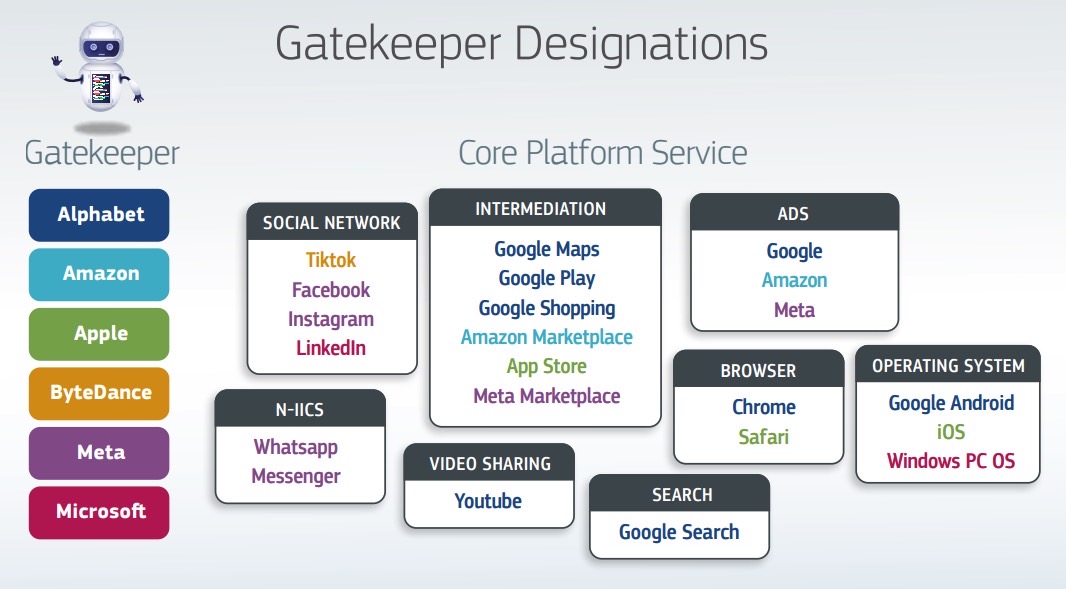 The examples below will apply to Apple's gatekeeper services, including iOS and the App Store:
Allow end users to easily un-install pre-installed apps or change default settings on operating systems, virtual assistants or web browsers that steer them to the products and services of the gatekeeper, and provide choice screens for key services;
Allow end users to install third-party apps or app stores that use or interoperate with the operating system of the gatekeeper;
Allow end users to unsubscribe from core platform services of the gatekeeper as easily as they subscribe to them;
Allow third parties to inter-operate with the gatekeeper's own services;
Allow business users to promote their offers and conclude contracts with their customers outside the gatekeeper's platform;
Provide business users with access to the data generated by their activities on the gatekeeper's platform;
Ban on requiring app developers to use certain of the gatekeeper's services (such as payment systems or identity providers) in order to appear in app stores of the gatekeeper;
By issuing the first-ever tech gatekeeper designations in Europe, the EU practically ensures that the iPhone will soon support sideloading, at least in the EU member states. And since it has to happen within six months, Apple will implement the feature into iOS 17.
When will Apple make changes to iOS 17?
As you can see in the list above, Apple will also have to let developers promote their businesses and conclude contracts outside of its platform. That means purchasing a digital service or app outside of the App Store. Like subscribing to Netflix in a browser after seeing an offer within the official app.
iOS 17 will also have to support app stores that compete with the official App Store. That's in addition to support for downloading iPhone and iPad apps from any source (sideloading).
Also, the DMA practically guarantees support for third-party payment systems.
I've long said I won't be sideloading any apps on my iPhone in the future even though I'll have access to the feature. And that I won't use third-party app stores or third-party payment systems. It's all about convenience and security for me. But not all iPhone and iPad users feel that way. The same goes for developers.
The good news is that they'll be able to take advantage of the DMA rules in the coming months. But the caveat is that Apple will likely restrict these features to the EU region. There's no way sideloading is coming worldwide.
Also, since Apple has six months to implement the changes, don't expect sideloading to come to your iPhone soon. It's more likely that Apple will spend months testing it via iOS 17.x beta releases before rolling it out officially. As a reminder, the final version of iOS 17 comes out next week. Apple will continue to add features to the iPhone operating system in the following year via iOS 17.x updates.
As seen above, Apple has until March 2024 to comply.
Can Apple ignore the DMA?
Apple could avoid implementing changes into iOS 17 to adhere to these regulations, of course. But it risks fines starting at 10% of its annual turnover. That amounts to tens of billions. It can go up to 20% for repeated offenses and could lead to more drastic measures, like the EU forcing Apple to sell a business or parts of it, or preventing acquisitions.
While Apple has always opposed sideloading apps, it recently said it would comply with EU regulations. But it never offered more details about when to expect sideloading support in iOS 17.
Reacting to the EU's gatekeepers announcement, Apple said it remained concerned about the privacy and security risks coming from the DMA. But it also implied it would implement changes accordingly. "Our focus will be on how we mitigate these impacts and continue to deliver the very best products and services to our European customers," Apple said in a statement to Reuters.
[ For more curated tech news, check out the main news page here]
The post iOS 17 sideloading support is coming, and Apple can't stop it first appeared on bgr.com