From www.macrumors.com
Production of OLED displays designed for the next-generation iPad Pro will begin in February 2024, the Korea Herald reports.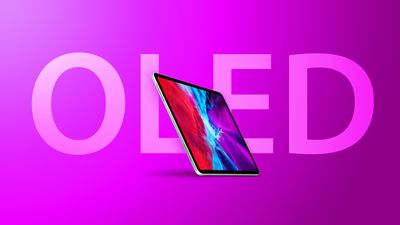 Sources familiar with the matter speaking to the Korea Herald claim that LG Display is set to initiate OLED production for the new ‌iPad Pro‌ as early as February next year at their facility in Paju, Gyeonggi Province – a time frame around three months sooner than previously expected. The displays are expected to be three times the price of those used in iPhones, which could translate to higher prices for customers. The information largely corroborates a report from last week.
The current 11-inch ‌iPad Pro‌ is equipped with an LCD panel, while the 12.9-inch model features mini-LED backlighting for increased brightness and a higher contrast ratio. OLED technology would eliminate the need for backlighting, with benefits including even higher contrast ratio with deeper blacks, lower power consumption, and more. Apple is expected to use very thin hybrid OLED displays with a combination of flexible and rigid materials, which could allow the next ‌iPad Pro‌ models to be slightly thinner.
Apple is reportedly seeking around 10 million OLED panels for the iPad in 2024. LG is expected to supply around 60% of the OLED panels, with the remaining portion supplied by Samsung, which is expected to focus on the 11-inch model only. Production of the panels for the next-generation ‌iPad Pro‌ is expected to help LG Displays' financial recovery next year. LG and Samsung are said to be currently finalizing price negotiations with Apple.
In addition to OLED display technology, the next-generation ‌iPad Pro‌ models are expected to feature slightly larger screens, the M3 chip, and a redesigned Magic Keyboard accessory.
Apple analyst Ming-Chi Kuo expects the new ‌iPad Pro‌ models to launch in the second quarter of 2024, which runs from April to June. This timeline broadly aligns with the latest rumor from the Korea Herald.
Related Forum: iPad
Popular Stories
Wednesday November 8, 2023 4:39 pm PST by Joe Rossignol
Apple made the first beta of iOS 17.2 available to developers and public beta testers nearly two weeks ago, and the software update includes many new features and changes for iPhones. Below, we have highlighted 10 of these new features and changes. iOS 17.2 is expected to be released to the public in December. Journal App Apple's new Journal app allows iPhone users to reflect on their…
Friday November 10, 2023 5:47 am PST by Tim Hardwick
Apple's new MacBook Pro models are powered by cutting-edge M3 Apple silicon, but the base configuration 14-inch model starting at $1,599 comes with just 8GB of working memory. In 2012, Apple launched the first MacBook Pro with Retina display, which also started with 8GB of RAM. Of course, Apple now uses integrated chips with unified memory architecture, which is why the company feels confident in …
Following our last in-depth report on the iPhone SE 4, MacRumors has received additional information which further confirms the claims made in our previous article. The iPhone SE 4, also known by the device identifier D59 and project codename Ghost, is a continuation of Apple's budget-oriented line of iPhones, and is expected to replace the current third-generation iPhone SE. With the…
Thursday November 9, 2023 11:37 am PST by Juli Clover
Apple today introduced a new firmware update for the AirPods Pro 2, including both the Lightning model and the new USB-C model. The new firmware is version 6B32, up from the 6A305 firmware introduced in October. Apple does not provide details on what features might be included in the refreshed firmware, so it is unclear what's new in the update, but prior software releases have been refining …
Friday November 10, 2023 11:28 am PST by Joe Rossignol
Starting with iOS 17.2, which is currently in beta and expected to be released in December, the iPhone 15 Pro and iPhone 15 Pro Max can record spatial video with 3D depth for playback on Apple's upcoming Vision Pro headset. When held in landscape orientation, the iPhone's main and ultra wide cameras combine to record 3D video. The feature can be toggled on in the Settings app under Camera…
Over the last several months, we've heard reports that Apple is working on a second-generation AR/VR headset, although there have been few details shared about the device. MacRumors has now received new information about the project, giving us some insight into the design and hardware of the successor to the Vision Pro. The second-generation Apple Vision Pro headset, known internally under…
Friday November 10, 2023 2:06 am PST by Tim Hardwick
Apple's upcoming iPad Pro models with OLED displays will be followed by sequential OLED MacBook Pro and OLED MacBook Air launches over the next three years, according to analyst Jeff Pu from Haitong International Technology Research. In a new investor memo seen by MacRumors, Pu said Apple intends to update the 14-inch and 16-inch MacBook Pro models with OLED screens sometime in 2026, which…
Thursday November 9, 2023 11:36 am PST by Joe Rossignol
Starting with iOS 17.2, which is currently in beta and is expected to be released in December, Apple's opt-in Sensitive Content Warning feature will work with Contact Posters in both the Contacts and Phone apps, as well as stickers in the Messages app. When turned on, the Sensitive Content Warning feature uses on-device machine learning to analyze photos and videos, and blurs photos or…
[ For more curated Apple news, check out the main news page here]
The post iPad Pro OLED Panels Rumored to Start Production in 2024 first appeared on www.macrumors.com