From www.phonearena.com
Apple's iPhones have consistently stayed among the best camera phones on the market, offering reliable image quality. Unlike last year, the iPhone 15 series comes with substantial camera upgrades both when it comes to the more premium Pro models, as well as the less expensive iPhone 15 and 15 Plus.
There are two main changes with the camera system that stole the show this year — the new 48MP main camera on the regular iPhones and the new 5x telephoto camera on the iPhone 15 Pro Max!
Of course, it wouldn't be that impressive if it was just these two upgrades, no matter how big they are, so there are several smaller ones sprinkled throughout. Not to mention that some of the camera features like Portrait Mode, HDR, and Night Mode have also been improved. Let's get into it!
iPhone 15 camera specs summarized
Here's a quick view at the camera specs for all iPhone 15 models:
Camera
Specs
Main (wide)

iPhone 15

, 15 Plus: 48MP, f/1.6 aperture, 2X sensor crop
iPhone 15 Pro, 15 Pro Max: 48MP, f/1.78 aperture, new 1.2X and 1.5X optical quality focal lengths

Ultra-wide

iPhone 15

and

iPhone 15

Plus: 12MP, f/2.4

iPhone 15

Pro and

iPhone 15 Pro Max

: 12MP, f/2.2

Telephoto

iPhone 15

Pro: 12MP, f/2.8, 3X zoom

iPhone 15 Pro Max

: 12MP, 5X zoom periscope

Front camera

All

iPhone 15

models: 12MP, f/1.9, with auto-focus
iPhone 15 camera upgrades
A new 48MP main sensor for the iPhone 15 and iPhone 15 Plus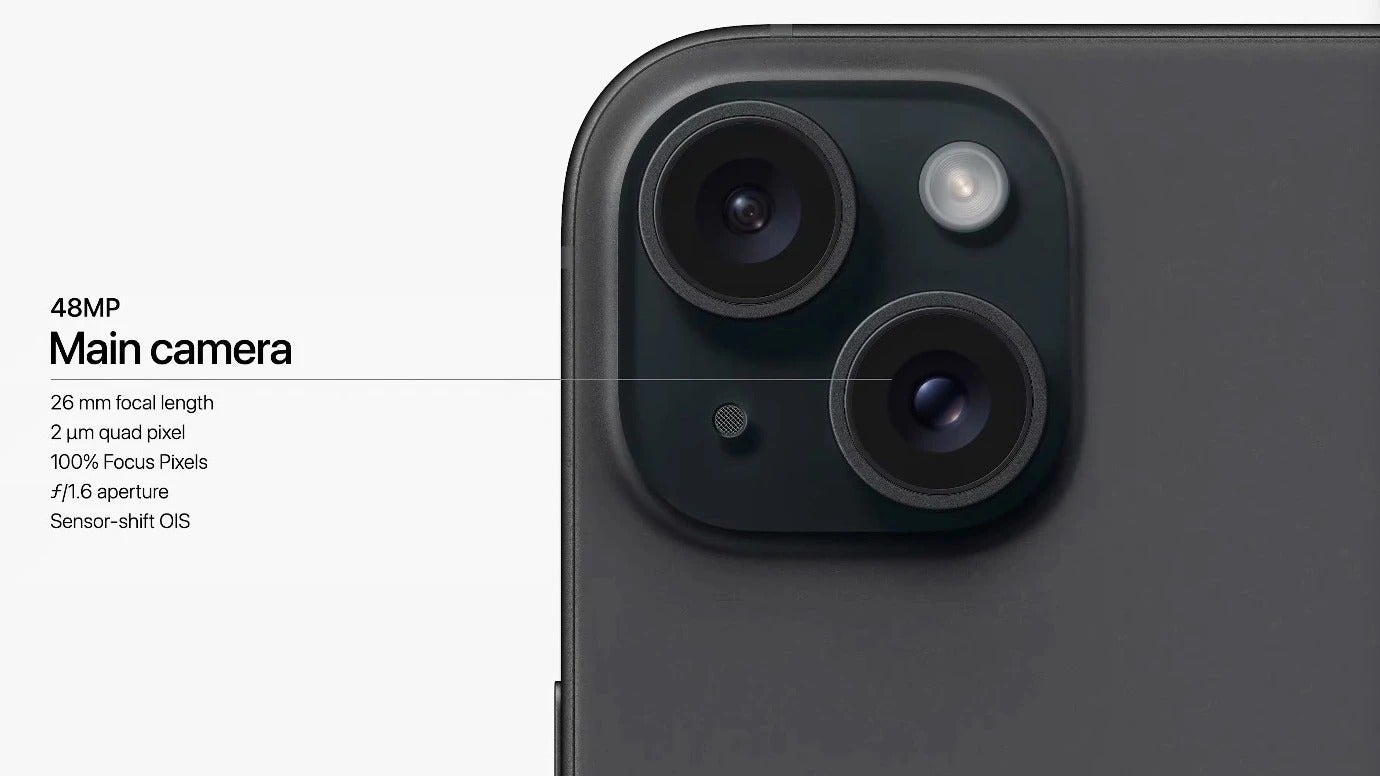 As mentioned earlier, both the iPhone 15 and iPhone15 Plus get a new 48MP primary camera which affect several factors. Firstly, images will now have much higher detail, as the camera captures more information with each shot.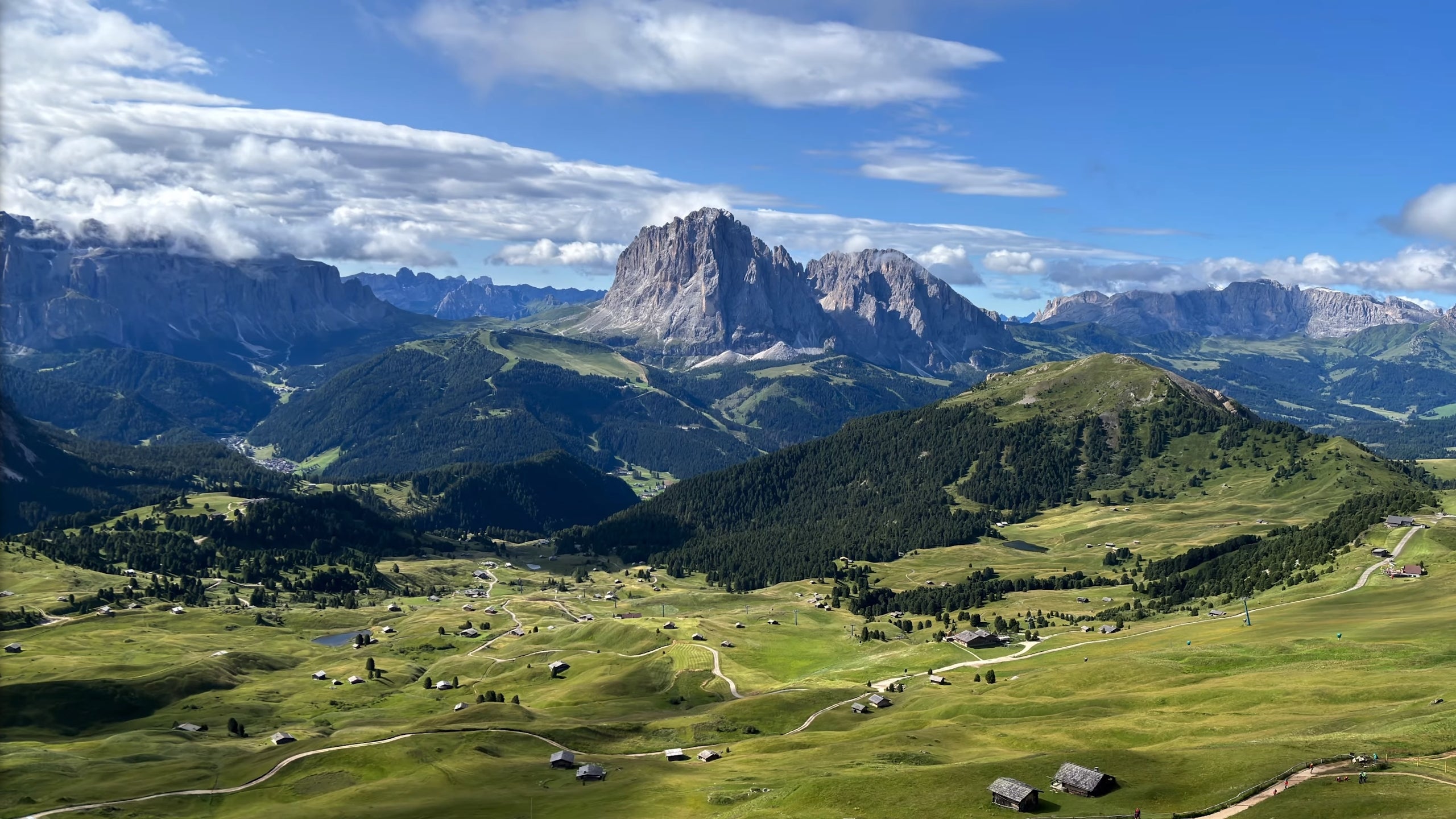 Users are able to utilize the full 48MP if they choose to do so, but the camera takes photos in the new Super high resolution photo mode by default, which produces 24MP images that aims to offer great amount of detail while also saving precious storage space. A 24MP image file is much smaller than a 48MP after all.
Thanks to the new 48MP image sensor, the iPhone 15 and 15 Plus also have 2X sensor crop, which provides a 2X zoom with very similar image quality to a dedicated telephoto camera. In a way, this feature makes the new regular iPhones feel like they have a triple camera system instead just two snappers on the back.
What's more, if you are shooting video with the main camera, zooming in and out between the 1x and 2x ranges happens smoothly, with no jarring jumps or cuts. This is called continuous zoom.
A larger 48MP main sensor for the Pro models
It is not just the regular iPhone 15 models that are getting a new 48MP main sensor! The iPhone 15 Pro and iPhone 15 Pro Max come with an even larger 48MP main image sensor than their predecessors, which can now shoot at 48MP not only in the ProRAW format, but also in HEIF (Apple's patented High-Efficiency Image Files), which are ready to be uploaded on the web as soon as you take them.
The new 48MP camera on the Pro models also comes with a new nanoscale coating that aims to reduce lens flare, hopefully finally getting rid of those pesky light dots you typically get with iPhone cameras (stay tuned for our camera tests to see real-life examples).
One small difference with the new main camera is that its focal length has slightly shortened, going down to 24mm compared to the 26mm on the iPhone 14 Pro and Pro Max.
Speaking of focal lengths, this new 48MP main sensor on the new Pro iPhones can now do a 1.2X and 1.5X sensor crop, allowing users to swap between three different "main" camera focal lengths in the camera app including the regular 1X.
The iPhone 15 Pro Max gets a 5X zoom telephoto camera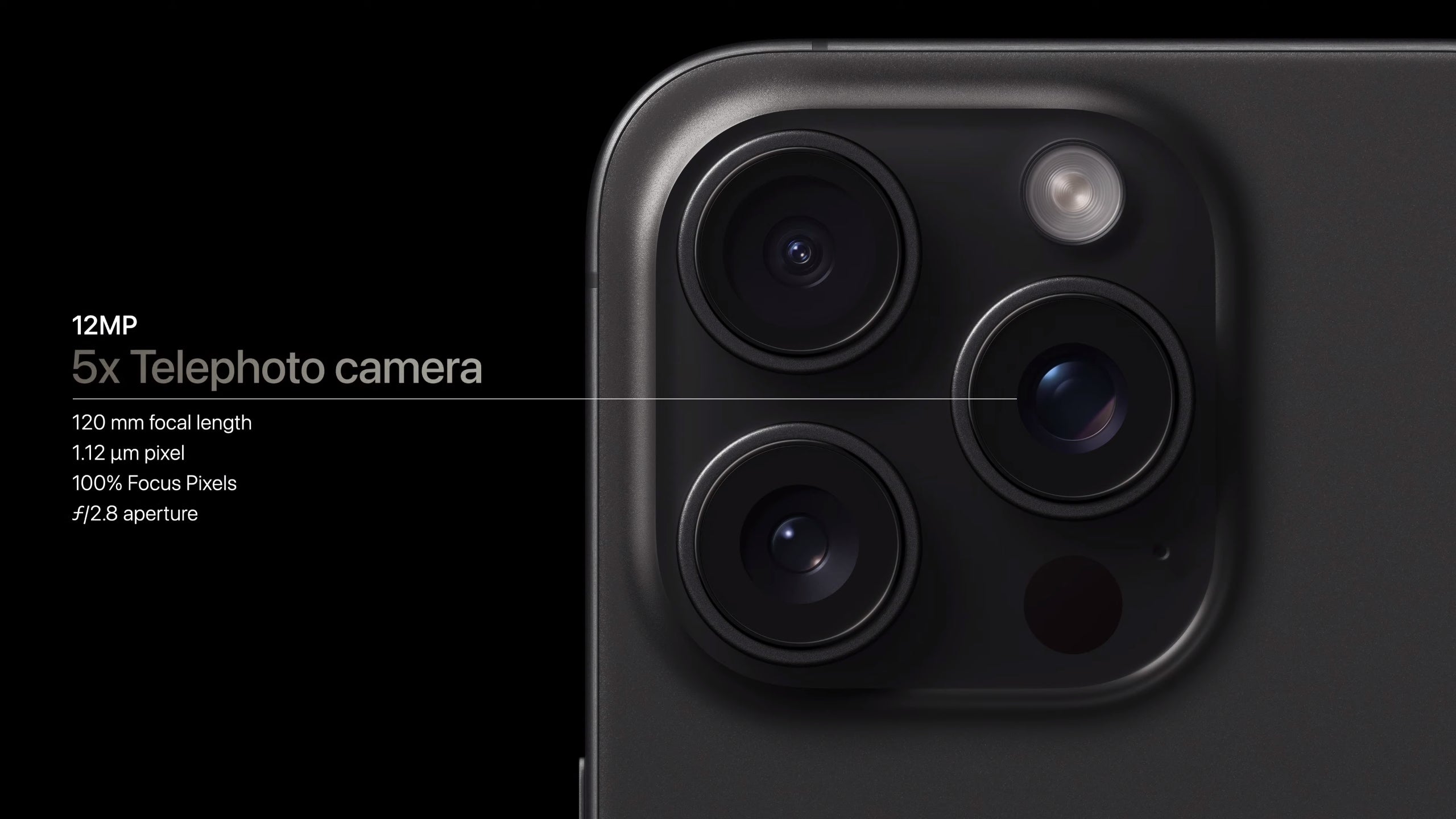 iPhones have some of the best camera systems in the market, but one thing they have been sorely lacking so far is a telephoto camera that can zoom at more than just 3X. Well, 2023 is the year Apple finally introduced such an upgrade, and it is exclusive to the most expensive model, the iPhone 15 Pro Max.
More precisely, we are talking about a telephoto camera with a periscope lens and 5X optical zoom. Apple has achieved this level of zoom by implementing a tetra-prism design, which reflects the light coming in through the lens four times before it reaches the sensor.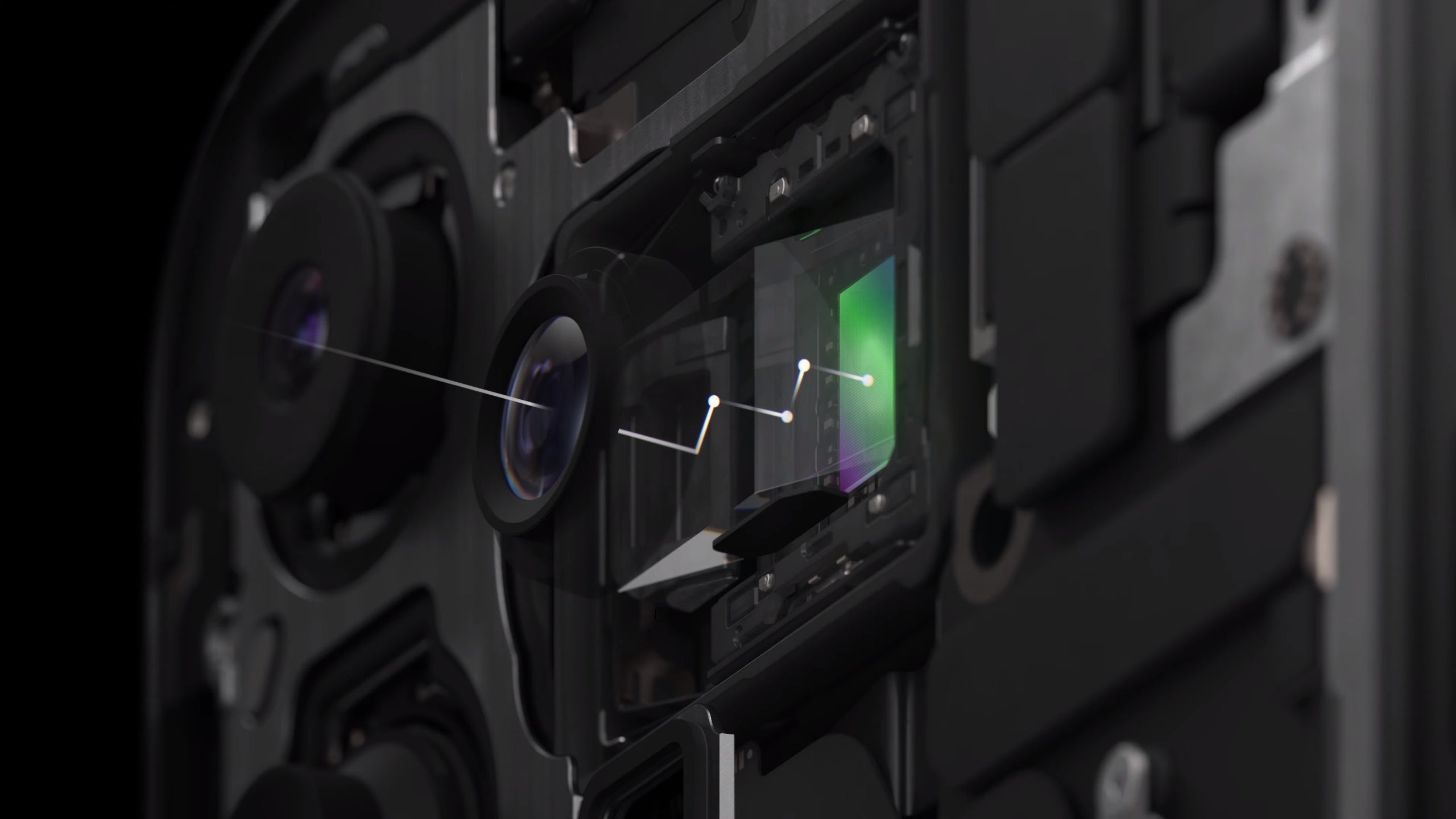 What's most impressive about the new 5X telephoto camera on the iPhone 15 Pro Max is the fact that it has a new 3D sensor shift module (the first in a smartphone), which means the sensor can move in all three directions: up/down, left/right, forward/backward. Coupling that capability with 10,000 micro adjustments per second, and you have the most advanced camera stabilization system on a phone so far.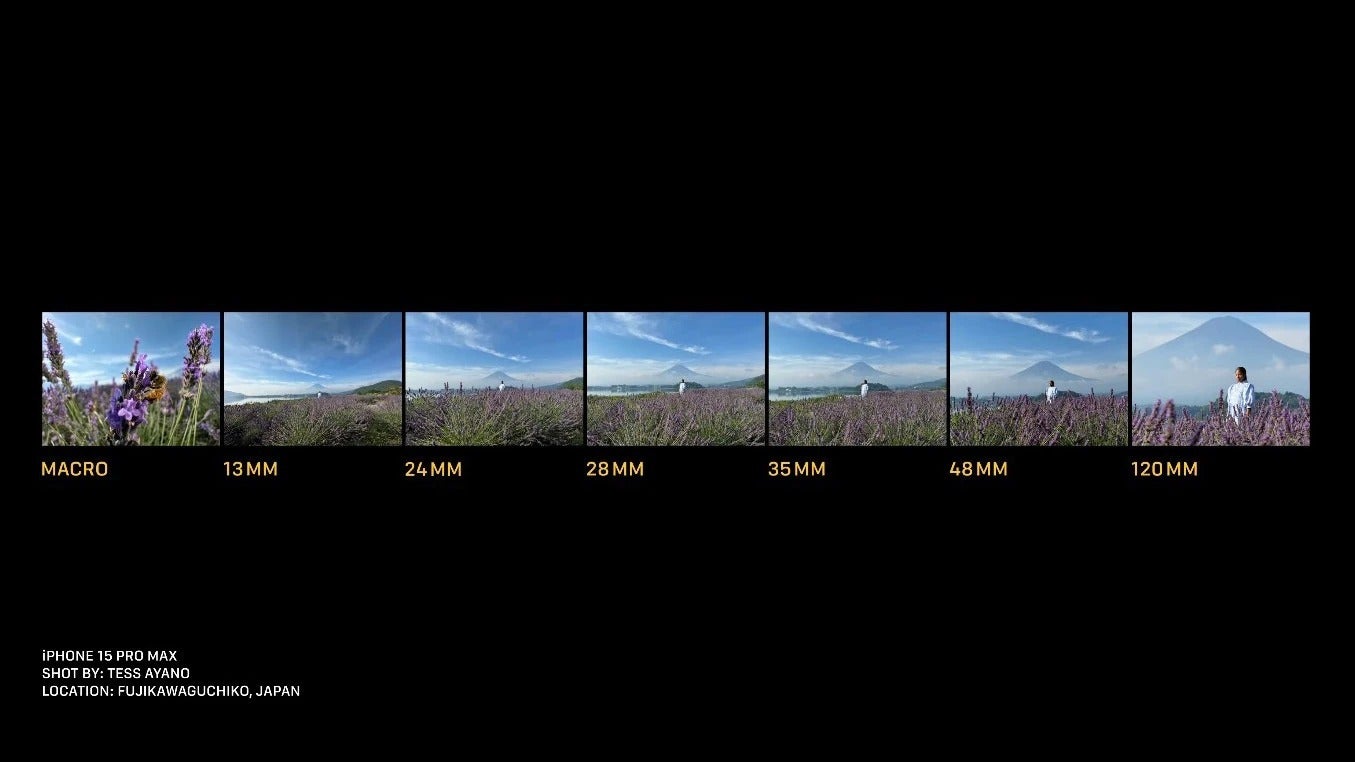 Several tweaks to the ultra-wide camera on the Pro models
Apple kind of blazed through these, but the 12MP ultra-wide camera that the iPhone 15 Pro and Pro Max share have also improved. They come with the same nanoscale antireflective coating mentioned earlier to reduce glare, better Night Mode and a more powerful HDR.
Enhanced camera software features
Apple has revised several of its camera software features including Smart HDR, Portrait mode, Night mode.
Portrait mode should now offer richer colors and better low-light performance. It is now also easier to take photos in portrait mode as you no longer have to do it manually. The iPhone 15 series uses machine learning to detect people or pets in the frame and capture depth information automatically, allowing the user to turn the image from a regular one to a Portrait after it has been taken. What's more, you can also switch the focus of a portrait photo to a different person after the capture.
Night mode should also produce more detailed shots with vibrant colors. The Smart HDR mode has also been improved to capture images with brighter highlights, darker shadows and richer midtones, while still keeping as much detail in those areas as possible. Apple also claims that skin tones look more true-to-life with this update. These enhancements also apply to the selfie camera.
How many cameras does the iPhone 15 have?
Just like the previous generations, the iPhone 15 and iPhone 15 Plus have two rear cameras: one being the main (wide) shooter, and the other an ultra-wide. The iPhone 15 Pro and iPhone 15 Pro Max, on the other hand, get an additional telephoto camera: the one on the regular Pro with 3X zoom, and the one on the Pro Max with 5X zoom.
All iPhone 15 models will also have one front-facing camera embedded in the display.
How many megapixels is the iPhone 15 camera?
Here are all the iPhone 15 series cameras and their respective megapixel count:
Main (wide) — 48MP
Ultra-wide — 12MP
3X telephoto (

iPhone 15 Pro

) — 12MP
5X telephoto (

iPhone 15 Pro Max

) — 12MP
Front camera — 12MP
[ For more curated Apple news, check out the main news page here]
The post iPhone 15 camera: all upgrades and new features first appeared on www.phonearena.com