From www.imore.com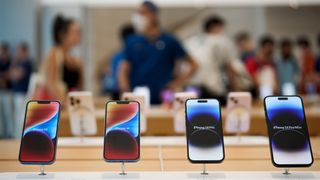 (Image credit: Future)
A new leak has just come out, predicting that the iPhone 15 line will support 35W charging — 15W greater than the standard iPhone 14. With the swap to USB-C, some changes were expected here but this rather huge upgrade could leave new iPhones charging almost 50% quicker than previous years.
With the iPhone 15 anticipated to launch in just one month, these kinds of details are popping up everywhere. It's worth taking new information with a grain of salt but this report lines up with the 35W adapter Apple launched previously. If true, this brings Apple phones close to the charge time of competitors.
A faster charge
As "industry sources" have reported to 9to5mac, some iPhone 15 models will be compatible with 35W charging. Though we don't have concrete information on if it's the standard model, or Apple's best iPhones, the iPhone 15 Pro or the iPhone 15 Pro Max, it's a development that will allow much quicker charges in future phones.
The expected USB-C port means that faster file transfers should also be possible in future phones though we will have to wait for launch to find out how Apple takes advantage of the tech.
To put these figures into perspective, the standard 20W charger that comes with Apple phones prior to the 15 is 25W less than the 45W Samsung S23 Ultra and Samsung S22 Ultra charger. This means that modern iPhones take around double the time to get a full charge — accounting for battery size.
As phones tend to lose some of their battery efficiency with time, these longer charge times become even more noticeable. If it takes less time to see your phone reach 0%, you will spend more time waiting for it to charge. This greater charger will seem small in comparison to all the upgrades iPhone 15 will be making but will be one of the most noticeable a year from now.
[ For more curated Apple news, check out the main news page here]
The post iPhone 15 could get a major charging speed upgrade thanks to USB-C first appeared on www.imore.com