From www.tomsguide.com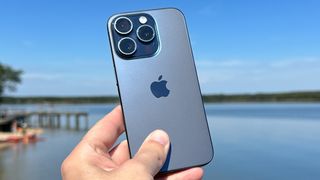 (Image credit: Tom's Guide)
If you've been wanting more battery life out of your iPhone 15 Pro, testing by MacWorld has shown the impact that the 120Hz display has on endurance.
The iPhone 15 Pro and iPhone 15 Pro Max, as well as the preceding iPhone 14 Pro and iPhone 13 Pro models, offer Apple's ProMotion 120Hz standard for their displays, making swiping through menus, scrolling through social media or watching high-frame-rate video feel much slicker. But while in our iPhone 15 battery life testing we saw that all the new models are better than their iPhone 14 versions, the Pro models don't match up to the equivalently-sized iPhone 15 or iPhone 15 Plus.
Thanks to the Limit Frame Rate option in iOS' accessibility settings, you can turn off the ProMotion smoothness of any iPhone with a 120Hz screen, limiting it to the same 60Hz as the non-Pro models. But doing this resulted in only a 5% battery life increase for the iPhone 15 Pro, and a 6% one for the iPhone 15 Pro Max in a Geekbench 4 battery test.
This is perhaps surprising, but it's actually fairly common. When testing other phones in 120Hz and 60Hz modes, we often see the battery life increase isn't particularly large, thanks to the increasing efficiency of high refresh-rate displays. A key technology for this that you may see advertised is LTPO, a display material that allows for fully adaptive refresh rates, meaning you only get 120Hz from your phone when you need it, and use lower, less power-intensive frequencies the rest of the time.
One exception
So while it seems turning off 120Hz mode on your Pro iPhone is not worth the sacrifice, Macworld's report suggests that you may still noticeably save power by swapping to 60Hz when playing a game. This is an anecdotal test rather than a benchmark but it makes sense that keeping the framerate down will mean the display and chipset draw less power.
Unfortunately, gaming is likely one of the times you're likely to want the full refresh rate of your phone active. Plus remembering to turn the refresh rate setting on and off all the time sounds kind of tedious. We'd recommend investing in one of the best power banks for more convenient power management instead.
We'll aim to try this experiment for ourselves under lab conditions in the near future.
More from Tom's Guide
[ For more curated Apple news, check out the main news page here]
The post iPhone 15 Pro has a hidden 60Hz mode — here's how much more battery life you get first appeared on www.tomsguide.com