From www.laptopmag.com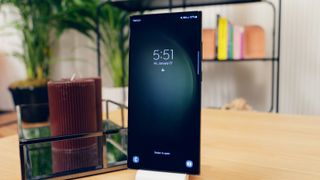 (Image credit: Laptop Mag)
The Apple event is just days away, and tech journalists are preparing for the yearly event when Tim Cook unveils the upcoming iPhone 15 Pro Max and other goodies. However, a recent leak about the upcoming Samsung Galaxy S24 Ultra may take some of the luster off the iPhone 15 Pro Max.
According to a report at GSMArena, reliable leaker Yogesh Brar posted several vital specs that lend credence to previous rumors about the S24 Ultra. Corroborating previous rumors, Brar asserts that the Galaxy S24 will include a titanium frame and upgraded camera system in addition to a Qualcomm Snapdragon 8 Gen 3 chipset and possibly up to 2TB of storage.
What to expect
According to the leak, we should also see a 6.8-inch LTPO AMOLED display with QHD+ resolution, with peak brightness at 2,200 nits, which is a leap from the current S23 Ultra's 1,750 nits of brightness.
The exciting thing for content creators is the rumored camera improvements. Allegedly, the primary rear camera will feature an upgraded 200MP sensor and improved autofocus, with 4-in-1 and 16-in-1 pixel binning. The 3x telephoto camera could take the biggest leap to a new 50MP sensor (1/2.52″, 0.7µm pixels before binning, up from a 10MP 1/3.52″ sensor with 1.12µm pixels). The all-important 10x periscope module is suspected to remain in the 10MP range. There are no plans for improvements to the selfie camera setup.
The one down note of the leak is that Brar claims the rumored 65W charging will not happen, and Samsung will stick to the same 45W charging for the 5,000mAH battery. These aren't bad, however, with OnePlus churning out fast-charging devices with 80W+ charging (charger in the box no less), it may behoove Samsung to address this eventually.
Adding a super durable and lightweight titanium frame to a more powerful chipset and better cameras may seem like Samsung is just matching Apple step for step, but Samsung should retain the camera (hardware) advantage, and Apple likely will not match the 2TB storage option or the available RAM.
Stick with us to watch all the rumors and developments for the upcoming iPhone 15 and Samsung Galaxy S24 Ultra unfold.
[ For more curated Apple news, check out the main news page here]
The post iPhone 15 Pro Max may not match these leaked Samsung S24 Ultra specs first appeared on www.laptopmag.com