From www.imore.com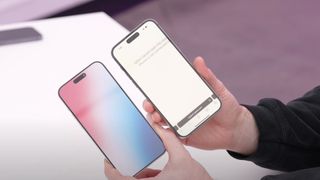 (Image credit: Unbox Therapy)
If you're planning on upgrading to an iPhone 15 Pro Max (Ultra), you could have a hard time finding one, as more rumors build up to its limited availability once it launches next month.
In a new post, analyst Ming-Chi Kuo explains that shipments of Apple's largest iPhone 15 model are starting this week in anticipation of high demand.
Sony has reportedly been facing delays in shipping its lenses for the iPhone 15 Pro Max. With a rumored release date of 22 September, we may see it launching alongside the other iPhone 15 models in limited quantities, or being delayed until October.
But if shipments are indeed starting now, it could be the former – and that's good news for everyone.
---
I'm already getting ready for the rush – iMore's Take
I've long since decided that my next iPhone will be the 15 Pro Max (Ultra). Not only do I want the bigger size for watching videos and longer battery life, but I'm also looking forward to the rumored periscope lens. Mainly so that I can take more photos of my dog from further away.
So I've been watching these rumors of a delay to the phone for a while with bated breath. But it looks more likely that it's launching with the others, just in limited amounts. While it's a relief that I probably won't be waiting until October, the next challenge will be making sure I can buy one when pre-orders go live, rumored to be on 15 September.
Thanks to other rumored features such as a thinner bezel on its display, a new 'Dark Blue' color, and camera improvements, I wouldn't be surprised to see the 15 Pro Max (Ultra) be the most popular phone out of the iPhone 15 line next month.
A lot of users love bigger phones, and if the exclusive periscope camera feature is indeed coming to this model, it's going to be a tempting upgrade for many. But while I'm going to be upgrading, will you be? Let us know in the forums if you're going Pro like I am again or an iPhone 15 in green instead.
[ For more curated Apple news, check out the main news page here]
The post iPhone 15 Pro Max shipments 'could be delayed' as release date nears first appeared on www.imore.com