From www.macrumors.com
iPhone 15 Pro models will feature an increased 8GB of RAM, a USB-C port, and multiple camera improvements, according to Taiwanese research firm TrendForce.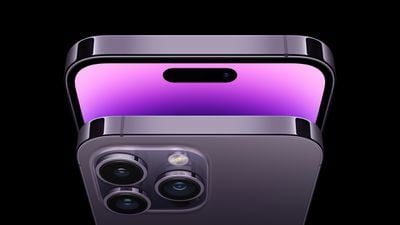 In a press release today, TrendForce indicates that the iPhone 15 lineup will again consist of four models and that only the two Pro models will get Apple's latest processor, as was the case with the iPhone 14 lineup. Users can expect the Pro models to be equipped with the A17 Bionic chip, while the standard models would stick with the A16.
TrendForce predicts that the 15 Pro models will be equipped with an increased 8GB of RAM to complement the A17 chip, compared to 6GB for the iPhone 14 Pro models. The standard models will likely continue to have 6GB of RAM.
The switch from Lightning to USB-C has been widely rumored for iPhones as the European Union passed a law requiring such a change earlier this year.
In line with previous reports, the research firm expects the iPhone 15 Pro Max to feature a Telephoto lens with periscope functionality, allowing for 10x optical zoom or higher, compared to the current 3x limitation. The Pro models should have an upgraded Main lens with an "8P" design, which would be one extra optical element for better camera performance.
TrendForce says iPhone 15 models will remain equipped with a Qualcomm modem for 5G because Apple is not yet satisfied with the mmWave performance of its in-house modem. The research firm believes Apple will introduce its own 5G modem in 2024.
Apple will likely announce the iPhone 15 lineup in September 2023.
Related Stories
All four iPhone 14 models launching later this year will be equipped with 6GB of RAM, according to Taiwanese research firm TrendForce. TrendForce said the iPhone 14 Pro models will be upgraded to a faster and more power efficient type of RAM known as LPDDR5, while the standard iPhone 14 and iPhone 14 Max models are expected to stick with LPDDR4X. If the report proves to be accurate, the…
Thursday September 8, 2022 6:15 am PDT by Joe Rossignol
Apple never advertises the amount of RAM in iPhones, but MacRumors can confirm that all four iPhone 14 models are equipped with 6GB of RAM. The latest Xcode 14 beta contains files showing that the iPhone 14, iPhone 14 Plus, iPhone 14 Pro, and iPhone 14 Pro Max are each equipped with 6GB of RAM. By comparison, the iPhone 13 mini and iPhone 13 have 4GB of RAM and the iPhone 13 Pro and iPhone…
With pre-orders for the iPhone 14 lineup now open, many iPhone customers will be weighing up whether or not now is the time to upgrade their device. The iPhone 14 models offer some substantial upgrades with Emergency SOS via satellite, Crash Detection, camera improvements, and more, but some customers will now be casting their mind forward to next year, when it may be a more appropriate time …
Monday November 7, 2022 12:55 pm PST by Juli Clover
There's almost a year to go until we get new iPhone 15 models in September 2023, but we've been hearing rumors for months now. It's looking like the iPhone 15 models could get more notable updates than we saw for the iPhone 14, including features many iPhone users have wanted for years. We've rounded up some of the best features coming to the iPhone 15 that we've heard so far so MacRumors…
Wednesday August 10, 2022 8:22 am PDT by Joe Rossignol
Apple plans to increase the prices of iPhone 14 Pro models compared to iPhone 13 Pro models, according to analyst Ming-Chi Kuo. Kuo did not reveal exact pricing for the iPhone 14 Pro models. However, in a tweet today, he estimated that the average selling price of the iPhone 14 lineup as a whole will increase by about 15% compared to the iPhone 13 lineup. In the United States, the iPhone…
Apple is rumored to announce four new iPhone 14 models in September, and ahead of time, analyst Jeff Pu has outlined his expectations for the devices. In a research note with Haitong International Securities, obtained by MacRumors, Pu claimed that all iPhone 14 models will feature ProMotion displays, compared to only Pro models currently. ProMotion enables a variable refresh rate up to 120Hz …
Friday September 16, 2022 5:36 am PDT by Sami Fathi
The iPhone 14 Pro and iPhone 14 Pro Max feature Qualcomm's Snapdragon X65 modem for faster 5G speeds, lower power consumption, and improved mmWave support on U.S. models, according to a teardown of the devices shared on YouTube today. The X65 chip can be seen on the logic board in a teardown of the iPhone 14 Pro. We're still in the process of confirming whether the iPhone 14 and iPhone 14…
Popular Stories
Thursday November 10, 2022 12:01 pm PST by Juli Clover
Apple today introduced new 5B58 firmware for the AirPods 2, the AirPods 3, the original AirPods Pro and the AirPods Max, up from the 4E71 firmware that was released back in May. Apple released the 5B58 firmware for the AirPods Pro 2 earlier this week. Apple does not offer immediately available release notes on what's included in refreshed firmware updates for the AirPods‌, but the company…
Although we're still two weeks out from Black Friday on November 25, we've begun seeing many solid deals arrive on Apple products, like the early Black Friday discounts we shared on MacBook Pro and MacBook Air. In this post, we're focusing less on a specific device and more on Apple in general, with early holiday discounts hitting Apple TV 4K, iPad, AirPods Pro, MagSafe accessories, and more. N…
Things are starting to wind down for 2022, though we're not quite there yet with a few more items still on Apple's plate including iOS 16.2, which is proceeding through beta testing with some new features and tweaks. Looking further into the future, we're expecting plenty of news for 2023 with the iPhone 15 naturally being the flagship launch for the year, and we're already hearing a decent…
Thursday November 10, 2022 8:55 am PST by Joe Rossignol
Apple this week lowered its trade-in values for select iPhone, iPad, Mac, and Apple Watch models in the United States, resulting in customers receiving less money for their existing devices heading into the holiday shopping season. Macs have some of the most significant trade-in value reductions, with the iMac Pro now fetching up to $600 versus up to $1,150 previously and the MacBook Pro now …
Thursday November 10, 2022 1:48 pm PST by Juli Clover
Apple today released a new firmware update designed for its AirTag item trackers, with the firmware featuring an updated build number of 2A24e, up from the 1A301 firmware that was released back in April. Apple does not provide release notes for AirTag updates, so we do not know what's new in this update. It is not possible to force an AirTag update, as it's something that's done…
Wednesday November 9, 2022 10:02 am PST by Juli Clover
Apple today released iOS 16.1.1 and iPadOS 16.1.1, minor bug fix updates that that come two weeks after the launch of iOS 16.1, an update that added support for iCloud Shared Photo Library, Matter, Live Activities, and more. The iOS 16.1.1 and iPadOS 16.1.1 updates can be downloaded on eligible iPhones and iPads over-the-air by going to Settings > General > Software Update. iOS 16.1.1…
We're two weeks out from Black Friday on November 25, but as is well known, Black Friday shopping is more of a month-long event rather than a singular day. Because of this, we're already tracking numerous all-time low deals that you can get on Apple's MacBook Pro and MacBook Air lineup today, and that's what we're focusing on in this article. Note: MacRumors is an affiliate partner with some…
The post iPhone 15 Pro Predicted to Feature Increased 8GB of RAM, USB-C Port, and More first appeared on www.macrumors.com
In many places around the world, horse races are an attraction that a lot of people love to watch. With the fast-paced action and thrill that each game provides, it is no longer surprising to know that millions of fans have grown fond of it.
Cybersecurity threats have become vast and more sophisticated. The rate of malware attacks and malicious activity counts within seconds despite the size or sector the organization belongs to — no one is safe enough to expect that foe actors will bypass vital company resources.