From www.imore.com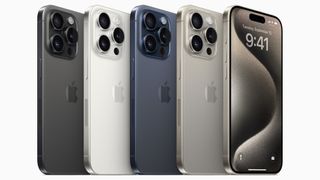 (Image credit: Apple)
The repair cost for the iPhone 15 Pro is much lower than last year's 14 Pro thanks to Apple's new way of producing the back glass.
For years, the repair costs for the back glass of the Pro iPhones have been astronomical for customers who choose not to purchase AppleCare+. Now, thanks to improvements in the manufacturing process that make the design of the new iPhone 15 Pro and Pro Max easier to repair, the iPhone 15 Pro back glass repair is substantially cheaper than before.
Ian Zelbo spotted the repair updates on Apple's website and took to X (formerly Twitter) to share the good news. Last year's iPhone 14 Pro and Pro Max cost $499 and $549 to repair the back glass at the Apple Store. The 15 Pro and Pro Max cost only $169 and $199.
These new repair costs are a huge improvement, especially considering a few years ago, the only way to replace the back glass on an iPhone was to get a whole replacement unit through Apple's Genius Bar.
Last year, iFixit said the iPhone 14 represented "the most substantial iPhone redesign" since the iPhone X because of better repairability. Zelbo added it was "such a big deal that it should have been Apple's big announcement — the iPhone has been redesigned from the inside out to make it easier to repair."
It'll be interesting to see iFixit's thoughts on the iPhone 15 Pro when it reveals its teardown later this week.
Due to a new internal structure, iPhone 15 Pro is now just $170 to replace the back glass compared to $500 on the 14 Pro pic.twitter.com/257R01WzAaSeptember 17, 2023
See more
Better value repairs — iMore's take
While working at the Genius Bar, the repair costs of iPhones that suffered damaged back glass were astronomical. Customers would often leave disappointed that the only way to fix their iPhone's cracked rear glass was by forking out a substantial sum of money or buying a case to cover up the damage.
The improvements Apple has made to repairability on the latest iPhones will give customers peace of mind, knowing that if they damage their iPhone without AppleCare+, all hope is not lost. Although, as always, we'd still recommend putting that small monthly cost down for even more peace of mind.
The iPhone 15 and iPhone 15 Pro launch on September 22 with some major new improvements to the iPhone line, including better cameras.
[ For more curated Apple news, check out the main news page here]
The post iPhone 15 Pro repair costs revealed, and it's great news first appeared on www.imore.com