From www.imore.com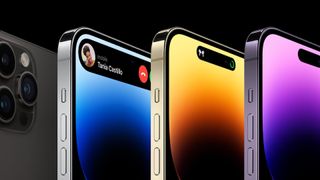 (Image credit: Apple)
The iPhone 15 Pro Max might not only be more expensive, but you'll get the same 128 GB storage option despite the price increase, according to a new report.
There have been rumors of a price increase coming to the iPhone 15 since before the iPhone 14 launched last year, and as we draw closer to the Apple event on September 12, predictions and rumors are running rampant.
According to TrendForce's projection, the iPhone 15 Pro and Pro Max will ship with 128GB options despite hopes that a potential price increase would soften the blow with a minimum 256GB starting option.
The report claims that the iPhone 15 Pro will start from $999 for 128GB, one of the only rumors to speculate that the smaller Pro iPhone will not see a price increase. As for the 15 Pro Max, TrendForce believes the flagship smartphone will cost $1199 for 128GB, a $100 increase from last year's 14 Pro Max.
Take this information with a grain of salt, as we've seen TrendForce's forecasts be wrong in the past. Last year, it predicted all Pro models to start with 256GB of storage, although it has an 84% accuracy rating (it correctly predicted the iPhone SE 3, 120Hz on the iPhone, and more).
More money, same storage — iMore's take
I'm holding out that the rumored price increases on the iPhone 15 models this year will lead to a base 256GB option in the Pro models. But, if TrendForce's projections are correct, the iPhone 15 Pro Max price increase could leave an even more bitter taste for consumers, despite the company's prediction that the regular 15 Pro's price will remain the same.
When Apple launched the iPhone 12 Pro with a starting storage option of 128GB for $999 rather than the paltry 64GB option of previous years, it made the flagship model a far more appealing upgrade from the regular iPhone 12 with 64GB for $829. Offering more extensive storage for a more premium model helps make the bigger purchase more stomachable despite the increase in cost.
128GB with iCloud storage is very manageable in 2023. I pay for 2TB of iCloud storage, and all of my photos are stored on iCloud, meaning I never come close to filling up my iPhone. It would be nice to give consumers paying the rumored $100 or even $200 price increase for the 15 Pro double the storage in what I believe should be the baseline option in a smartphone eclipsing the $1000 mark.
As we draw closer to Apple's "Wonderlust" event, the rumor mill will go wild, but we'll only know come Tuesday afternoon whether or not the iPhone 15 lineups are more expensive and/or filled with extra storage.
[ For more curated Apple news, check out the main news page here]
The post iPhone 15 Pro storage increase could be off the table, leaving the base model stuck with 128GB first appeared on www.imore.com