From www.imore.com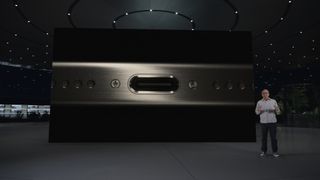 (Image credit: Apple)
iPHONE 15: What you need to know
When Apple announced the iPhone 15 and iPhone 15 Pro during a September 12 event, it confirmed what we thought we already knew — both lineups will switch to USB-C ports, ditching Lightning for the first time in a decade.
But far from just being a new way to charge the iPhones, that switch of connector has also enabled new features, too. We already know that the iPhone 15 Pro and iPhone 15 Pro Max can transfer data at USB 3 speeds, but now we also know that all new iPhone 15 and iPhone 15 Pro models have another superpower, too.
No matter which new iPhone you choose, you'll get improved video output resolution, and you won't have to buy the best iPhone, because the iPhone 15 can do it too.
A big upgrade
Whereas Lightning-equipped iPhones can only output video at 1080p whether mirroring their on-screen content or not, that's all going to change with the new models.
As reported by MacRumors, all four new iPhones will support up to 4K and HDR when connected to an external TV or display using a USB-C cable. A 60Hz refresh rate is also supported, too.
It's interesting that this will work with the iPhone 15 and iPhone 15 Plus given the fact their USB-C ports remain limited to slow USB 2.0 speeds, but we'll take it.
All new iPhones will go up for preorder on Friday, September 15 with sales beginning a week later on September 22.
---
We're covering all the Apple iPhone 15 event news and reactions now that Wonderlust is over. Don't miss all our iPhone 15, iPhone 15 Pro, iPhone 15 Pro Max, Apple Watch Series 9, Apple Watch Ultra 2, iOS 17and watchOS 10 coverage so far.
[ For more curated Apple news, check out the main news page here]
The post iPhone 15's USB-C port offers a huge external display upgrade over Lightning first appeared on www.imore.com