From www.techradar.com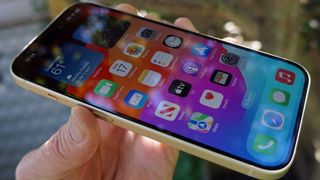 The iPhone 15, with its 60Hz display (Image credit: Future)
If you were hoping that the iPhone 16 would make the leap to a 120Hz refresh rate display – pretty much standard now on flagship handsets – you may have to temper your expectations ahead of the phone's 2024 launch.
According to a post on South Korean platform Naver, backed up by tipster @Tech_Reve, the iPhone 16 and iPhone 16 Plus are going to stick with the same 60Hz refresh rate as the iPhone 15 and the iPhone 15 Plus.
Considering that the Samsung Galaxy S23, the Google Pixel 8, and even the iPhone 15 Pro and iPhone 15 Pro Max all hit 120Hz – as indeed do plenty of other phones – Apple would remain stuck in the past with one half of its premium phone series.
A faster refresh rate – which means the screen is updated more times per second – means a more fluid user experience whenever anything is moving on screen. There is a battery life trade-off, but several phones (including the iPhone 15 Pro and iPhone 15 Pro Max) are able to mitigate this by dynamically ramping up the refresh rate only when it's needed.
Yes… The iPhone 16/16 Plus has been reconfirmed to have an LTPS 60Hz display…iPhone 16: 6.12-inch LTPS 60Hz iPhone 16 Plus: 6.69-inch LTPS 60Hz (Dynamic Island)Partial improvements in display components.iPhone 16 Pro: 6.27-inch LTPOiPhone 16 Pro Max (Ultra): 6.86-inch… pic.twitter.com/BTJCxSiTXONovember 19, 2023
See more
Same old story
We've been here before: earlier this year we were disappointed when rumors began swirling that the iPhone 15 would only have a 60Hz refresh rate for its display. While it didn't affect the verdict of our iPhone 15 review too much, it does make the iPhone 15 something of an outlier in terms of premium handsets.
In fact, it was something of a surprise that the iPhone 14 and iPhone 14 Plus didn't bump the refresh rate up to at least 90Hz. Apple introduced 120Hz tech, which it calls ProMotion, with the iPhone 13 Pro models in 2021.
Admittedly, that higher refresh rate does also bump up the price, because it needs an LTPO Low-Temperature Polycrystalline Oxide) OLED display for the necessary trickery. It's also possible that users ultimately don't care as much as we do about this spec.
We'll have to wait and see what Apple decides for the iPhone 16. Previously, industry analyst Ross Young has predicted that Apple won't introduce a 120Hz to the standard iPhone until 2025 and the iPhone 17.
Follow TechRadar on TikTok for news, reviews, unboxings, and hot Black Friday deals!
You might also like
[ For more curated Apple news, check out the main news page here]
The post iPhone 16 leak suggests the Apple flagship will be stuck with an outdated display first appeared on www.techradar.com