From www.macrumors.com
by Tim Hardwick
Apple at WWDC 2024 will reveal a turbo-charged version of Siri powered by large language models (LLMs) that will debut in iOS 18, but some new cutting-edge generative AI features could be exclusive to iPhone 16 models, according to a new rumor.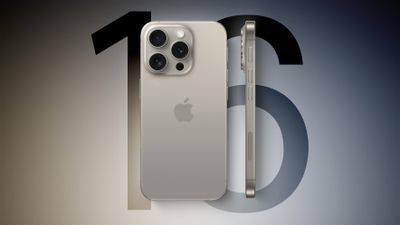 Last month, Bloomberg reporter Mark Gurman revealed that Apple is developing a large array of features that use generative AI, including a "smarter version of Siri" and new LLM-based AI features that will be baked into iOS 18 and iPadOS 18.
Gurman said Apple was still debating whether to limit generative AI to on-device processing, deploy it via the cloud, or adopt a hybrid approach combining the two. It was not mentioned either way whether some AI features would require specific hardware architecture or trickle down to all models capable of running iOS 18.
However, according to new information independently shared by the leaker @Tech_Reve, iOS 18 will bring the company's new LLM to millions of existing devices by using cloud-based AI, while new on-device AI features will likely remain exclusive to the iPhone 16.
In terms of iOS 18 features, Gurman's sources mention a revamped interaction between ‌Siri‌ and the Messages app, enabling users to field complex questions and auto-complete sentences more effectively. We may also see auto-generated Apple Music playlists and integration with productivity apps like Pages and Keynote, such as AI-assisted writing and slide deck creation. Where this patina of AI integration crosses over into new hardware requirements is still unknown.
Apple is designing new A-series chips for the iPhone 16 lineup, built on TSMC's latest N3E 3-nanometer node. Efficiency and performance improvements are of course expected, but there could be other benefits that feed into Apple's AI intentions. Notably, TSMC is the sole manufacturer for Nvidia's powerful H100 and A100 AI processors, the hardware that powers AI tools like ChatGPT and which also comprises the majority of AI data centers.
All models in the iPhone 16 series are also rumored to have an extra button that we don't know the purpose of yet. Internal versions of the iPhone 16 that Apple is working on include an extra capacitive button, known internally as the "Capture Button."
The button is located on the same side as the Power button, and is a capacitive button that is able to detect pressure and touch, providing haptic feedback when pressed. There has been no word yet on what this button might be used for, but it could conceivably have unforeseen practical AI applications.
Apple is said to be on course to spend $1 billion per year on AI research, with some of the company's biggest executive names overseeing development, including senior vice president of software engineering Craig Federighi, senior vice president of machine learning and AI strategy John Giannandrea, and senior vice president of services Eddy Cue.
Popular Stories
Apple plans to update its entire iPad lineup throughout 2024, according to Bloomberg's Mark Gurman. This means new models of the iPad Pro, iPad Air, iPad mini, and entry-level iPad can be expected to launch next year. Gurman touched on the lack of new iPads and AirPods heading into the holiday shopping season in the latest edition of his Power On newsletter:Apple could have tried to rush out …
Saturday November 4, 2023 9:05 pm PDT by Joe Rossignol
Apple's new M3 Pro chip with a 12-core CPU offers only marginally faster CPU performance compared to the M2 Pro chip with a 12-core CPU, according to a Geekbench 6 result spotted today by Vadim Yuryev, co-host of the YouTube channel Max Tech. This is only a single benchmark result, so further results are needed to ensure accuracy. Apple announced new 14-inch and 16-inch MacBook Pro models…
Wednesday November 8, 2023 3:12 am PST by Tim Hardwick
Following the unveiling of new MacBook Pro models last week, Apple surprised some with the introduction of a base 14-inch MacBook Pro with M3 chip, which replaced the discontinued M2 13-inch MacBook Pro in Apple's Mac lineup. Starting at $1,599, the 14-inch M3 MacBook Pro comes with 8GB of unified memory. That makes it $300 more expensive than the $1,299 starting price of the…
Apple made the first beta of iOS 17.2 available to developers and public beta testers last week, and the software update includes many new features and changes for iPhones. Below, we have highlighted 10 of these new features and changes. iOS 17.2 is expected to be released to the public in December. Once available, the update can be installed in the Settings app under General → Software…
Apple has confirmed to The Verge and some other publications that it has no plans to release a new 27-inch iMac with Apple silicon. Apple discontinued both the Intel-based 27-inch iMac and iMac Pro over the past two years, and it has yet to launch a larger-screen iMac with an Apple silicon chip as a replacement, leaving the recently-updated 24-inch iMac with the M3 chip as its only…
[ For more curated Apple news, check out the main news page here]
The post iPhone 16 Likely to Get Exclusive AI Features in iOS 18 first appeared on www.macrumors.com