From www.macrumors.com
by Tim Hardwick
Next year's iPhone 16 could feature a more power-efficient display thanks to a new OLED material set that is reportedly being developed by Samsung specifically for Apple.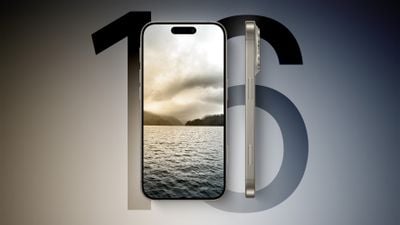 A material set includes a variety of components for OLED screens, such as capping layers (CPL), which adjust the optical characteristics of the screen. Each component is produced by a specialist manufacturer and supplied to Samsung, which then uses them to construct the final OLED panel.
A different composition of materials in the set can alter attributes of the OLED panel, such as lifespan, brightness, color accuracy, or manufacturing efficiency.
Back in April, The Elec reported that Samsung was using its "M12" material set for this year's iPhone 15 models, while also developing a new OLED material set, dubbed "M14," specifically for Apple's 2024 iPhones. The precise reason for the development was not known at the time, but a new report from the Korean-language outlet suggests it could be related to making the OLED panel more energy efficient.
Citing Korean Ubi Research analyst Daejeong Yoon, The Elec now reports that Samsung's OLED development roadmap has been focused on replacing blue fluorescent materials with a blue phosphorescence that could reduce the overall power consumption of an OLED panel.
According to Yoon, Samsung originally intended to use the more power-efficient material in OLED panels developed for a variety of foldable phones in 2024, but it is not easy to develop, and Samsung could instead reserve it for Apple's M14 material set.
"Following the ‌iPhone 16‌ next year, M14 will be applied to the iPhone 17 in 2025, and the application period for the Apple ‌iPhone‌ OLED material set will increase to two years," Yoon was quoted as saying.
The ‌iPhone 16‌ Pro and ‌iPhone 16‌ Pro Max are expected to have larger display sizes, according to multiple sources. The ‌iPhone 16‌ Pro will have a display that's 6.27 inches in size (rounded to 6.3), while the ‌iPhone 16‌ Pro Max is expected to have a display that's 6.85 inches in size (rounded to 6.9).
A previous report in September suggested ‌iPhone 16‌ OLED panels could use micro-lens technology to maintain or increase the brightness of the displays while potentially reducing their power consumption.
Meanwhile an earlier report in May claimed that Apple intends to mass produce more advanced microLED displays in order to lessen its reliance on Samsung and increase its own control over supply, laying the groundwork to realize its ultimate goal of bringing the next-generation technology to iPhones.
Popular Stories
Wednesday November 8, 2023 4:39 pm PST by Joe Rossignol
Apple made the first beta of iOS 17.2 available to developers and public beta testers nearly two weeks ago, and the software update includes many new features and changes for iPhones. Below, we have highlighted 10 of these new features and changes. iOS 17.2 is expected to be released to the public in December. Journal App Apple's new Journal app allows iPhone users to reflect on their…
Monday November 13, 2023 2:00 am PST by Tim Hardwick
iPhone users in the EU next year will be able to download apps hosted outside of Apple's official App Store to comply with European regulations, according to Bloomberg's Mark Gurman. Otherwise known as sideloading, the change coming sometime in the first half of 2024 will allow customers to download apps without needing to use the App Store, which will mean developers won't need to pay…
Monday November 13, 2023 1:41 pm PST by Juli Clover
Apple last week launched its new MacBook Pro models with M3, M3 Pro, and M3 Max chips. We already took a look at the M3 Pro MacBook Pro, but we also wanted to test out the top-of-the-line M3 Max chip to see how it measures up. Subscribe to the MacRumors YouTube channel for more videos. While the M3 Pro's performance was disappointing overall compared to the M2 Pro and even the M1 Pro, the…
Monday November 13, 2023 6:06 am PST by Tim Hardwick
Apple internally believes its iOS 18, macOS 15, watchOS 11, and tvOS 18 updates next year will be "ambitious and compelling," thanks to major new software features and designs in the works for iPhone, iPad, Apple Watch, Apple TV, and Mac. That's according to the latest information relayed by Bloomberg reporter Mark Gurman. While little is known about the specifics, many of the changes are…
Following our last in-depth report on the iPhone SE 4, MacRumors has received additional information which further confirms the claims made in our previous article. The iPhone SE 4, also known by the device identifier D59 and project codename Ghost, is a continuation of Apple's budget-oriented line of iPhones, and is expected to replace the current third-generation iPhone SE. With the…
Sunday November 12, 2023 2:50 am PST by Tim Hardwick
Apple will add a new larger 12.9-inch iPad Air to an entirely refreshed iPad lineup coming next year, with two iPad Air models taking priority in Apple's launch roadmap, according to Apple analyst Ming-Chi Kuo. In his e-in-2024-650a5fc9bbee">latest outlook, Kuo predicts that Apple will compensate for this year's lack of movement in its iPad lineup by updating all existing models, starting…
[ For more curated Apple news, check out the main news page here]
The post iPhone 16 May Feature More Power-Efficient Samsung OLED Display first appeared on www.macrumors.com