From www.macrumors.com
iPhone 16 Pro and iPhone 16 Pro Max models launching in 2024 will feature around 6.3-inch and 6.9-inch display sizes, respectively, according to oft-accurate display industry analyst Ross Young of Display Supply Chain Consultants.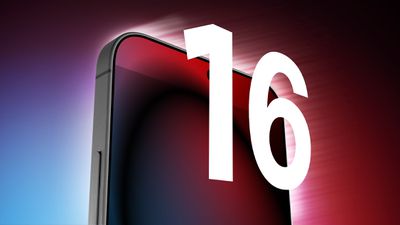 Young informed MacRumors that the 6.3-inch and 6.9-inch display sizes are rounded up. In response to our news story, Young said he will reveal the actual sizes to two decimal places during his speech at the Display Week conference in Los Angeles on May 23. Young did not indicate if the standard iPhone 16 and iPhone 16 Plus will also have larger displays.
The new display sizes would be the largest ever for the iPhone, as the device continues to get bigger. By comparison, the iPhone 14 Pro and iPhone 14 Pro Max are equipped with 6.1-inch and 6.7-inch displays, respectively, and these sizes are not expected to change with the iPhone 15 Pro models launching later this year.
Young has a good track record with display-related information about future Apple products. In the past, he accurately revealed that ProMotion was coming to the iPhone 13 Pro and the 14-inch and 16-inch MacBook Pro, that the sixth-generation iPad mini would be equipped with a larger 8.3-inch display, and many other details.
Popular Stories
Friday May 5, 2023 11:02 am PDT by Juli Clover
As of today, there's just a month to go until the keynote event for Apple's 2023 WWDC event, which is set to take place on Monday, June 5. WWDC 2023 is going to be exciting, because in addition to iOS 17 and the usual software updates, we're also expecting to see Apple's AR/VR headset. Subscribe to the MacRumors YouTube channel for more videos. We thought we'd do a quick rundown of everything …
Apple is expected to announce iOS 17 during its WWDC 2023 keynote on June 5, which is just over a month away. Ahead of time, rumors suggest the update will include at least eight new features and changes for iPhones, as outlined below. The first iOS 17 beta should be made available to members of Apple's Developer Program moments after the keynote, while a public beta will likely be available …
Apple CEO Tim Cook this week said initial response to the new Apple Card Savings feature has been "incredible" following its launch last month. Speaking on Apple's quarterly earnings call, Cook said both the savings account and the new Apple Pay Later financing feature help customers to live a "healthier financial life," adding that he is "very excited about the first days of both of them." …
Apple will likely release iOS 16.5 to the public next week, based on a protected Twitter account that has shared build numbers for several iOS updates up to a week before they were released. In a tweet today, the account said the upcoming iOS 16.5 Release Candidate for developers will have a build number of 20F65. iOS 16.5 has been in beta testing since late March and is shaping up to be a…
The calendar has flipped to May, which means WWDC is right around the corner. There continues to be lots to talk about as far as rumors and expectations on both the software and hardware sides, so buckle up! This week also saw a few somewhat unusual software updates from Apple, including the first-ever public Rapid Security Response updates, as well as an acknowledgment that recent firmware…
In a shareholder letter today, Apple supplier Cirrus Logic seemingly confirmed that iPhone 15 Pro models will no longer feature solid-state buttons. "That said, among the HPMS opportunities we have discussed, a new product that we mentioned in previous shareholder letters as being scheduled for introduction this fall is no longer expected to come to market as planned," the letter states. "As …
Today marks the 25th anniversary of Steve Jobs introducing the iMac, a computer that helped Apple return to profitability following near bankruptcy in the late 1990s. The original iMac featured a colorful, translucent design in an era where most computers were boxy and beige, proving that computers did not have to look boring. "This is iMac," said Jobs, at the Flint Center in Cupertino. "The …
The post iPhone 16 Pro and Pro Max to Feature Larger 6.3-Inch and 6.9-Inch Displays first appeared on www.macrumors.com
In many places around the world, horse races are an attraction that a lot of people love to watch. With the fast-paced action and thrill that each game provides, it is no longer surprising to know that millions of fans have grown fond of it.