From www.macrumors.com
by Tim Hardwick
iPhone production at one of the world's largest factories could fall by as much as 30% next month due to tightening COVID-19 restrictions in China, according to a new report today.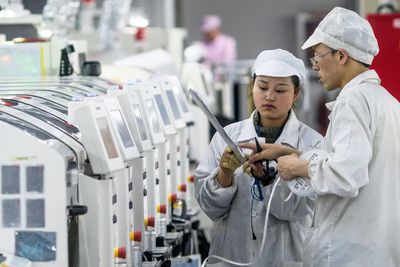 Apple manufacturing partner Foxconn's main Zhengzhou plant, which employs about 200,000 people, was hit by the stringent curbs after an outbreak at the factory, which led the city of about 10 million people locked down as a result.
It's not clear how many cases of the virus have been identified, but the outbreak forced staff to lock down at the workplace, which has reportedly caused unrest and even led some employees to escape by jumping a fence outside the plant.
Foxconn is working to boost ‌iPhone‌ production at another factory in Shenzhen city to make up for the shortfall, a person with direct knowledge of the matter told Reuters. A second person familiar with the situation said many workers remained at the Zhengzhou plant and that production was continuing.
Last week, Foxconn announced it was banning all dine-in catering at the Zhengzhou plant and would be requiring workers to eat meals in their rooms. At the same time, the Taiwanese company said it was maintaining normal production as it ramped up iPhone 14 assembly ahead of the busy holiday period.
Localities in China continue to grapple with President Xi Jinping's rigid zero-COVID policy, which imposes strict measures including anything from regular testing and travel restrictions to full-scale lockdowns.
Factories are usually able to continue to operate under a "closed loop" system where staff live and work on-site, but the arrangements have caused various problems, including workers expressing anger on social media at their treatment and living conditions.
Related Stories
Tuesday November 1, 2022 2:04 pm PDT by Juli Clover
Apple supplier Foxconn is quadrupling daily bonuses provided to workers in order to retain enough employees to continue assembling iPhones, reports Reuters. In November, Foxconn is offering workers at its Zhengzhou plant a bonus of 400 yuan per day ($55), up 4x from the normal 100 yuan bonus. Employees who work for more than 25 days can get a maximum bonus of 5,000 yuan for the month, up…
Friday April 15, 2022 12:54 pm PDT by Juli Clover
Zhengzhou city in China today implemented lockdowns near Foxconn's main iPhone manufacturing facilities, which could ultimately impact Apple's supply chain, reports Bloomberg. Some areas in the Zhengzhou Airport Economy Zone have been placed under quarantine effective immediately, and people in the area must stay in their homes and are not permitted to leave. The Airport Economy Zone is…
Friday November 4, 2022 4:10 am PDT by Tim Hardwick
Apple has added another assembly partner to its iPhone 14 production roster in India as it seeks to build out its manufacturing base outside of China, reports Bloomberg. Taiwanese contract manufacturer Pegatron is set to become the second Apple supplier to produce iPhone 14 models in the country behind Foxconn, which began production in India in September. Apple's Taiwanese assembly…
Monday July 25, 2022 4:13 am PDT by Sami Fathi
An iPhone production plant in the southern Chinese city of Shenzhen is being forced into a seven-day "closed loop" lockdown by Chinese authorities, alongside 100 other companies in an attempt to curb COVID-19 infections, Bloomberg reports. The "closed loop" system will mean only employees who live on-site will be able to work, blocking access from the outside and largely prohibiting anyone…
Wednesday March 16, 2022 4:17 am PDT by Tim Hardwick
Apple's primary iPhone assembler Foxconn says it has resumed production at its Chinese manufacturing plant in Shenzhen, following a partial lifting of the city-wide lockdown that came into effect on Monday. The Taiwanese company told Reuters it had restarted some production and operations at its Shenzhen campus after meeting government conditions for staff to live and work in bubble…
Tuesday August 23, 2022 2:14 am PDT by Tim Hardwick
Apple will begin iPhone 14 production in India about two months after the first wave of devices are released out of China as manufacturing partners try to replicate the complex iPhone supply chain operation in another country for the first time. Bloomberg reports that Apple has been working with suppliers to ramp up manufacturing in India and "shorten the lag in production of the new iPhone…
Apple today said it expects iPhone 14 Pro and iPhone 14 Pro Max shipments to be lower than the company previously anticipated due to temporary COVID-19 restrictions at the primary Foxconn factory where the devices are assembled in Zhengzhou, China. The warning was shared in a press release on the Apple Newsroom site:COVID-19 restrictions have temporarily impacted the primary iPhone 14 Pro…
Popular Stories
Thursday November 10, 2022 12:01 pm PST by Juli Clover
Apple today introduced new 5B58 firmware for the AirPods 2, the AirPods 3, the original AirPods Pro and the AirPods Max, up from the 4E71 firmware that was released back in May. Apple released the 5B58 firmware for the AirPods Pro 2 earlier this week. Apple does not offer immediately available release notes on what's included in refreshed firmware updates for the AirPods‌, but the company…
Although we're still two weeks out from Black Friday on November 25, we've begun seeing many solid deals arrive on Apple products, like the early Black Friday discounts we shared on MacBook Pro and MacBook Air. In this post, we're focusing less on a specific device and more on Apple in general, with early holiday discounts hitting Apple TV 4K, iPad, AirPods Pro, MagSafe accessories, and more. N…
Things are starting to wind down for 2022, though we're not quite there yet with a few more items still on Apple's plate including iOS 16.2, which is proceeding through beta testing with some new features and tweaks. Looking further into the future, we're expecting plenty of news for 2023 with the iPhone 15 naturally being the flagship launch for the year, and we're already hearing a decent…
Thursday November 10, 2022 8:55 am PST by Joe Rossignol
Apple this week lowered its trade-in values for select iPhone, iPad, Mac, and Apple Watch models in the United States, resulting in customers receiving less money for their existing devices heading into the holiday shopping season. Macs have some of the most significant trade-in value reductions, with the iMac Pro now fetching up to $600 versus up to $1,150 previously and the MacBook Pro now …
Thursday November 10, 2022 1:48 pm PST by Juli Clover
Apple today released a new firmware update designed for its AirTag item trackers, with the firmware featuring an updated build number of 2A24e, up from the 1A301 firmware that was released back in April. Apple does not provide release notes for AirTag updates, so we do not know what's new in this update. It is not possible to force an AirTag update, as it's something that's done…
Wednesday November 9, 2022 10:02 am PST by Juli Clover
Apple today released iOS 16.1.1 and iPadOS 16.1.1, minor bug fix updates that that come two weeks after the launch of iOS 16.1, an update that added support for iCloud Shared Photo Library, Matter, Live Activities, and more. The iOS 16.1.1 and iPadOS 16.1.1 updates can be downloaded on eligible iPhones and iPads over-the-air by going to Settings > General > Software Update. iOS 16.1.1…
We're two weeks out from Black Friday on November 25, but as is well known, Black Friday shopping is more of a month-long event rather than a singular day. Because of this, we're already tracking numerous all-time low deals that you can get on Apple's MacBook Pro and MacBook Air lineup today, and that's what we're focusing on in this article. Note: MacRumors is an affiliate partner with some…
The post iPhone Output at Foxconn's Biggest Plant Could Fall by 30% Next Month Due to China Lockdowns first appeared on www.macrumors.com
In many places around the world, horse races are an attraction that a lot of people love to watch. With the fast-paced action and thrill that each game provides, it is no longer surprising to know that millions of fans have grown fond of it.
Cybersecurity threats have become vast and more sophisticated. The rate of malware attacks and malicious activity counts within seconds despite the size or sector the organization belongs to — no one is safe enough to expect that foe actors will bypass vital company resources.